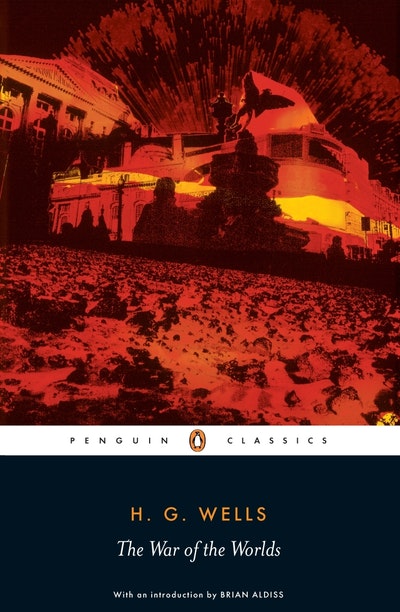 Published:

26 April 2005

ISBN:

9780141441030

Imprint:

Penguin Classics

Format:

Paperback

Pages:

240

RRP:

$14.99
The War Of The Worlds
---
---
---
The first modern tale of alien invasion, H.G. Wells's The War of the Worlds remains one of the most influential science fiction novels ever published. This Penguin Classics edition is edited by Patrick Parrinder with an introduction by Brian Aldiss, author of Hothouse, and notes by Andy Sawyer.
The night after a shooting star is seen streaking through the sky from Mars, a cylinder is discovered on Horsell Common in London. At first, naïve locals approach the cylinder armed just with a white flag - only to be quickly killed by an all-destroying heat-ray, as terrifying tentacled invaders emerge. Soon the whole of human civilisation is under threat, as powerful Martians build gigantic killing machines, destroy all in their path with black gas and burning rays, and feast on the warm blood of trapped, still-living human prey. The forces of the Earth, however, may prove harder to beat than they at first appear.
The War of the Worlds has been the subject of countless adaptations, including an Orson Welles radio drama which caused mass panic when it was broadcast, with listeners confusing it for a news broadcast heralding alien invasion; a musical version by Jeff Wayne; and, most recently, Steven Spielberg's 2005 film version, starring Tom Cruise. This Penguin Classics edition includes a full biographical essay on Wells, a further reading list and detailed notes. The introduction, by Brian Aldiss, considers the novel's view of religion and society.
H.G. Wells (1866-1946) was a professional writer and journalist. Among his most popular works are The Time Machine (1895); The Island of Doctor Moreau (1896), filmed with Bela Lugosi in 1932, and again in 1996 with Marlon Brando; The Invisible Man (1897); The War of the Worlds (1898); and The First Men in the Moon (1901), which predicted the first lunar landings.
If you enjoyed The War of the Worlds, you might like Wells's The Time Machine, also available in Penguin Classics.

Published:

26 April 2005

ISBN:

9780141441030

Imprint:

Penguin Classics

Format:

Paperback

Pages:

240

RRP:

$14.99