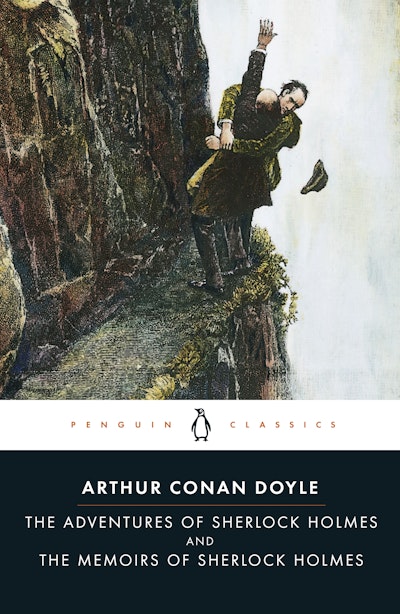 Published:

9 August 2001

ISBN:

9780140437713

Imprint:

Penguin Classics

Format:

Paperback

Pages:

576

RRP:

$22.99
The Adventures of Sherlock Holmes and the Memoirs of Sherlock Holmes
---
---
---
A collection of the most famous cases faced by Sir Arthur Conan Doyle's peerless creation, The Adventures of Sherlock Holmes and the Memoirs of Sherlock Holmes contains an introduction by Iain Pears and notes by Ed Glinert in Penguin Classics.
This collection includes many of the famous cases - and great strokes of brilliance - that made the legendary Sherlock Holmes one of fiction's most popular creations. With his devoted amanuensis Dr Watson, Holmes emerges from his smoke filled room in Baker Street to grapple with the forces of treachery, intrigue and evil in such cases as 'The Speckled Band', in which a terrified woman begs their help in solving the mystery surrounding her sister's death, or 'A Scandal in Bohemia', which portrays a European king blackmailed by his mistress. In 'Silver Blaze' the pair investigate the disappearance of a racehorse and the violent murder of its trainer, while in 'The Final Problem' Holmes at last comes face to face with his nemesis, the diabolical Professor Moriarty - 'the Napoleon of crime'.
In his introduction, Iain Pears discusses characterization, the key themes of the stories and Victorian methods of deduction. This edition also includes a chronology, further reading and explanatory notes by Ed Glinert, author of The London Compendium.
Edinburgh-born Arthur Conan Doyle (1859-1930) took a degree in medicine at Edinburgh University before becoming a doctor in Southsea. He began writing detective stories to supplement his income and 'A Study in Scarlet' (1887) introduced his finest creation, the hawk-eyed detective, Sherlock Holmes.
If you enjoyed The Adventures of Sherlock Holmes, you might like Wilkie Collins's The Moonstone, also available in Penguin Classics.
'Arthur Conan Doyle is unique ... Personally, I would walk a mile in tight boots to read him to the milkman'
Stephen Fry
Published:

9 August 2001

ISBN:

9780140437713

Imprint:

Penguin Classics

Format:

Paperback

Pages:

576

RRP:

$22.99
Other books in the series