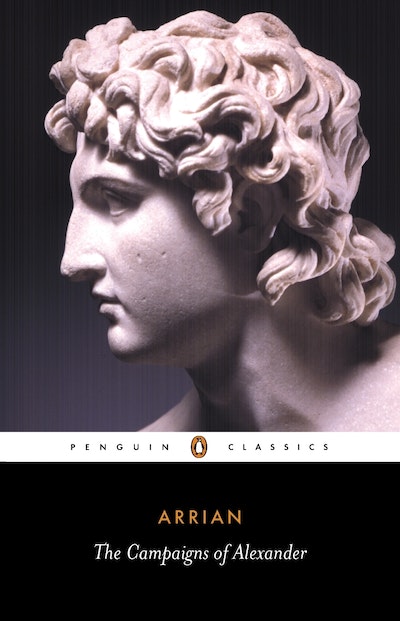 Published:

1 December 1976

ISBN:

9780140442533

Imprint:

Penguin Classics

Format:

Paperback

Pages:

432

RRP:

$19.99
The Campaigns of Alexander
---
---
---
The most important historical source on one of the most powerful leaders of the ancient world, Arrian's The Campaigns of Alexander illustrates how Alexander the Great came to rule over a vast empire of his own making, translated from the Greej by Aubrey de Sélincourt, and revised with an introduction and notes by J.R. Hamilton in Penguin Classics.
Although written over four hundred years after Alexander's death, Arrian's Campaigns of Alexander is the most reliable account of the man and his achievements we have. Arrian's own experience as a military commander gave him unique insights into the life of the world's greatest conqueror. He tells of Alexander's violent suppression of the Theban rebellion, his total defeat of Persia and his campaigns through Egypt, India and Babylon - establishing new cities and destroying others in his path. While Alexander emerges from this record as an unparalleled and charismatic leader, Arrian succeeds brilliantly in creating an objective and fully-rounded portrait of a man of boundless ambition, who was exposed to the temptations of power and was worshipped as a god in his own lifetime
Aubrey de Sélincourt's vivid translation is accompanied by J.R. Hamilton's introduction, which discusses Arrian's life and times, his synthesis of other classical sources and the composition of Alexander's army. This edition also contains appendices, maps, a list for further reading and a detailed index.
The details of Arrian's life (b. 86) are uncertain, though the shape of it indicates a man of wide and varied talents. He was governor to the Emperor Hadrian, the author of a number of works of non-fiction and an Athenian citizen. In 145 he rose to become a chief magistrate of Athens and thereby part of the governing body of the city. His date of death is not known.
If you enjoyed The Campaigns of Alexander, you might like Thucydides' History of the Peloponnesian War, also available in Penguin Classics.

Published:

1 December 1976

ISBN:

9780140442533

Imprint:

Penguin Classics

Format:

Paperback

Pages:

432

RRP:

$19.99