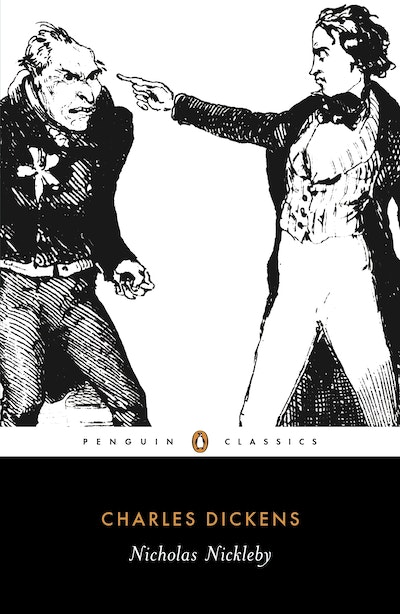 Published:

7 June 1999

ISBN:

9780140435122

Imprint:

Penguin Classics

Format:

Paperback

Pages:

864

RRP:

$22.99
Nicholas Nickleby
---
---
---
One of the touchstones of the English comic novel, the Penguin Classics edition of Charles Dickens's Nicholas Nickleby is edited with an introduction by Mark Ford.
When Nicholas Nickleby is left penniless after his father's death, he appeals to his wealthy uncle to help him find work and to protect his mother and sister. But Ralph Nickleby proves both hard-hearted and unscrupulous, and Nicholas finds himself forced to make his own way in the world. His adventures gave Dickens the opportunity to portray an extraordinary gallery of rogues and eccentrics: Wackford Squeers, the tyrannical headmaster of Dotheboys Hall, a school for unwanted boys, the slow-witted orphan Smike, rescued by Nicholas, the pretentious Mantalinis and the gloriously theatrical Mr and Mrs Crummels and their daughter, the 'infant phenomenon'. Like many of Dickens's novels, Nicholas Nickleby is characterised by his outrage at cruelty and social injustice, but it is also a flamboyantly exuberant work, whose loose, haphazard progress harks back to the picaresque novels of Tobias Smollett and Henry Fielding.
In his introduction Mark Ford compares Nicholas Nickleby to eighteenth-century picaresque novels, and examines Dickens's criticism of the 'Yorkshire schools', his social satire and use of language. This edition includes the original illustrations by 'Phiz', Dickens's original preface to the work, a chronology and a list of further reading.
Charles Dickens is one of the best-loved novelists in the English language, whose 200th anniversary was celebrated in 2012. His most famous books, including Oliver Twist, Great Expectations, A Tale of Two Cities, David Copperfield and The Pickwick Papers, have been adapted for stage and screen and read by millions.
If you enjoyed Nicholas Nickleby, you might like Dickens's David Copperfield, also available in Penguin Classics.
'The novel has everything: an absorbing melodrama, with a supporting cast of heroes, villains and eccentrics, set in a London where vast wealth and desperate poverty live cheek-by-jowl'
Jasper Rees, The Times
Published:

7 June 1999

ISBN:

9780140435122

Imprint:

Penguin Classics

Format:

Paperback

Pages:

864

RRP:

$22.99
Other books in the series