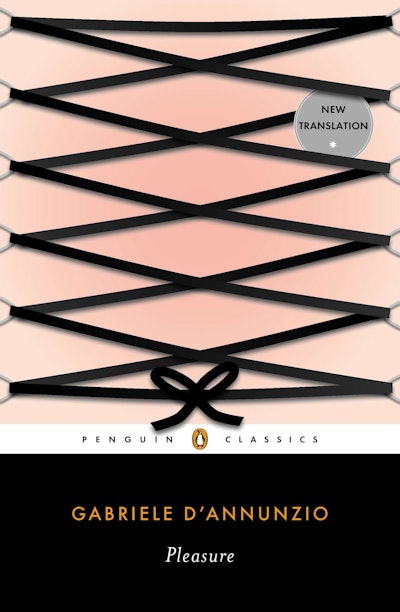 Published:

21 August 2013

ISBN:

9780143106746

Imprint:

Penguin Classics

Format:

Paperback

Pages:

384

RRP:

$35.00
Pleasure
---
---
This new translation of D'Annunzio's masterpiece, the first in more than one hundred years, restores what was considered too offensive to be included in the 1898 translation—some of the very scenes that are key to the novel's status as a landmark of literary decadence.

The great Italian masterpiece of sensuality and seduction, published in a new English translation - the first since the Victorian era - that puts the sex back in Pleasure.
Like Oscar Wilde's Dorian Gray, Andrea Sperelli lives his life as a work of art, seeking beauty and flouting the rules of morality and social interaction along the way. In his aristocratic circles in Rome, he is a serial seducer. But there are two women who command his special regard: the beautiful young widow Elena, and the pure, virgin-like Maria. In Andrea's pursuit of the exalted heights of extreme pleasure, he plays them against each other, spinning a sadistic web of lust and deceit.
Gabriele D'Annunzio was born in Italy in 1863. He published poetry and short stories from a young age, quickly gaining a reputation for his frank treatment of erotic subjects. He married in 1883 and had three children, but separated from his wife and began an infamous affair with the actress Elonora Duse. After stints as a journalist and politician, he enlisted as a fighter pilot in World War I, subsequently losing an eye in a flying accident. He became increasingly nationalistic and politically active after the war, and his views had a strong influence on Mussolini. In 1922 he survived a murder attempt, when an unknown assailant defenestrated him. He died in 1938.
Lara Gochin Raffaelli is a senior lecturer at the University of Cape Town in South Africa.
Alexander Stille is a frequent contributor on Italy to The New York Review of Books, The New York Times, and The New Yorker and the author of several books, including The Sack of Rome. He lives in New York.

Published:

21 August 2013

ISBN:

9780143106746

Imprint:

Penguin Classics

Format:

Paperback

Pages:

384

RRP:

$35.00
Other books in the series