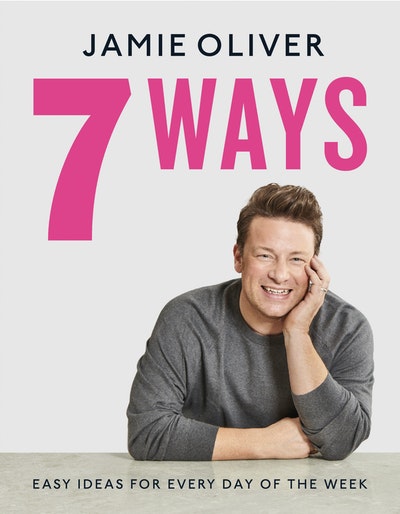 Published:

20 August 2020

ISBN:

9780241431153

Imprint:

Michael Joseph

Format:

Hardback

Pages:

320

RRP:

$49.99
7 Ways
Easy Ideas for Your Favourite Ingredients
---
---
---
Completing the family of solution-based cookbooks
Jamie Oliver is back with new achievable, exciting and tasty recipes
Jamie's done his homework and looked at the top ingredients we buy week in, week out. We're talking about those meal staples we all pick up on autopilot - chicken breasts, salmon fillets, mince, eggs, potatoes, broccoli, to name but a few. We're all busy, but that shouldn't stop us from having a tasty, nutritious meal after a long day at work or looking after the kids. So, rather than trying to change what we buy, Jamie wants to give everyone brand new inspiration for their favourite ingredients, the kind of things you can pick up in any supermarket.
Jamie will share 7 achievable, exciting and tasty ways to cook 19 hero ingredients, and each recipe will have no more than 8 ingredients within it. At least 5 recipes from each 7 way will be everyday options from both an ease and nutritional point of view, meaning you're covered for every day of the week. With everything from fake-aways and tray-bakes to family and freezer favourites, you'll find bags of inspiration to help you mix things up in the kitchen.
Step up, 7 WAYS, the most user-focused cookbook Jamie has ever written.
Published:

20 August 2020

ISBN:

9780241431153

Imprint:

Michael Joseph

Format:

Hardback

Pages:

320

RRP:

$49.99
Other books in the series
Offers easy-to-follow recipes that require minimal ingredients, based on the nation's favourite food products

Prima
Offers easy-to-follow recipes that require minimal ingredients, based on the nation's favourite food products

Prima
Offers easy-to-follow recipes that require minimal ingredients, based on the nation's favourite food products

Prima
Cooking dinner just got easier (and tastier) with [Jamie's] brilliant new book 7 Ways

Mail on Sunday
Cooking dinner just got easier (and tastier) with [Jamie's] brilliant new book 7 Ways

Mail on Sunday
Cooking dinner just got easier (and tastier) with [Jamie's] brilliant new book 7 Ways

Mail on Sunday
Simple, affordable and delicious food designed for all the family

i
Simple, affordable and delicious food designed for all the family

i
Simple, affordable and delicious food designed for all the family

i
Jamie Oliver is all about the numbers: five ingredients, 15-minute meals and now seven ways. In this book, he takes some of the staples we buy every week - chicken, eggs, mince - and offers seven different ways to cook each one. It's a smart idea

Daily Telegraph
Jamie Oliver is all about the numbers: five ingredients, 15-minute meals and now seven ways. In this book, he takes some of the staples we buy every week - chicken, eggs, mince - and offers seven different ways to cook each one. It's a smart idea

Daily Telegraph
Jamie Oliver is all about the numbers: five ingredients, 15-minute meals and now seven ways. In this book, he takes some of the staples we buy every week - chicken, eggs, mince - and offers seven different ways to cook each one. It's a smart idea

Daily Telegraph
Easy, achievable and delicious; Oliver has created another fail-safe cookbook for families and those of us who are stretched for time. The recipes are so simple to follow . . . It would make a brilliant first cookbook for students

Daily Telegraph
Easy, achievable and delicious; Oliver has created another fail-safe cookbook for families and those of us who are stretched for time. The recipes are so simple to follow . . . It would make a brilliant first cookbook for students

Daily Telegraph
Easy, achievable and delicious; Oliver has created another fail-safe cookbook for families and those of us who are stretched for time. The recipes are so simple to follow . . . It would make a brilliant first cookbook for students

Daily Telegraph
New inspiration for getting creative with . . . 18 of our favourite ingredients

Great British Food
New inspiration for getting creative with . . . 18 of our favourite ingredients

Great British Food
New inspiration for getting creative with . . . 18 of our favourite ingredients

Great British Food
This is perfect for anyone stuck in a cookery rut and in need of some inspiration

Daily Mail
This is perfect for anyone stuck in a cookery rut and in need of some inspiration

Daily Mail
This is perfect for anyone stuck in a cookery rut and in need of some inspiration

Daily Mail
Gives everyone tasty and exciting ways to cook their favourite ingredients

Sainsbury's Magazine
Gives everyone tasty and exciting ways to cook their favourite ingredients

Sainsbury's Magazine
Gives everyone tasty and exciting ways to cook their favourite ingredients

Sainsbury's Magazine
Jamie has a way of inspiring us with new takes on old classics without losing us completely with anything too tricky . . . There wasn't a recipe we didn't want to make

Independent
Jamie has a way of inspiring us with new takes on old classics without losing us completely with anything too tricky . . . There wasn't a recipe we didn't want to make

Independent
Jamie has a way of inspiring us with new takes on old classics without losing us completely with anything too tricky . . . There wasn't a recipe we didn't want to make

Independent
Jamie Oliver continues to inspire with his latest offering, 7 Ways

RTE Guide
Jamie Oliver continues to inspire with his latest offering, 7 Ways

RTE Guide
Jamie Oliver continues to inspire with his latest offering, 7 Ways

RTE Guide
New takes on well-loved classics

Sun
New takes on well-loved classics

Sun
New takes on well-loved classics

Sun