The abundant benefits of books.
Improvements to your sleep, concentration and vocabulary are all on the cards if you read more. Not to mention the hours of entertainment and the thrills/laughs/tears/gasps you're sure to enjoy. When was the last time you reached for a novel instead of your phone or TV remote? Make reading part of your every day and reap the rewards. Here's a handful of reasons to pick up a paperback. 
1. Reading reduces your stress levels.
Did you know that reading for just six minutes can reduce tension levels by up to 68 per cent1? Something as simple as reading a few pages can ease tension in muscles and even slow down your heart rate.
Dr Rangan Chatterjee recommends reading as part of your daily plan to feel great. In Feel Better In 5 he writes 'many of my patients find that getting into the practice of reading in the morning can be calming. Consider reading something uplifting and motivating that puts you in a positive frame of mind to start the day.' Here are a few up lit suggestions to get you started. 
2. Reading teaches you something new.
Whether it's a non-fiction book that has you reading fun facts out loud to whoever will listen (Bill Bryson's The Body is good for this!) or you're marvelling at the exquisite writing in a novel (The Yield we're looking at you) books can teach you so much. Plus reading the classics will come in handy for the usual book-themed questions on trivia night. Read for pleasure or the pursuit of knowledge, either way you'll discover something new in the process.
3. Reading transports you to another place/time/world.
What was life like in 1939 in Britain? Or 1914 in rural France? Well-researched historical fiction can take you back in time, while in fantasy realms anything is possible. With overseas travel still off the cards, it's literary trips that we're looking forward to this year. Escape the everyday and journey to outer space, Malibu, the Nevada desert and Tokyo without leaving the comfort of your armchair. Holiday here this year indeed.
4. Reading connects you.
Books bring people together. And with the rise in online book clubs (read our article here about how to start your own), bookish Facebook or Instagram communities, library groups and Goodreads there's never been a better time to connect with like-minded bibliophiles. Stave off loneliness and make some new friends over a shared love of Jane Austen or The Hitch Hiker's Guide the Galaxy. 
5. Reading can help you sleep.
Matthew Walker, the author of Why We Sleep, recommends incorporating a good book into your bedtime routine. If you're having trouble falling asleep he suggests that you 'get up and read a book under dim light in a different room (or different part of the room). Only go back to bed when you are sleepy. This way, your brain re-learns the association between bed and sound sleep.' Plus you'll have squeezed a few more pages into your day! It's a win-win. 
1. Dr. David Lewis "Galaxy Stress Research," Mindlab International, Sussex University (2009)
---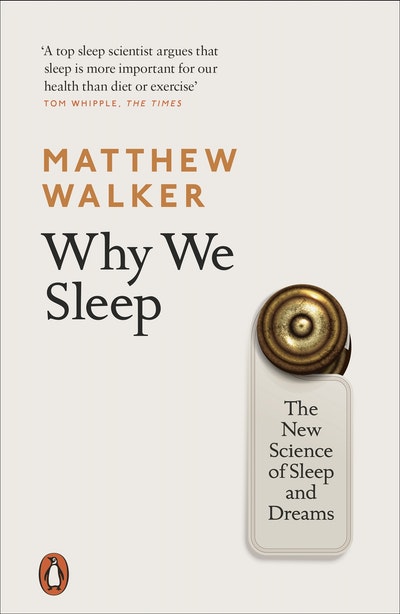 The phenomenal bestseller that's starting a sleep revolution, now in paperback
Buy now
Buy now
---