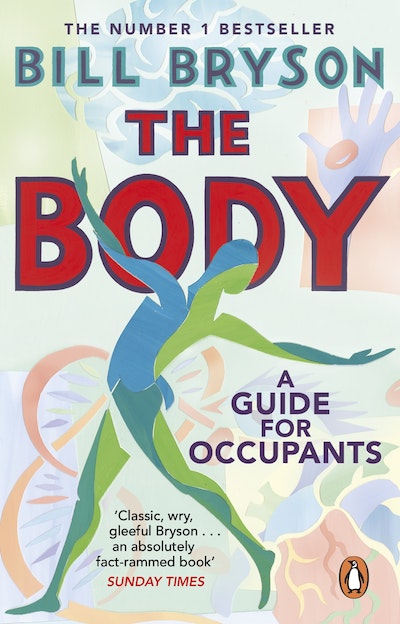 Published:

21 July 2020

ISBN:

9780552779906

Imprint:

Black Swan

Format:

Paperback

Pages:

544

RRP:

$24.99
The Body
A Guide for Occupants - THE SUNDAY TIMES NO.1 BESTSELLER
---
---
---
#1 Sunday Times bestseller in both hardback and paperback, this head-to-toe tour of the marvel that is the human body is as compulsively readable as it is comprehensive. Bryson at his very best, it is a must-read owner's manual for everybody.
#1 Bestseller in both hardback and paperback: SHORTLISTED FOR THE 2020 ROYAL SOCIETY INSIGHT INVESTMENT SCIENCE BOOK PRIZE
_______
'A directory of wonders.' - The Guardian
'Jaw-dropping.' - The Times
'Classic, wry, gleeful Bryson...an entertaining and absolutely fact-rammed book.' - The Sunday Times
'It is a feat of narrative skill to bake so many facts into an entertaining and nutritious book.' - The Daily Telegraph
_______
'We spend our whole lives in one body and yet most of us have practically no idea how it works and what goes on inside it. The idea of the book is simply to try to understand the extraordinary contraption that is us.'
Bill Bryson sets off to explore the human body, how it functions and its remarkable ability to heal itself. Full of extraordinary facts and astonishing stories The Body: A Guide for Occupants is a brilliant, often very funny attempt to understand the miracle of our physical and neurological make up.
A wonderful successor to A Short History of Nearly Everything, this new book is an instant classic. It will have you marvelling at the form you occupy, and celebrating the genius of your existence, time and time again.
'What I learned is that we are infinitely more complex and wondrous, and often more mysterious, than I had ever suspected. There really is no story more amazing than the story of us.' Bill Bryson
Published:

21 July 2020

ISBN:

9780552779906

Imprint:

Black Swan

Format:

Paperback

Pages:

544

RRP:

$24.99
Through anecdotes about scientific history and startling facts that seem too extraordinary to be true—the DNA in one person, if stretched out, would measure billions of miles and reach beyond Pluto—Bryson draws the reader into his subject. ... Bryson's tone is both informative and inviting, encouraging the reader, throughout this exemplary work, to share the sense of wonder he expresses at how the body is constituted and what it is capable of.

Publishers' Weekly
Through anecdotes about scientific history and startling facts that seem too extraordinary to be true—the DNA in one person, if stretched out, would measure billions of miles and reach beyond Pluto—Bryson draws the reader into his subject. ... Bryson's tone is both informative and inviting, encouraging the reader, throughout this exemplary work, to share the sense of wonder he expresses at how the body is constituted and what it is capable of.

Publishers' Weekly
Through anecdotes about scientific history and startling facts that seem too extraordinary to be true—the DNA in one person, if stretched out, would measure billions of miles and reach beyond Pluto—Bryson draws the reader into his subject. ... Bryson's tone is both informative and inviting, encouraging the reader, throughout this exemplary work, to share the sense of wonder he expresses at how the body is constituted and what it is capable of.

Publishers' Weekly
Remarkable ... Every page is dense with scientific facts written as vividly as a thriller, as well as answers to conundrums such as why we don't fall out of bed when we are asleep ... It is woven through with the kind of human stories that Bryson has made his trademark.

Mail on Sunday
Remarkable ... Every page is dense with scientific facts written as vividly as a thriller, as well as answers to conundrums such as why we don't fall out of bed when we are asleep ... It is woven through with the kind of human stories that Bryson has made his trademark.

Mail on Sunday
Remarkable ... Every page is dense with scientific facts written as vividly as a thriller, as well as answers to conundrums such as why we don't fall out of bed when we are asleep ... It is woven through with the kind of human stories that Bryson has made his trademark.

Mail on Sunday
Readable and useful ... witty, jargon-free prose that glides you through 400 pages. It's fun to read because it's not just comprehensive, but quirky.

Richard Morrison, The Times
Readable and useful ... witty, jargon-free prose that glides you through 400 pages. It's fun to read because it's not just comprehensive, but quirky.

Richard Morrison, The Times
Readable and useful ... witty, jargon-free prose that glides you through 400 pages. It's fun to read because it's not just comprehensive, but quirky.

Richard Morrison, The Times
A directory of wonders. Extraordinary stories about the heart, lungs, genitals ... plus some anger and life advice – all delivered in the inimitable Bryson style

Gavin Francis, Guardian
A directory of wonders. Extraordinary stories about the heart, lungs, genitals ... plus some anger and life advice – all delivered in the inimitable Bryson style

Gavin Francis, Guardian
A directory of wonders. Extraordinary stories about the heart, lungs, genitals ... plus some anger and life advice – all delivered in the inimitable Bryson style

Gavin Francis, Guardian
'Classic, wry, gleeful Bryson… richly interesting… an entertaining and absolutely fact-rammed book. If it sells hundreds of thousands of copies, like the last one, it will be no bad thing.'

The Sunday Times
'Classic, wry, gleeful Bryson… richly interesting… an entertaining and absolutely fact-rammed book. If it sells hundreds of thousands of copies, like the last one, it will be no bad thing.'

The Sunday Times
'Classic, wry, gleeful Bryson… richly interesting… an entertaining and absolutely fact-rammed book. If it sells hundreds of thousands of copies, like the last one, it will be no bad thing.'

The Sunday Times
It is a feat of narrative skill to bake so many facts into an entertaining and nutritious book..where Byrson really shines is in his imaginative glosses on the facts he has collected.

The Daily Telegraph
It is a feat of narrative skill to bake so many facts into an entertaining and nutritious book..where Byrson really shines is in his imaginative glosses on the facts he has collected.

The Daily Telegraph
It is a feat of narrative skill to bake so many facts into an entertaining and nutritious book..where Byrson really shines is in his imaginative glosses on the facts he has collected.

The Daily Telegraph
Bryson rummages about in our vital organs, emerging with a parade of fascinating facts.

Daily Mirror
Bryson rummages about in our vital organs, emerging with a parade of fascinating facts.

Daily Mirror
Bryson rummages about in our vital organs, emerging with a parade of fascinating facts.

Daily Mirror
[Bill] takes us with him, wondering at the complex functions of the tongue, seeing him stick a finger in the aorta…The book's a bestseller.

Gillian Reynolds, The Sunday Times
[Bill] takes us with him, wondering at the complex functions of the tongue, seeing him stick a finger in the aorta…The book's a bestseller.

Gillian Reynolds, The Sunday Times
[Bill] takes us with him, wondering at the complex functions of the tongue, seeing him stick a finger in the aorta…The book's a bestseller.

Gillian Reynolds, The Sunday Times
There is not an organ Bryson describes that is not illuminated by a fun fact or unlikely anecdote.

TIMES 2
There is not an organ Bryson describes that is not illuminated by a fun fact or unlikely anecdote.

TIMES 2
There is not an organ Bryson describes that is not illuminated by a fun fact or unlikely anecdote.

TIMES 2
Bryson tackles the body in an amusing, fact-filled guide

The Sunday Times (Ireland)
Bryson tackles the body in an amusing, fact-filled guide

The Sunday Times (Ireland)
Bryson tackles the body in an amusing, fact-filled guide

The Sunday Times (Ireland)
Written with his trademark wit and insight

RTE Guide
Written with his trademark wit and insight

RTE Guide
Written with his trademark wit and insight

RTE Guide
As ever, the bestselling writer takes a familiar subject and delivers one revelation after another

The Irish Mail on Sunday
As ever, the bestselling writer takes a familiar subject and delivers one revelation after another

The Irish Mail on Sunday
As ever, the bestselling writer takes a familiar subject and delivers one revelation after another

The Irish Mail on Sunday
A comforting compendium of fascinating facts

Irish Independent
A comforting compendium of fascinating facts

Irish Independent
A comforting compendium of fascinating facts

Irish Independent
The brook bristles with data…but the star turns are Bryson's wry forays into the histories of neuroscience, genetics, anatomy and immunology.

Nature
The brook bristles with data…but the star turns are Bryson's wry forays into the histories of neuroscience, genetics, anatomy and immunology.

Nature
The brook bristles with data…but the star turns are Bryson's wry forays into the histories of neuroscience, genetics, anatomy and immunology.

Nature
Stuffed with enthralling, often mystifying facts.

Christina Hardyment, The Times
Stuffed with enthralling, often mystifying facts.

Christina Hardyment, The Times
Stuffed with enthralling, often mystifying facts.

Christina Hardyment, The Times
A joy to read ... every paragraph contains at least one startling, even awe-inspiring fact ... Infused with an infectious sense of wonder at the miraculousness of it all.

Reader's Digest
A joy to read ... every paragraph contains at least one startling, even awe-inspiring fact ... Infused with an infectious sense of wonder at the miraculousness of it all.

Reader's Digest
A joy to read ... every paragraph contains at least one startling, even awe-inspiring fact ... Infused with an infectious sense of wonder at the miraculousness of it all.

Reader's Digest
One of the strengths of Bryson's delightful new book... is that it reveals the thousands of rarely acknowledged tasks our body takes care of as we go about our day

A.J. Jacobs, The New York Times
One of the strengths of Bryson's delightful new book... is that it reveals the thousands of rarely acknowledged tasks our body takes care of as we go about our day

A.J. Jacobs, The New York Times
One of the strengths of Bryson's delightful new book... is that it reveals the thousands of rarely acknowledged tasks our body takes care of as we go about our day

A.J. Jacobs, The New York Times
The extraordinary story of what we are made of and how we work ... This revelatory book reads as captivatingly as a thriller.

Teresa Levonian Cole, Country Life
The extraordinary story of what we are made of and how we work ... This revelatory book reads as captivatingly as a thriller.

Teresa Levonian Cole, Country Life
The extraordinary story of what we are made of and how we work ... This revelatory book reads as captivatingly as a thriller.

Teresa Levonian Cole, Country Life
SCIENCE BOOK OF THE YEAR 2019: 'so packed with arresting facts (you eat 60 tons of food in a lifetime) and unlikely anecdotes (such as Isambard Kingdom Brunel's six weeks with a half-sovereign lodged in his throat) that you barely notice the sheer volume of anatomical knowledge you're digesting ... makes complex subjects simple and eminently entertaining.'

Sunday Times
SCIENCE BOOK OF THE YEAR 2019: 'so packed with arresting facts (you eat 60 tons of food in a lifetime) and unlikely anecdotes (such as Isambard Kingdom Brunel's six weeks with a half-sovereign lodged in his throat) that you barely notice the sheer volume of anatomical knowledge you're digesting ... makes complex subjects simple and eminently entertaining.'

Sunday Times
SCIENCE BOOK OF THE YEAR 2019: 'so packed with arresting facts (you eat 60 tons of food in a lifetime) and unlikely anecdotes (such as Isambard Kingdom Brunel's six weeks with a half-sovereign lodged in his throat) that you barely notice the sheer volume of anatomical knowledge you're digesting ... makes complex subjects simple and eminently entertaining.'

Sunday Times
BOOKS OF THE YEAR - 'You'll never look in the mirror the same way again'

Daily Mirror
BOOKS OF THE YEAR - 'You'll never look in the mirror the same way again'

Daily Mirror
BOOKS OF THE YEAR - 'You'll never look in the mirror the same way again'

Daily Mirror
Article