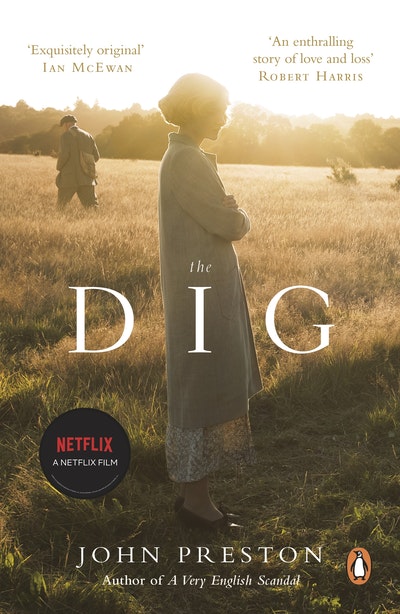 Published:

5 January 2021

ISBN:

9780241989630

Imprint:

Penguin General UK

Format:

Paperback

Pages:

240

RRP:

$22.99
The Dig
Now a BAFTA-nominated motion picture starring Ralph Fiennes, Carey Mulligan and Lily James
---
---
---
A brilliantly realised account of the most famous archeological dig in British history, now a major motion picture starring Ralph Fiennes, Carey Mulligan and Lily James.
In the long hot summer of 1939 Britain is preparing for war. But on a riverside farm in Suffolk there is excitement of another kind: Mrs Pretty, the widowed farmer, has had her hunch proved correct that the strange mounds on her land hold buried treasure. As the dig proceeds against a background of mounting national anxiety, it becomes clear that this is no ordinary find...
John Preston's recreation of the Sutton Hoo dig - the greatest Anglo-Saxon discovery ever in Britain - brilliantly and comically dramatizes three months of intense activity when locals fought outsiders, professionals thwarted amateurs, and love and rivalry flourished in equal measure.
Published:

5 January 2021

ISBN:

9780241989630

Imprint:

Penguin General UK

Format:

Paperback

Pages:

240

RRP:

$22.99
'Very fine, engrossing, exquisitely original'

Ian McEwan
'An enthralling story of love and loss, a real literary treasure. One of the most original novels of the year'

Robert Harris
'You don't need to be in archaeology - this is a tale of rivalry, loss and thwarted love. It's so absorbing that I read right through lunchtime one day, and it's not often I miss a meal'

Nigella Lawson
'A rich vein of dry humour runs throughout'

<i>Evening Standard</i>
'Intriguing, tender and entertaining ... easily Preston's best'

<i>Independent</i>
'A delicate, quietly affecting human drama'

<i>Daily Mail</i>
'A moving novel that coheres wonderfully as it progresses'

<i>Spectator</i>
'A delicate evocation of a vanished era'

<i>Sunday Times</i>
Wonderful, evocative. From this simple tale of dirt, Preston has produced the finest gold. He keeps an iron grip on the reader's attention

<i>Observer</i>
'Beautifully written...there is a true and wonderful ending to the story'

Bill Wyman, Mail on Sunday
'Wistful and poignant. A masterpiece in Chekhovian understatement'

Times Literary Supplement
'Exciting, evocative and beautifully written. A treasure in itself'

Griff Rhys Jones
'Shimmers with longing and regret . . . Preston writes with economical grace . . . He has written a kind of universal chamber piece, small in detail, beautifully made and liable to linger on in the heart and the mind. It is something utterly unfamiliar, and quite wonderful'

Michael Pye, The New York Times Book Review