Jolabokaflod is the beautiful Icelandic tradition of gifting books on Christmas Eve.
It's 2019 and Christmas gifting has never been more complicated. The holiday season gets busier every year, pushing us to purchase so many presents for kids which include an exorbitant amount of plastic packaging and chemicals, only to be loved for a fortnight and then added to the clutter of our homes (or landfill) forever. Gifting for many has become an anxiety-inducing annual event we'd all rather avoid!
That's why we're excited to present you with the perfect gift. It is:
Under $50
Recyclable
Fits in carry-on luggage or in the post
Comes in a range of styles to suit every person
Provides hours of entertainment
Improves language skills and attention span
Increases empathy and understanding of our world
You guessed it.
Books!
In Iceland, a country well known for their love of literature, a beautiful festive tradition plays out on Christmas Eve. Families gather in their living rooms with a mug of hot chocolate and exchange books as gifts to one another. This tradition is known as Jolabokaflod [pronounced yo-la-bok-a-flot] and roughly translates to, 'the Christmas book flood'.
Jolabokaflod celebrates the power of stories to unite, inspire and soothe us. Here at Penguin Random House, we can't think of a better way to get into the spirit of Christmas! We're rounding up some of our Christmas favourites for kids to teach them about the magic behind the silly season, as well as some must-reads from 2019. Go and give your local bookstore some love this December.
If you have a precious little one in your life, you'll be thrilled to watch their faces light up with a colourful picture book. Some Christmas favourites for young children include:
The Very Hungry Caterpillar's Australian Friends
In his latest adventure, the famous Hungry Caterpillar embarks on a lift-the-flap journey across our homeland to meet kangaroos, pelicans and crocodiles. RRP $16.99
A beautiful retelling of the nativity story by author-illustrator Jess Racklyeft. Make the most of the companion activity pack to keep everyone entertained as they learn about the reason for the season. RRP $24.99
Based on the award-winning song by Justine Clarke and Josh Pyke comes a lively book that celebrates the ridiculous nature of language. Make sure you combine this with a family sing along of 'A Banana is a Banana' and try your hand at some games from the activity pack! RRP $19.99
Another wildly popular story from Australia's best-loved children's author, Mem Fox. Inspired by her recent milestone of becoming a grandparent, Mem tells the story of a life from birth to death and all the love in between. RRP $24.99
Be warned: if a child gives you this book to read, they are playing a trick on you! In this interactive story, kids can fill in the blanks with their own words and make an adult read them the book, nonsensical words and all. Check out author BJ Novak reading The Book With No Pictures and you'll see what we mean. RRP $14.99
From the mind of Dr Seuss comes 'a canter through art history', based on a newly-discovered manuscript and sketches from the late Dr Seuss and brought to life by Australian illustrator Andrew Joyner. Have some family fun with the activity pack as you learn how to draw horses! RRP $27.99
Kids who are reading independently can dive in to some of the best adventures of the year! Some of our most popular chapter books for primary-aged children include:
It's 1750 and when ten year old Atticus is allowed to select one gift from his Grandnan's treasure pile, he chooses a pirate ship! Atticus pulls together a rag-tag bunch of misfits and embarks on the greatest adventure of all – to live the piratin' life. This story by Aussie favourite Andrew Daddo includes illustrations by Stephen Michael King and fun fonts to keep readers engaged the whole way through. RRP $14.99
Why gift one book when you could give three? Alice-Miranda is a bestselling series by Jacqueline Harvey which has recently been turned into a movie as seen in Event Cinemas and on Channel 9. Pair it with the Alice-Miranda Friends Forever Activity Book for extra fun! RRP $24.99
Wrecking Ball: Diary of a Wimpy Kid
An unexpected inheritance gives the Heffley family a chance to make major improvements to their home, but the construction brings chaos. The Diary of a Wimpy Kid series is a great choice for hesitant readers as the lines, fonts and illustrations all help maintain both fun and focus throughout the story. RRP $14.99
From the author of Kissed by the Moon and Are We There Yet? comes this beautiful story about courage and friendship. Nina and her father are forced to leave their city and journey over the mountains on white dancing stallions. RRP $16.99
Fawlty Towers meets Treehouse! Chegwin Toffle is ten years old when he inherits the family hotel and he is determined to transform it into an exciting destination for kids … if only he could stop daydreaming and get on with it! RRP $14.99
The Trials of Apollo 4: The Tyrant's Tomb
The funny, mythical and action-packed world of Percy Jackson is a series loved by young teens all over the world. Join Percy as he learns that the gods of Olympus from Greek mythology are alive and well in the 21st century and turn his world upside-down. RRP $22.99
Celebrate Jolabokaflod with the adults in your life as well! Check out our Penguin-curated lists to find present inspiration for your secret santa, audiobook lovers, or older teens who love some YA fiction. Then browse our Author Gift Giving Guide to find out what your favourite authors are gifting their loved ones.
Merry Christmas!
---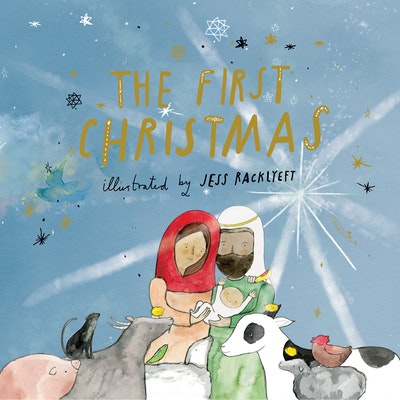 A long time ago, in a country far away, a star shone in the night sky and a baby boy was born . . .
Buy now
Buy now
---