Historical gambling notes from Titus O'Reily's Please Gamble Irresponsibly.
Australians lose more money gambling than any other country. We'll gamble on anything, from two flies crawling up a wall to less important things like federal elections. And thanks to the internet, phones and gambling-tax loving governments, these days Australians can indulge their love of a punt no matter what they're doing. But how did we get here?
Titus O'Reily's Please, Gamble Irresponsibly traces the history of gambling in Australia from horseracing in the colonial era, through the rise of SP bookies and organised crime, to the commercialisation of the industry and its impact on communities and the integrity of sport. In the historical titbits below, he reveals some lesser-known milestones in Australia's wagering history.
THE STARTING BARRIER
Starting a horserace is an interesting exercise. For a long time, the horses were lined up and a flag was dropped, then someone else 100 yards down the track would raise a flag if there had been a false start. This would often go on forever, resetting everything and getting the horses lined up again.
In Australia, this wasn't considered good enough, especially with money riding on the outcome. When one jockey, Reuben Gray, couldn't prevent his horse from walking over the starting line and was fined £5, it was decided enough was enough.
In a fury his father, Alexander Gray, built a single strand barrier that was raised mechanically. It was first used at a pony meeting at Canterbury Park in January 1894, and in time the Grays built more advanced versions of their starting barrier.
In Melbourne, J.L. Johnstone, the starter at the Moonee Valley Racing Club, designed a starting barrier that also had eight parallel ropes between the horses, creating an early version of gates. This barrier was used in the 1894 Melbourne Cup and by 1902 even the English Jockey Club made it mandatory.
Once again Australians had shown that when they have a bet on something, they take it very seriously.
THE DISHLICKERS
Greyhound racing can be traced back to the 1860s, when live wallabies were used as bait. These days the cruelty seems to be more aimed at the dogs themselves.
In 1873, hares were introduced into Australia for greyhound racing, continuing the wonderful tradition of introducing foreign species that has helped native wildlife so much.
In 2016, NSW premier Mike Baird tried to ban greyhound racing after ABC's Four Corners exposed live animals being used as bait, only to reverse course three months later. Part of the reason was that it's a huge industry – more than $4 billion a year is wagered on greyhound racing, which is amazing given no one has ever admitted to doing it.
CRICKETERS LOVE GAMBLING
Australia's cricketers love gambling almost as much as they love drinking and upsetting the Australian public. Dennis Lillee and Rod Marsh famously bet on the 1981 Headingley Test. England were in such trouble that at the ground, Ladbrokes Tent was offering odds of 500 to 1 for an English victory.
Lillee and Marsh said they couldn't resist those odds, even though they didn't think it would happen. Lillee put down £10 and Marsh £5. The fact they were playing in the match didn't seem to deter them.
But England's Ian Botham scored 149 not out and then Bob Willis destroyed the Aussies with 8 for 43, leading to an improbable 18-run English victory.
Lillee and Marsh later argued the bets didn't affect how they played, but some always wondered.
It wasn't the first time Lillee had bet on a match he was playing in. In the Ashes tour of 1972, Lillee was twelfth man in a county match. He decided to bet that Australia would take five wickets by lunch, and convinced some of his teammates to go in with him.
The Australians did indeed take five wickets by lunch – in fact, they took six – with Lillee realising he'd bet on them taking exactly five, meaning he'd lost the bet.
---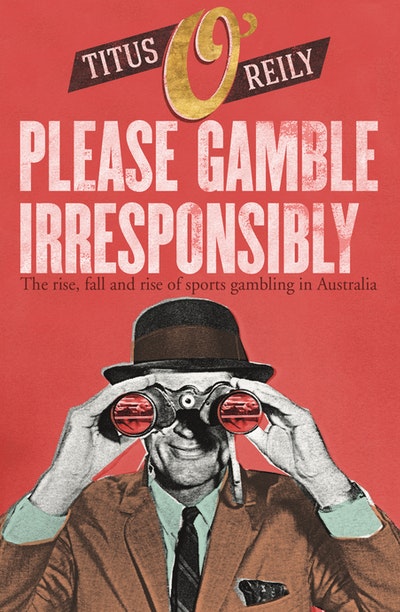 The rise, fall and rise of sport gambling in Australia
Buy now
Buy now
---