Titus O'Reily shares the story of the first code of laws for Australian Rules Football.
So four men walk into a pub. Instead of the beginning of a joke, this was the beginning of THE MOST SERIOUS THING EVER. Well, for many people it was. When they left, they had the gospel of Australian Rules in their hands, a document that in the coming years would be tinkered with almost as much as the actual gospels and spread with equal fervour.
The pub was the Parade Hotel in East Melbourne, where pub­lican James 'Jerry' Bryant had let it be known that players could borrow a football from his establishment. This was common prac­tice in England, to encourage players to have a drink afterwards.
The four men were James Bogue Thompson, Tom Wills, William Hammersley and Thomas Henry Smith, committee members of the Melbourne Football Club. In a clear case of putting the cart before the horse, three days earlier they had founded a club for a sport that didn't have rules yet. There is nothing more typically male than starting something before you've figured out how to do it. It's the 'she'll be right' approach that, surprisingly, works out more often than you'd think.
It was the equivalent of building something from IKEA by just glancing at the front of the instructions. In this case, though, there were no instructions to ignore so they just made it up entirely, which is how I do IKEA too. The couch I bought last week has developed into a wonderful wardrobe.
Some claim the impetus for all this rule-making was a letter Tom Wills wrote in 1958 to Bell's Life in Victoria and Sporting Chronicle: Now that cricket has been put aside for some few months to come, and cricketers have assumed some­what of the chrysalis nature (for a time only 'tis true), but at length will again burst forth in all their varied hues, rather than allow this state of torpor to creep over them, and stifle their new supple limbs, why can they not, I say, form a foot-ball club, and form a com­mittee of three or more to draw up a code of laws?
For a start, the idea that football would keep cricketers fit is amus­ing, because let's face it, most cricketers would need to actually get fit first. Still, the letter highlights one thing: people wrote a lot better back then.
This letter has now generally been discounted as a significant moment in Australian Rules history. It seems Wills just wrote to the papers a lot and, in this case, was summing up what a lot of the people who were playing these embryonic games were already thinking and doing. In essence, Wills was probably one of those characters who just summarise other people's hard work, state the bleeding obvious and talk about it as if it was their idea. You would have worked with a Wills at some point in your life.
The task of the newly formed committee was to develop a set of rules so the pick-up games being played would stop turning into rolling messes punctuated by arguments about the rules (not that different from the current game, some would say). Part of the problem was there were no clear rules to build on. There were cer­tainly some simple rules from England, such as those from Rugby, Eton, Harrow and Winchester, and these were all considered. It was decided to try to take the best bits from each and form a code that suited the committee. It's often said that Australian Rules is not as 'tough' as rugby, but that was a conscious decision made by the founders. The rugby rules resulted in a lot of injuries and this was a concern for working men. There was no sick leave and missing weeks of work was a risk many couldn't take. For that reason 'hack­ing', the old kicking in the shins, was not allowed.
What the rules did allow was the captains deciding the length of the field. It was also agreed there'd be two goal posts at each end and a 'mark' when the ball was caught, allowing the player to then kick the ball without interference.
It took them less than two months to start tinkering with these rules, a proud practice that continues to this day. The first rule change was to outlaw tripping. Again, working men getting injured was the reason.
Other tweaks followed, aiming to make the sport more fun to play and watch. James Thompson, one of the four rule-makers, was keen to promote the game as entertainment and also wanted to encourage women to come along. Not as players of course! That would be madness, what with their delicate bones and constant fainting from excitement. This desire to attract spectators turned the game into less of a sport and more a proselytising religion.
---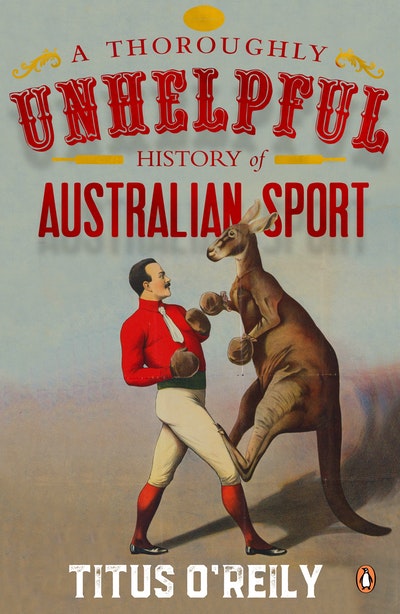 Can you not like sport and be Australian?
Buy now
Buy now
---