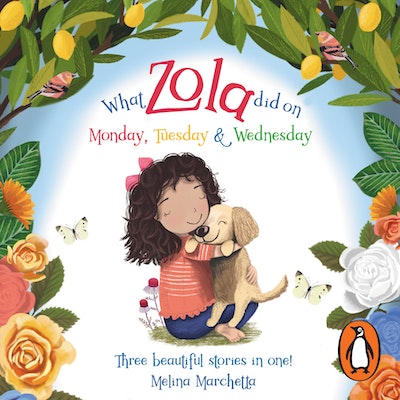 Published:

29 September 2020

ISBN:

9781760896980

Imprint:

Penguin Random House Australia Audio

Format:

Audio Download

Length:

0 hr 57 min

Narrator:

Pia Miranda

Pages:

96

RRP:

$15.99
What Zola Did on Monday
---
---
---
From the author of Looking for Alibrandi comes this gorgeous series to engage and entertain newly independent young readers.
Zola loves living on Boomerang Street with her mum and her nonna. Every day of the week is an adventure. But Zola has a problem. No matter how much she tries, she can't keep out of trouble!
This audiobook contains the first three books in the Zola series and features an exciting array of sound effects to delight young listeners.
Published:

29 September 2020

ISBN:

9781760896980

Imprint:

Penguin Random House Australia Audio

Format:

Audio Download

Length:

0 hr 57 min

Narrator:

Pia Miranda

Pages:

96

RRP:

$15.99
Other books in the series
Praise for What Zola Did on Monday
A charming series that will enchant all who read it.

The Book Muse
What an absolute joy [this book] is! From start to finish it ticks every box I love! . . . it's about re-connecting with community and sharing care, compassion and concern. There is a rich diversity in families with single parents, same-sex parents, multi-generational families and different cultures . . . Perfect for newly independent readers or for class or home read-alouds, I highly recommend this for little humans from around 6 years upwards.

Sue Warren, Just So Stories
A beautiful big family, cousins living in the house behind you, a hole in the fence for you to climb through and play. A beautiful street, a community of people you love . . . a neglected garden that everyone has forgotten. . . . . . a beautiful junior novel about family and community. . . It truly does warm your heart as you read it . . . This is a junior fiction series to pay attention to. It's absolutely stunning!

kids-bookreview.com
Highly recommended. A series of stories for the newly capable reader [that] will captivate its audience as they read of a girl just like them: one who gets into trouble without trying to, who seemingly does the wrong thing without meaning to, but is loved and cherished despite her shortcomings . . . Well supported with charming, family friendly illustrations, this lovely rounded story is told with a sensitivity for the generations that have preceded us. The tale will delight younger readers, eager to find out how Zola resolves the situation she has made.

Fran Knight, readplus.com.au
Marchetta weaves a simple but engaging story that encompasses multigenerational families and a close-knit community working together. The black and white drawings by debut illustrator Deb Hudson are absolutely gorgeous and add a great deal of charm to an already delightful story. What Zola Did on Monday is a great book for a child who is in the early stages of their reading journey. Early readers aged 5–7 are very fortunate to now have a Melina Marchetta story just for them.

Angela Crocombe, Books + Publishing
A story bursting with warmth, family love, troublesome dogs, and growing things . . . perfect for beginning readers who are ready to try reading chapter books on their own or aloud to an adult. Alternatively, the book is also perfect for a caregiver to read aloud to a child who is not quite ready to read independently but still enjoys a story with a little more heart and solid storyline . . . Even slightly older readers would enjoy these books because Zola is such a delightful, thoughtful, and slightly mischievous character. The text is broken up with Deb Hudson's charming black and white illustrations, which add warmth to the story and depict a diversity of characters.

Sandy Bigna, Aussie Kids Books
There is a story for every day of the week in Melina Marchetta's new series for newly independent readers – not that each bright little chapter book is confined to one day: we don't find out what Zola and her cousin Alessandro do on Mondays until the end of a book in which a lot of things happen and a modern neighbourhood is unobtrusively set up. . . The book is in eight spacious large-print chapters with Deb Hudson's very expressive illustrations in shades of grey and black on almost every page. . . Young readers – particularly girls? – are encouraged with tick lists and pretty name-plates to collect the whole series and embark on an entertaining and instructive pathway to reading competence.

Katharine England, Magpies
Melina Marchetta is a novelist we normally associate with award-winning young adult fiction, and more recently her adult novels Tell the Truth, Shame the Devil and The Place on Dalhousie. Now, for the first time, she turns her prodigious talents to junior fiction. Her new series will have seven books, each titled for a different day of the week (although this first book is set over a longer time period), featuring a young girl and her neighbourhood. In What Zola Did on Monday, the first short chapter book, Marchetta introduces the delightfully cheeky Zola. There are three generations of women living in Zola's house, while Zola's younger cousin, Alessandro, lives in the house behind them. Everyone in the street likes to admire the amazing flowers in Zola's garden, which is tended by her Nonna. There are two dogs, Monty and Gigi, one of whom is very naughty indeed, and school is just across the road in what used to be a community garden that has fallen into disrepair. Marchetta weaves a simple but engaging story that encompasses multigenerational families and a close-knit community working together. The black and white drawings by debut illustrator Deb Hudson are absolutely gorgeous and add a great deal of charm to an already delightful story. What Zola Did on Monday is a great book for a child who is in the early stages of their reading journey. Early readers aged 5–7 are very fortunate to now have a Melina Marchetta story just for them.

Angela Crocombe, Books + Publishing