The best books for educators to share on International Women's Day 2021
With International Women's Day just around the corner, we're celebrating female voices, female role models – whether real or fictional – and tackling a hot topic: how to raise girls who like themselves.
Share this list with your school community and enjoy!
She's curious, kind and a little bit cheeky! Zola Angelica loves her school and street community, making friends, learning new skills and having a whole lot of fun on every day of the week. The latest book, What Zola Did on Thursday, is out now.
'Zola is such a loveable and relatable character. She loves adventures but cannot help getting into a little spot of bother. I love the family dynamics in the narrative. There are same-sex parents, Zola lives with her mum and Nonna, and Alessandro doesn't live with his dad.'– i_teach_muggles, Goodreads
Easily the most well-travelled of all our characters, Alice-Miranda is soon to be embarking on her twentieth adventure! She's super confident and has a lot of love for the people around her. The latest book is Alice-Miranda in the Outback, out now.
'Alice-Miranda always looks for the best in people and is forever leading the way to solve a problem or mystery with her friends. She's a beautiful role model for all young girls.' – Sarah, Goodreads
She's bold, witty and doesn't care about being different. Friday Barnes, complete with her 'ugly' brown cardigan and pork-pie hat, is the hero we need in 2021. Her latest adventure, Friday Barnes 9: No Escape, is out now.
'Friday is incredibly intelligent, amazingly perceptive, has an extraordinarily broad and advanced knowledge base, and yet few social skills to speak of; she is an 11 year old* Sherlock-Holmes-style genius.' – Amelia Rockliff, Goodreads
*Friday is now 15 years old in the latest book, Friday Barnes 9: No Escape.
Award-winning writer, broadcaster and social advocate Yassmin Abdel-Magied draws upon her own childhood as a Muslim Sudanese-Australian growing up in Brisbane to create the vibrant life of Layla.
'Meeting Layla will be one of the loveliest things you get to do this year. Our pal Yassmin has created an absolutely delightful character who is a joy to read about. Layla is the girl we all want to be besties with, and has so much love, laughter and spark within her that she can actually be all of our besties.' – Sunili, Goodreads
With the younger readers edition of Becoming, Michelle Obama tells her full story for a new generation with the honesty and candour that is her trademark. In sharing her joys and triumphs alongside the bumps, bruises and challenges she has encountered along the way, Mrs. Obama invites readers to realise that no one is perfect, and that the process of becoming is what matters, as finding yourself is ever evolving. In telling her own story with boldness, she asks young readers: Who are you, and what do you want to become?
'A rich, entertaining and candid memoir. And overall Obama's a fun person to sit alongside as she tells you the story of her life . . . it is as beautifully written as any piece of fiction.' – Independent
There are seven qualities that enable girls to thrive and arm themselves against a world that tells them they are flawed. Packed with practical, evidence-based advice, Raising Girls Who Like Themselves is the indispensable guide to raising a girl who is happy and confident in herself.
'I am not one for parenting or self-help-style books, but this felt non-judgemental and completely safe. I was proud to discover that I am already on the right track with a lot of strategies and have furthered my knowledge and gained new tools and perspectives in this parenting gig! Definitely recommend!' – readingbunny, Goodreads
A new school year! For many kids it means new classes, new friends, new challenges – and after last year with so many learning remotely for months at a time, this could feel more true now than ever. The world of the pre-teen is packed with change, and sometimes they need a helping hand sorting it all out. Whether it's their body taking on a life of it's own, finding their strengths and talents, or standing up for what they feel is right, Kaz Cooke's Girl Stuff 8–12 is the essential go-to guide to puberty, the pre-teen years and all the curly questions in between.
Even more inspiring women
Dive into stories of more Australian women achieving greatness in Born to Run by Cathy Freeman, Unmasked: Young Adult Edition by Turia Pitt, Untold Resilience by Future Women or Women and Leadership by Julia Gillard and Ngozi Okonjo-Iweala.
---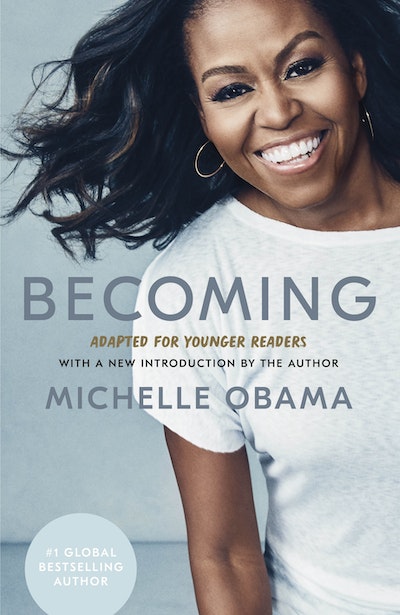 A younger reader's edition of the number-one bestselling memoir by former first lady of the United States, Michelle Obama. With a new introduction from Mrs Obama herself
Buy now
Buy now
---