Melina Marchetta's new series is perfect for beginner readers.
Melina Marchetta is an award-winning young adult, adult fantasy and crime fiction novelist, most famous for her coming-of-age novel Looking for Alibrandi. So why is she now writing for 6–8 year olds?
My 8 year old daughter is a very reluctant reader. When she was in Year 1 she especially struggled with literacy so I wrote it for her.  Although the character is named Zola (who is named after a young friend) the character is very much based on Bianca.  I'm always searching for diversity in books for any age.
What does Bianca think of the series?
She is very excited about it.  Apart from our dog Gigi being it, so are the dogs next door, as well as my nephew whose middle name is Alessandro.  In the books Alessandro lives behind Zola and they hang out via a little gate in the fence. We will soon move into a house that will be separated by a similar door, so they are both excited.  The other night Bianca read a chapter to my mum and her cousin and they were very charmed.
Is Zola's Nonna Rosa similar to anyone in your family?
My mum is a bit like Nonna Rosa.  We went on holidays once and left our dog Gigi with her and she had to build a barrier around her entire garden. The moment we let Gigi lose in the backyard, she jumped the barriers and went for a dig-a-thon.  It's all we heard the whole time we were away.
Are you a passionate gardener?
I'm a terrible gardener. The problem is that I love gardens, so I would be the happiest person in the world if I had a personal gardener.  Once in a while I tell myself that I'm going to grow tomatoes.  I've done that successfully once, but it's all about the quality of the soil.  I also love eggplant and capsicum.
What is your favourite scene in the first book?
My daughter is a busy body about what the neighbours are up to so I love the scene where Zola and her cousin are on the trampoline reporting on what neighbouring kids are doing. 
The illustrations are just gorgeous. How did you feel when you first saw them?
I've never had illustrations in my novels before so the visuals have always been in my head. I love Deb's illustrations because she has captured the personalities of humans and dogs perfectly. 
What other types of adventures will Zola have during the rest of the week?
My father passed away this year and prior to that he had purchased a little yellow boat to fix up for his grandchildren.  In the New Year my cousins and my parents' neighbours and my nephews are determined to work on it, so one of the books will be based on the little yellow boat and what happens when Zola and Alessandro and the dogs get into the paint!
What Zola Did on Monday launches in June with book 2, What Zola Did on Tuesday, releasing in August. The books are 'like a warm hug' and are filled with beautiful illustrations by Deb Hudson.
---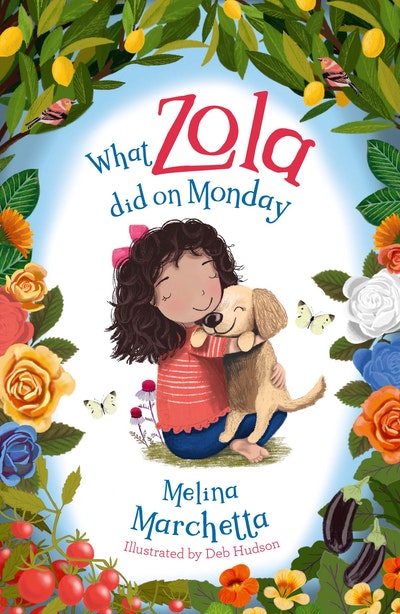 From the author of Looking for Alibrandi comes this gorgeous series to engage and entertain newly independent young readers.
Buy now
Buy now
---