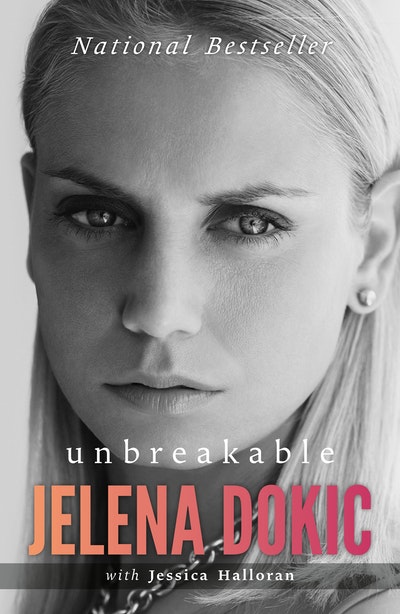 Published:

29 October 2018

ISBN:

9780143784241

Imprint:

Penguin

Format:

Paperback

Pages:

320

RRP:

$22.99
Unbreakable
Extract
Prologue, July 2000
 
I don't know where my dad is. I'm standing in the plush Wimbledon players' lounge waiting, looking around for him: we're due to go out for a nice dinner with my managers, Ivan and John. I am seventeen years old and I have just played in the semi-finals. Of Wimbledon.
Surely, you'd think, he would be okay that I got this far at the All England Club. You would think. At the end of the match, as I shook Lindsay's hand, I looked up to the stands and saw my father bolt out of his green seat, nothing but the back of his burly frame rushing from Wimbledon's Centre Court. Usually after my matches, he stands around somewhere near the players' lounge and I have to find him. But today there's neither sight nor sound of him. I called his mobile after I finished my press duties and he didn't pick up.
This has been my greatest run ever in a grand slam and I want to know what he'll say, and to organise how we will get to dinner with Ivan and John. So I call him again, and this time, finally, he picks up.
The dull slur in his slow, loud voice tells me he is drunk. I know this tone; it's the tone of white wine and probably a few glasses of whisky. He is angry. Furious that I lost. His voice booms down the phone. 'You are pathetic, you are a hopeless cow, you are not to come home.
You are an embarrassment. You can't stay at our hotel.'
'But, Dad …' I say quietly, trying to plead with him.
'You need to go and find somewhere else to sleep,' he yells at the top of his voice. 'Stay at Wimbledon and sleep there somewhere … Or wherever else. I don't care.'
He hangs up.
I have just made the semi-finals of Wimbledon. But in my father's eyes I am not good enough to come home.
Players around me are getting on with life, chatting, eating dinner, winding down with their coaches. I am alone and shattered. I have no money – well, no access to it – no credit card. It is Dad who has all that. He controls everything in my life.
Emotion starts to overwhelm me. Failure – I'm a failure. Minutes tick by, and then hours. I tuck myself away on a small couch in the corner of the players' lounge, hoping no one notices me, and eventu- ally the place is empty.
At around 11 pm the cleaner arrives. She sees me in the corner and comes over. 'You can't stay here,' she says softly.
I make the confession: 'I have nowhere to sleep tonight.' As I say it, the reality hits me. The tears prick in the corner of my eyes
'I have to let the tournament authorities know,' she says.
Wimbledon's referee, Alan Mills, arrives. 'What happened?' he asks gently.
'I have nowhere to go,' I say. 'I have nowhere to sleep.'
Hot tears are running down my face, but I don't let on that my own father has banished me: as always I must protect him. Alan, however, seems to know what's going on. My management agency, Advantage, has rented a beautiful house in Wimbledon village; Alan calls my managers and they say they will take me in. He arranges for a tournament car to take me to the house.
I arrive sobbing and Ivan and John look concerned when they see me. They explain they'd called my dad earlier in the evening trying to locate us, and my nine-year-old brother, Savo, answered. John says he could hear my father's voice in the background. Apparently Savo said simply, 'My dad isn't here.'
I am both heartbroken by my father's rejection and embarrassed by it.
I'm shown to the spare room. At least I didn't get a beating from him. As I wait for sleep, through the shock and hurt I start to realise that I might never make my father happy. That I might never be good enough in his eyes.