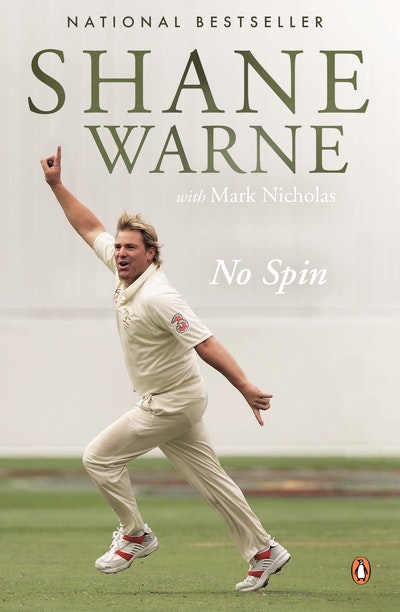 Published:

18 August 2020

ISBN:

9781760899202

Imprint:

Penguin

Format:

Paperback

Pages:

432

RRP:

$22.99
No Spin
The autobiography of Shane Warne
Extract
I started out in the Melbourne suburbs and I remain happily there to this day. Though London has called for a lot of the time over the past few years, Brighton, just a few miles out of Melbourne's city centre, is my patch. I've traded houses there like I don't know what home is, but I do; I know what's in my heart.
I've only ever had two serious relationships. Yep, two: the first with my wife of 10 years, Simone, and the second – much more recently – with my ex-fiancée, Elizabeth Hurley. Believe it or not, I'd take the quiet life over the red carpet any day. The trouble is I haven't often portrayed myself as anything but a good-time boy, hunting down something different every week of the year. Kerry Packer once told me, 'Sell the blue Ferrari, son, and lie low for a while,' so I did as I was told, and bought a silver one. Lying low hasn't been my thing.
I have lived in the moment and ignored the consequences. This has served me both well and painfully, depending on which moment. I've tried to live up to the legend, or the myth in my view, which has been a mistake because I've let life off the field become as public as life on it. In my defence, I've never pretended to be someone or something I'm not.
I'm a little older now and often wish I was wiser. I'm sick of taking up space in tabloid newspapers and plan to work on that with a bit more conviction than previously in my life. Yes, I've been silly at times but, equally, I like to think I've done justice to my talent, openly shared it with the world and provided plenty of entertainment. Regrets? A few but not as many as you might think. I can't change anything so what's the point of regret? I've tried to do the best by Brooke, Jackson and Summer, my beautiful kids, but the space in those tabloid papers has at times embarrassed and hurt them. Right there is a regret.
Now that's off my chest, we can get down to business. Other than 'Would you sign this, please?' and 'Can I have a selfie?', the question I'm asked most is 'How did you do it?' By that I think people are referring to the Gatting ball, the World Cup semi-final, Amazing Adelaide, the MCG 700th, the IPL and so on. I might be wrong, of course, but probably not, so as my life unfolds over the coming pages, I hope to answer the question. Yes, the search for fame, love, admiration and lifestyle are in the make-up some­where. Ultimately, though, it's about the leg-break, and the strategy, instinct and burning desire to win that came with it.
The stories on the pages that follow are the result of many recorded conversations with a longtime friend, Mark Nicholas. Mark's job has been to make sense of it all – his magic trick, if you like – and he's pulled more than a few rabbits out of the hat. Mine is more mysterious and has been worth a bunch of wickets and a few trophies along the way. Best of all, it has been a whole lot of fun. You gotta remember football was my thing, not cricket.
---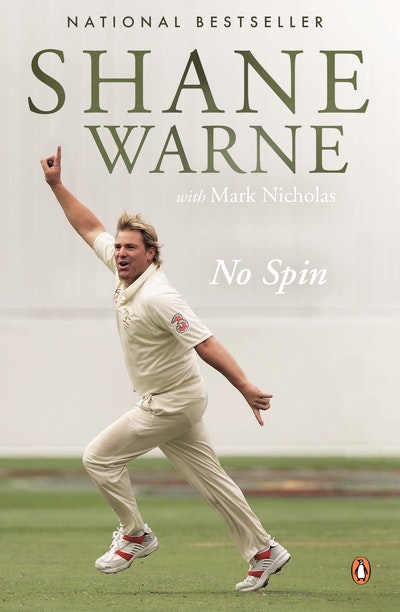 No Spin is the last word on Shane Warne's extraordinary cricketing career and his life off the pitch.
Buy now
Buy now
---