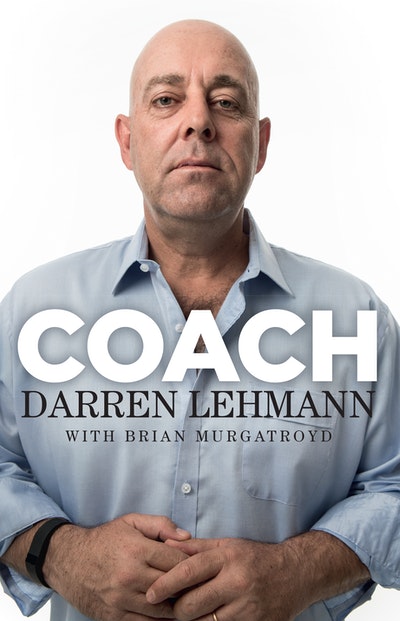 Published:

31 October 2016

ISBN:

9781925324792

Imprint:

Random House Australia

Format:

EBook

Pages:

336
Coach
Extract
'Can you make a difference?'
It took my wife, Andrea, to cut right to the heart of the matter, as she so often does, in working out whether or not I should take what I regard as the best job in cricket outside of actually playing the game – the role of Australia's head coach.
I wanted the job, I knew that much, but in my own mind it was more a case of whether I was up to coping with the challenge and whether it was going to be fair on my family. After all, as myself, Andrea and our two children, Amy and Ethan, discussed the offer made by Cricket Australia's Executive General Manager of Team Performance Pat Howard, there was a realisation I would be on the road and out of home for up to 300 days every year.
The point at which we were discussing that offer was almost the perfect illustration of the pressure that top-level cricket puts on the family unit. We were in Bristol, it was 23 June 2013 and just a short while earlier I had been strolling around the boundary of the county ground on the final day of Australia A's match against English side Gloucestershire, the last game of a brief tour of the United Kingdom. I was involved as one of the staff under the trip's head coach, Troy Cooley, in what was a chance for me to extend my horizons and have a look at the national set-up after a couple of successful seasons with Queensland.
Although the match turned into a really tight contest I was still feeling pretty relaxed. The tour had gone well on two levels, as it had served as a good tune-up in unfamiliar conditions for several players who were set to take part in the Ashes series beginning the following month and, at the same time, it had allowed for a closer look at a few promising individuals who were on the fringes of international honours.
From a personal point of view I was looking forward to some much-needed rest, having been on the road for the best part of four months. I had just finished the first season of a two-year contract coaching Kings XI Punjab in the Indian Premier League (IPL), and that had come off the back of a domestic season in Australia looking after Queensland and the Brisbane Heat, a season in which we finished as runner-up in the Sheffield Shield, won the second edition of the Twenty20 Big Bash League, and the Ryobi Cup, the domestic 50-over per side competition.
I was ready for a break and Andrea, Amy and Ethan had arrived in England to meet up with me at the end of the tour match in Bristol, head to London and then on to Paris for what we had planned as a family holiday away from the game. Now, though, there was the prospect of a rapid change of plans.
Pat's offer came out of the blue. It was true that the national team was experiencing a serious crisis of confidence, that results had been poor and the perception, at least in the media I had seen, appeared to be of a side struggling on every level.
Just a matter of months earlier Australia had been whitewashed in a four-Test series in India that included the suspension of four players – Shane Watson, James Pattinson, Mitchell Johnson and Usman Khawaja – for not completing an assignment on how the team could improve following the losses in the first two matches. And then, in early June, the limited-overs side had failed to progress from the group stage of the International Cricket Council (ICC) Champions Trophy in the United Kingdom.
Added to that were the facts that captain Michael Clarke was struggling with a long-standing back injury that sidelined him during the Champions Trophy and David Warner had been suspended after throwing a punch at England batsman Joe Root following an altercation in a bar in Birmingham after a defeat against Alastair Cook's side. It all added up to an impression that the ship was rudderless heading into the Ashes series starting in July.
Whatever the truth behind that view, I still did not expect Cricket Australia to change the head coach so close to the series. I knew Mickey Arthur and knew him to be a hard-working and diligent operator – you do not get to coach three national sides without being good at your job.
But as coaches, in cricket as in other sports, tend to live and die by results, I suspected he would be on very thin ice if the Ashes were not regained or if the side was not competitive, especially after the events both on and off the field in India and at the Champions Trophy.
All the same, when I got a call from Pat that he wanted to catch up with me for lunch on that final day of the match in Bristol, I had no inkling about what he was about to offer me. I thought it would simply be a case of some sort of debrief from the A tour, getting my impressions of the players and the usefulness of the trip and picking my brains about any thoughts I may have on the future direction of the game in Australia.
I was actually quite pleased to have the chance to chat with him, as during the previous home summer there had been some to-ing and fro-ing between us in the media. I was frustrated that, despite the success we had been having in Queensland, very few of my players were getting a chance with the national side. And although Pat wasn't a selector, he was the man in charge of them, so I thought the catch-up would be a chance to get the inside track on what was happening.
All that soon went out the window, though, as Pat cut to the chase pretty quickly: 'How would you like to coach the Australian team?' he said. My answer as I recall it now was pretty vague: 'Obviously I'd love to have a crack at it down the track as that's what you're in the game for, to take on big jobs like that and test yourself at the top level.'
'Well, how would you like to take on the job right now?'
My response to that was a pretty good illustration of the shock I felt. 'F*** off !' Thankfully, having played and worked in top-level sport for most of his life, Pat was used to earthy language and allowed it to go through to the keeper.
'Well, if you do want to do the job then you've got the rest of the day to think about it and give me an answer.'
Andrea, Ethan and Amy had just arrived in Bristol, about a 90-minute drive west of London, and I quickly contacted them and arranged a catch-up of our own as I drove back to the hotel in the city centre. I rang Andrea from the car and as she knew the match was still going on, she realised something out of the ordinary had happened. 'What have you done now?' were her first words to me!
I told her about Pat's offer and by the time I arrived back at the hotel, the twins, both 11 years old at this point in time, were waiting for me in the foyer and bolted out to meet me. 'You've got to take it!' they said, not necessarily realising the amount of time I would be away from home.
We took a stroll along the canal that runs through the centre of the city to a restaurant for a late lunch and kicked the situation around for a couple of hours. I don't remember much about the meal but I do remember it was a lovely sunny day as we weighed up our options as a family. I explained the situation in detail and waited for their feedback. I knew I wanted the job but needed to hear two things from them: their blessing to go for it and also their reassurance they felt I was up to the challenge.
A reluctance to think I was capable of rising to that challenge was behind my failure to apply for the role the previous time it had come up, in 2011. Pat had asked me to throw my hat in the ring back then, but I decided against it, reckoning I was too inexperienced as a coach and that I needed to get some more miles in my legs before I considered taking on the biggest and most prestigious position in Australian cricket, aside from the captaincy.
Now, fast forward less than two years, and here I was in the same position, albeit with a little extra schooling, and we had a big decision to make as a family.
Even after hearing all that the job entailed, Ethan and Amy were all for me taking it on – the thought of their dad overseeing the Australian cricket team was exciting. Although the role involved lots of travel for me, they were happy at the prospect of visiting me overseas when studies and time allowed, having been globetrotters from an early age alongside their mother, given my earlier nomadic lifestyle as a player. Andrea, though, was more measured, asking that key question.
So, could I make a difference? I thought for a moment, thought about the results the team was having, thought about the perception of the team in the media and the public, thought about my own experiences as a player, and my conclusion was a simple one: 'What's the worst that could happen?'
Yes, I was still relatively inexperienced – I had had a handful of seasons in the Indian Premier League with the Deccan Chargers and Kings XI Punjab, plus a couple of years with Queensland, so I could hardly be said to be the equivalent of a Leigh Matthews or a Kevin Sheedy, two seemingly immortal figures in Australian Rules football coaching of the recent past, but as the four of us chatted I quickly came to the realisation this was one of those sliding door moments. If I didn't take on the role now, while I was still relatively young and healthy, would I regret it later in life? Would I get the chance again?
The side was losing anyway so almost anything would be an improvement on that and, by joining less than three weeks before the Ashes series started, it actually afforded me an unprecedented honeymoon period. Everyone knew I had not had a hand in the squad selected, so even if losses happened I knew I would be cut some slack. And if it did go wrong, as long as I could look myself in the mirror and say I had given it my best shot then that would be enough for me.
Andrea knew the sacrifices that were involved, as many of them seemed to fall to her. She had spent much of her life bringing up Amy and Ethan on her own thanks to my time away from home and, having created a degree of normality in our lives through the move to Queensland, there was the prospect of her having to cope with the same scenario all over again.
But she's a strong woman and wants what's best for me. As soon as I was clear in my own mind that I could make a difference – and a positive one, too – our minds were made up.
I called Pat Howard, accepted his offer subject to agreeing terms, and then the whirlwind of changing plans started: for me it was all about calling those close to me beyond Andrea and the twins – including key people I'd worked with at Queensland Cricket like captain James Hopes – to let them know the situation. I think my biggest regret about the whole scenario was that I didn't get a chance to say a proper goodbye – and thank you – to those people, the players and administrators in Brisbane, who had backed me and given me the chance to succeed which had, in turn, earned me the opportunity to take on the role with the Australia team. It had been a superb couple of years for me, moulding a hungry group of predominantly young players into a significant force in domestic cricket, and it was thanks to their buy-in to what I wanted to do that I'd secured my new gig.
Now, though, things were moving in a different direction. For me it was a case of heading to Taunton to meet up with the Australia Test squad, then preparing for a tour game against Somerset ahead of the Ashes series. For Andrea, Ethan and Amy, there was the prospect of the trip to London and then on to Paris without me.
---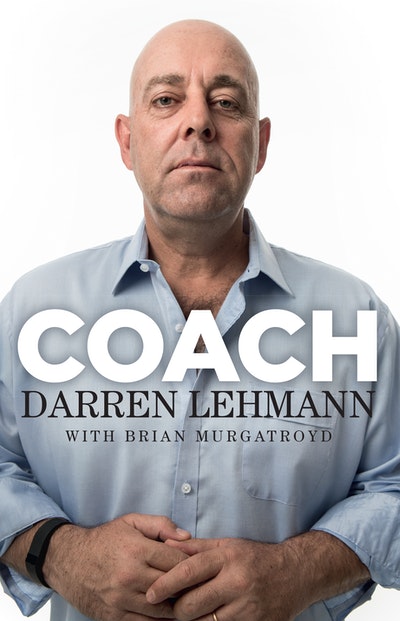 This is a book that is a must-read for everyone keen to get an insight into how a world-class sporting team ticks.
Buy now
Buy now
---