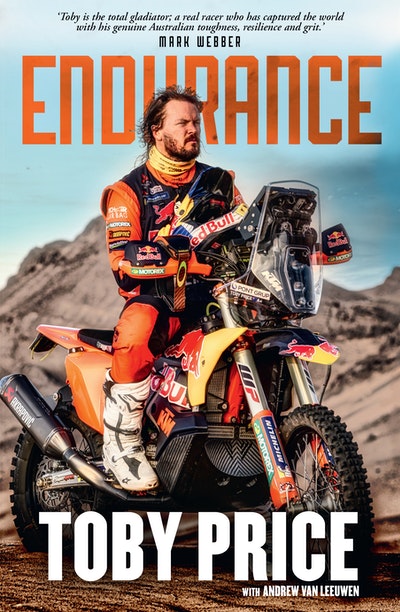 Published:

1 February 2022

ISBN:

9781761043871

Imprint:

Penguin

Format:

Trade Paperback

Pages:

320

RRP:

$34.99
Endurance: The Toby Price Story
Extract
1
Roto
Roto. You've probably never heard of it and I don't blame you. It's not small, quite the opposite, but it's incredibly isolated and unpopulated. A vast expanse of land over 700 kilometres west of Sydney. It's a pretty insignificant place for most people, I suppose. But in the early 1980s it was the centre of the universe for my parents, John and Pauline Price.
Both of my parents came from rural areas and understood the bush. My dad John grew up in Harden-Murrumburrah in the South West Slopes area, where he lived until his career in banking took him to Moss Vale in the Southern Highlands. My mum Pauline grew up in Mittagong, 20-odd kilometres from Moss Vale, and trained to be a nurse. In 1975 their paths crossed, they hit it off and more than four decades later they're still together.
A few years into their life as a married couple, John and Pauline received a fascinating offer. A doctor at the hospital Mum worked at was looking at buying a farm out at Roto, but he didn't want to put his money on the line unless there were people he could trust to go out there and run it. So the opportunity was presented to Mum and Dad, and Mum's brother Jeff and his wife, Diane. The place was pretty run down and the doctor wanted a five-year commitment from whoever took on the project. He didn't want somebody to go out there, freak out and pull the pin a few months later.
It was a huge call for my folks. They'd just built a brand new brick home in Mittagong, my brother, Matthew, was a baby and my sister, Amanda, was on the way. They'd been brought up in rural areas, but neither of them were born and bred farmers. But they decided to commit to the five years and give it a go. Obviously they didn't know it at the time – I wasn't even born – but that decision set me on my career path.
The move to Roto took a little longer than expected for my parents. There were a lot of loose ends to tie up in Mittagong, and when Amanda arrived a lot earlier than expected, that further complicated things. So my grandparents, Allan and Margaret, moved out to Roto first. Jeff and Diane followed a year later, and I finally arrived another year or so after that.
Life out in Roto wasn't for the faint-hearted, particularly in the early days. The property was 42,000 acres of cattle and sheep farm, sprawling across the western country. When my folks first got out there, there was no running water. Water itself was a scarce commodity, hot water even more so. Having a hot shower meant lighting a fire under a 44-gallon drum filled with water. There were snakes and spiders every­where. There was no electricity; food was stored in kerosene fridges. It wasn't until 1986, a year before I was born, that the property got electricity for the first time. The nearest neigh­bours were Jeff and Diane, who lived on a separate homestead on the same property, seven kilometres away. Adding to the challenge was that Amanda, having been born premature, required significant care, something that I'll expand on later. That move to Roto was an incredibly daunting task for my folks, but they loved it. They could quickly envisage the childhood it could provide for us kids. The whole family learnt to appreciate what they had and make the best of it.
A few years into the stint at Roto I hit the scene, and from the word go I just couldn't sit still. The two-and-a-half-metre high fence around the homestead suddenly wasn't big enough. I was the complete opposite to Matthew; if my parents gave him a toy, he'd sit there and play quietly for hours. If they tried the same with me, I'd be out the door as soon as they turned their backs. I was a nightmare for my poor parents. When I was 18 months old I decided to climb this big tree in our front yard. Getting up there was easy, but I quickly realised I didn't know how to get down. Mum came out to hang the washing and could hear me calling, but couldn't work out where I was. She eventually looked up and there I was, eight metres in the air. If Dad had tried to climb the tree it would have snapped, so my uncle used the front end loader to lift him up high enough to grab me. I'd regularly scale that big fence around the homestead and go walkabout. Luckily, wherever I went, our Great Dane Harley went with me. Any time Mum realised I was gone, all she had to do was find the dog.
The big smoke to us was Hillston, population of around 1000 people. It wasn't exactly around the corner, either. Getting to school each day was an epic trek; first, Mum would drive us to the bus stop . . . which was 17 kilometres away. Then it was another 50-odd kilometres on the school bus. The bus didn't have air-conditioning and it was regularly 35, 40, even 45 degrees out there. And because it was dirt roads almost the entire way to school, the bus driver wouldn't let us open the windows. It was like a sauna on that old thing.
Being so remote, there were little luxuries that were always out of reach for us. Like ice cream. The kids that lived in town could go and get an ice cream or milkshake whenever they wanted one. For us, it was a special thing to go into Bill Morgan's cafe and have an ice cream. If I ever complained about wanting to get an ice cream Mum would say, 'It's a bit hard, Tobes. We live in the bush'. I heard that a lot as a kid. At least by the time I was born the electricity was connected and we had a freezer at home, so we could buy tubs of ice cream from the shops.
What we lacked in ice cream and milkshakes, we more than made up with space. We had buckets of it, and for us kids it was one big playground. One of my favourite things was our homemade water park. When I was around four years old, Dad would stick a life jacket on me, shove me inside a big irrigation pipe and then fire up the pump. It was a snug fit with the life jacket, so as the pipe filled with water out of the river the pressure would build behind me and eventually spit me into an irrigation channel. I loved it, but not many of my mates would sign up for that one. Another of our favourite games was riding billy goats. We called that the 'Roto initiation'. We'd drag an old billy goat, one with huge horns, back from the mallee growth and take turns riding it. Matthew took the record for longest ride; he held on for so long that the old goat decided the only way to get rid of him was to go through a mallee bush and wipe him out. It took two hours for us to find him. We knew he had to be down there in the mallee bush somewhere. Funnily enough, all those kids from Hillston I was some­times jealous of couldn't wait to get out on the farm and ride motorbikes and swim in the dam. Sometimes they'd come for the weekend and stay for a week.
We spent most of our time outdoors, but we did have one living-room tradition. Like most Australian households in the early 1990s, we always watched the Hey Hey It's Saturday variety show on the weekend. There was a character called Plucka Duck that would give away prizes to guests. Big prizes, too. Things like cars and family holidays. When I was five years old I decided I wanted to enter, so I sent in an envelope with my name on it. To be honest I always thought our mail never left Hillston. A few weeks later we were watching the show and the host Daryl Somers announced the next contestant for Plucka Duck. 'Toby Price, we'll be in touch soon.' We were sitting there in complete shock. On the Monday afternoon the phone rang at home. It was a producer for Hey Hey, asking to speak to Toby.
'He's at school,' said Mum.
'What? He's at school?'
'Yeah he's only five years old.'
The producer just assumed I was an adult. What was a five-year-old doing trying to win a car? For me it seemed like the most normal thing in the world. They eventually agreed I could go to Melbourne for the filming. If I couldn't physically spin the wheel around at least once, Dad would take my place. We did a practice spin and it didn't just make it all the way around, it landed on the new car! The cameras weren't rolling yet and I'd used up all my luck. In the recording I kept ending up with prizes that weren't suitable for a five-year-old. There was a king-size bed set, $2000 worth of kitchen appliances, $3000 worth of ladies' clothes . . . eventually I won a family holiday to the Gold Coast. Perfect. I think it was the longest ever Plucka Duck segment. When I got back to school at Hillston the next week I was basically a movie star.
---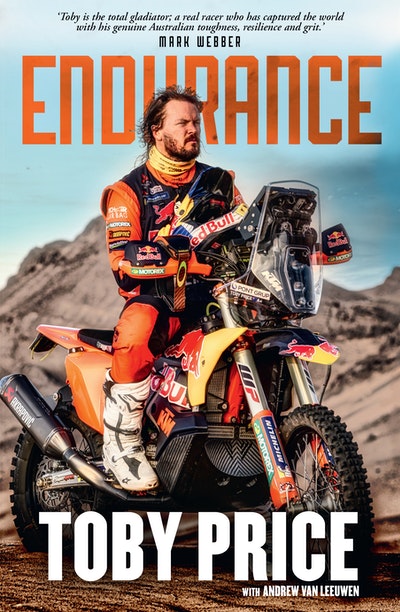 Two-time Dakar Rally champion, seven-time Finke Desert Race winner, FIM World Rally Champion and one of Australia's most popular motorsports athletes shares his inspiring story of every bump in the road on his way from a small farm in the Australian bush to the top of the podium in the world's most gruelling endurance race.
Buy now
Buy now
---