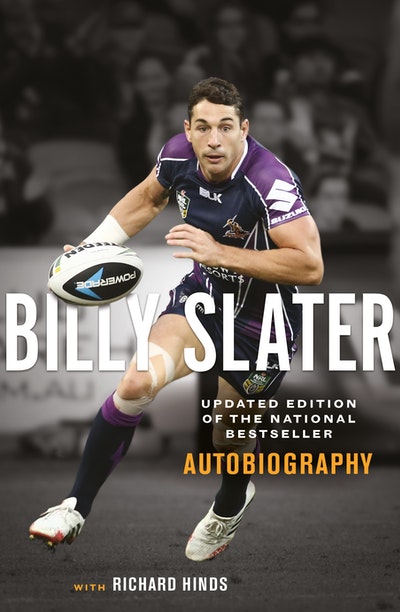 Published:

3 December 2018

ISBN:

9780143782476

Imprint:

Ebury Australia

Format:

Trade Paperback

Pages:

416

RRP:

$29.99
Billy Slater Autobiography
Extract
On 16 March 2017 I played my two hundred and seventy-ninth game for the Melbourne Storm. Add twenty-seven State of Origin appearances for Queensland and twenty-five games for Australia, and this was my three hundred and thirty-first game of top-flight rugby league. But this was a game like few others.
The Melbourne Storm played the Brisbane Broncos at AAMI Park and won 14–12. To be honest, I didn't perform particularly well. Coming off the bench, I missed a few passes and didn't quite have my timing right. Normally I would have been a bit disappointed with my form. This time, I was elated.
This was the game I feared I would never play. After two operations on my left shoulder, there were times I genuinely believed I would not be able to pick up my two children again, let alone compete in a brutal sport like rugby league. To be out there running with the ball, striving to create and contribute, feeling the excitement of the crowd and sharing the triumph with my teammates, was incredible.
The lead-up to that game, and the long months of reha­bilitation, gave me plenty of time to contemplate my career. I like to think I am an optimist. I'm not one who looks back. I prepare the best I can for the next game, I don't worry about the last. But when you approach the end of your career, or when injury threatens to end it prematurely, things come into focus.
At the same time as I did the hard work needed to get back on the field, I was writing this book. So I spent a lot of time contemplating the long road from my life as a kid in Innisfail in northern Queensland to elite rugby league; the great moments, the significant challenges and the many people who have helped me along the way.
Luck, circumstances and life choices have all played a part in my career. What if I had chosen to stay in Innisfail to play for my local club and not followed my dream to Brisbane Norths, where I played alongside a couple of teenagers named Cameron Smith and Cooper Cronk? What if serious injury had kept me on the sidelines at the start of my career, not near the end? What if I had stayed at the Waterhouse stables in Sydney, not hitched a ride on a banana truck back to Innisfail and played rugby league again?
For all that, I would like to think I've made my own luck. My parents gave me and my sister a warm and loving home through their sheer hard work and loving devotion. It was an example I've followed my whole life. When the media write or talk about me, they often mention my natural gifts. I've got some speed, I can catch and use the ball, and I've had a knack for finding the tryline. But, as much as anything, I'm proud that I've done everything possible on the training track and the playing field to fulfil my potential and achieve my goals. If people take anything from my story, I hope it will be the lesson my parents taught me. You make your own luck with hard work and perseverance.
Just as I don't look back on my career that much, I don't look back in anger. There have been times I could have become angry or bitter. The salary cap penalties that saw the symbols of the Storm's hard-fought achievement removed was just one of those times. I was upset then and am still a bit disillusioned now about punishment that was far greater than any other club has received. But I would like to think looking forward instead of wallowing in the past has helped me move on and contrib­ute to the Storm's enduring, and now undeniable, success.
The rewards for playing professional sport are significant. I grew up in a rented house as part of a family that had few luxuries. As an eighteen-year-old at Brisbane Norths, I ate rice with barbecue sauce and worked several jobs to pay the rent on my two-bedroom flat. I've since made a good living and, when my career is over, will be able to pursue some of my other dreams.
But rugby league has given me so much more than just a comfortable life. I've experienced the thrill of many great moments and big wins in front of huge crowds; I've formed lifelong friendships with club, state and national teammates; I've revelled in that shared pleasure of executing in a big game a set play that we've practised for months.
Most importantly, I've started my own family with my wife Nicole and our two beautiful kids, Tyla and Jake. They have supported me in the same caring way I hope I can support them long after I've hung up my boots.
As much as the game has given me, I hope I've given something back. Rugby league is still a very tough and now highly professional sport. I've had to change my game over the years to adapt to the demands of coaches and the chal­lenges presented by opposition teams who spend a lot of time analysing your play and trying to curtail your influence by means fair and foul. But the joy and adventure with which I played the game as a schoolboy still remains. I hope kids who watch me play realise you can maintain a sense of fun and excitement right through your career. I've come a long way, learned a lot, matured both on and off the field, and loved nearly every minute. But when I have the ball in my hand, I'm still Billy the Kid.
---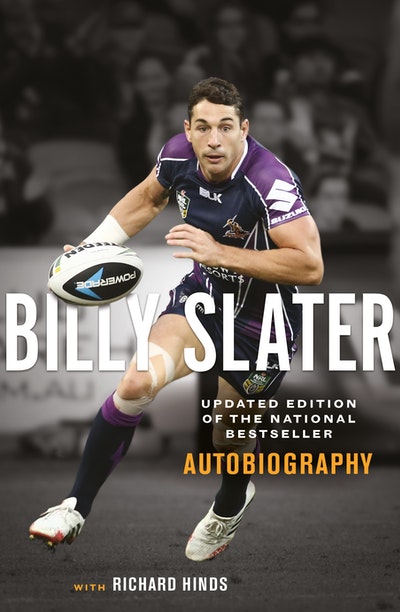 Now in paperback, the autobiography of one the greatest rugby league players of all time.
Buy now
Buy now
---