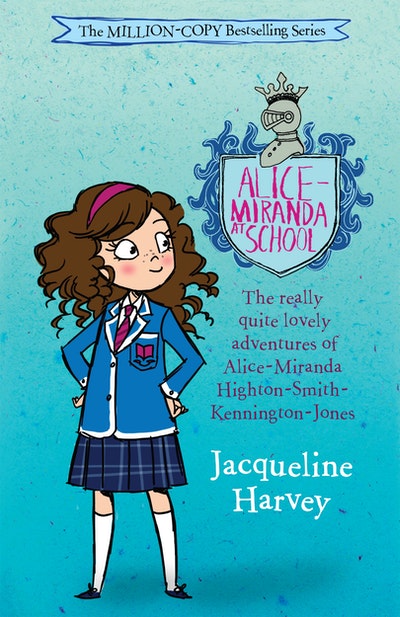 Published:

7 May 2019

ISBN:

9781760890698

Imprint:

Puffin

Format:

Paperback

Pages:

288

RRP:

$16.99
Alice-Miranda at School: 10th Anniversary Edition
---
---
---
Move over, Matilda, and step aside, Madeline, there's a new charming miniature heroine about to make her mark.
Can one tiny girl change a very big school? Alice-Miranda Highton-Smith-Kennington-Jones is waving goodbye to her weeping parents and starting her first day at boarding school. But something is wrong at Winchesterfield-Downsfordvale Academy for Proper Young Ladies.
The headmistress, Miss Grimm, hasn't been seen for ten years. The prize-winning flowers are gone. And a mysterious stranger is camping in the greenhouse. Alice-Miranda must complete a series of impossible tests. Can she really beat the meanest, most spoilt girl at school in a solo sailing mission?
Could she camp in the forest all on her own for five whole days and nights? Well, of course. This is Alice-Miranda, after all.
Published:

7 May 2019

ISBN:

9781760890698

Imprint:

Puffin

Format:

Paperback

Pages:

288

RRP:

$16.99
Praise for Alice-Miranda at School: 10th Anniversary Edition
Alice-Miranda has a beguiling ability to enchant those around her and an enthusiasm for helping people in need. This new series, with its sprightly, resilient heroine, who is sweet without being cloying, offers readers a lively blend of humour and intrigue.

Kirkus Reviews
'I loved this book so much. It's amazing that a seven-year-old girl can change a whole school! I like Alice-Miranda because she is brave and kind.' Imogen, 7, Book Buddies Club
'This book is very exciting. I found it hard to put down when Mum told me to stop reading.' Kirsten, 9, Book Buddies Club
'I really loved the book. It was all fabulous. I would give it 9/10.' Juliette, 9, Book Buddies Club
'I enjoyed this book because it is about boarding school and I love boarding schools.' Ailish, 9, Book Buddies Club
Article
Article
Easy activities for kids at home
Keep the kids entertained with these fun book-related ideas. There's an activity book for every age: one for littlies, one for kids and one for grown-ups too!
Article