Celebrating 30 years of Bryce Courtenay's magnificent debut – The Power of One.
Remember 1989?
Sure you do. It was the year the 14th Dalai Lama won the Nobel Peace Prize, Driving Miss Daisy picked up the Best Picture Oscar and Crocodile Dundee 2 smashed box offices around the world. Not ringing any bells? It was the year we witnessed dramatic images of the Berlin Wall coming down, pro-democracy rallies in Tiananmen Square, and the devastation caused by the San Francisco earthquake. The soundtrack to 1989 was Madonna's Like a Prayer, Fine Young Cannibals' She Drives Me Crazy, Bangles' Eternal Flame and The B-52's Love Shack… Now you're with us.
It was also a momentous year for literature, with publication of the likes of Amy Tan's The Joy Luck Club, Salman Rushdie's Satanic Versus and Stephen Hawking's A Brief History of Time. Peter Carey's Oscar and Lucinda won the Miles Franklin, Kazuo Ishiguro's The Remains of the Day claimed the Man Booker and a yet unknown author by the name of Bryce Courtenay released an international bestseller, forever cementing his reputation as one of Australia's best-loved writers: The Power of One. 
An ode to the power of education
Based on Courtenay's childhood experiences growing up in Apartheid South Africa, The Power of One is a celebration of how the influence of one individual can profoundly change a life. As Courtenay explains, as much as the book is an exploration of how our experiences allow us to build resilience and inner-strength, it's also about the life-changing influence that teachers can have. 'The title comes from and is for the power of one teacher,' he says. 'It is about how one teacher can lift a child out of an impossible environment and allow him or her to have an education, to change their life.'
Written in just one year, The Power of One was originally conceived as one of four practice manuscripts Courtenay planned to write before seeking publication. Since release, the book has been translated into 18 languages, selling millions of copies worldwide, and in 1992 was adapted into a feature film starring Morgan Freeman, Daniel Craig and Sir John Gielgud. Most importantly, it provided the launching pad from which Courtenay carved out an enormously successful writing career, amassing 21 books in 23 years. His final novel, Jack of Diamonds, was published just six weeks before he passed away in 2012. And his short story collection The Silver Moon, published posthumously in 2014, stands as his last literary offering.
CELEBRATING An unmatched literary legacy
From the suffering meted out under Apartheid South Africa to the exploration of his own grief at the tragic passing of his son, Damon, the exploits of an infamous criminal to Australia's darkest past, throughout his career Courtenay never flinched from exploring humanity's injustices and contradictions. But through his larger-than-life characters and unyielding empathy, he also revealed a deep affection for his fellow humans – however imperfect. For his contribution to literature, Courtenay was made a member of the Order of Australia, and has been awarded several honorary degrees and fellowships.
As the events, sounds and images of 1989 meld into the nostalgic footnotes of our own life stories, The Power of One lives on as a potent reminder of the challenges faced by the individuals and communities of our not-too-distant past. And the junior edition of the book continues to excite and inspire the next generation of readers. In celebration of the 30th anniversary of this towering classic, here we offer an extract and tip our hats to one of Australia's most beloved authors.
Vale Bryce Courtenay, AM
1933–2012
---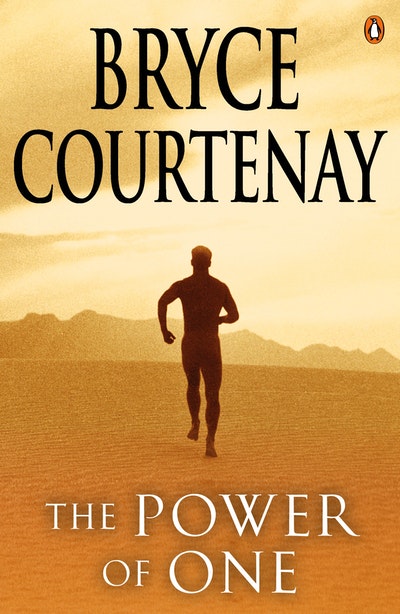 First with your head and then with your heart . . .
Buy now
Buy now
---