The Bluffs author takes us deep into the Tasmanian wilderness.
What's so enticing about the Tasmanian bush?
Forty percent of Tasmania is national parks and reserves, so it's the wild, untouched nature of it. The solitude, fresh air, wildness, density; the adventure, the beauty of ferns, the play of light on water, the risk and reward. There's growing research about how important the bush is to our bodies, from bio-electrics for our nervous system, to aromatic compounds called terpenes that are good in our lungs. Even viewing the organic visual patterns of trees and bushland is good for our mental wellbeing. It's designed to draw us in and hold us.
What scares you about the Tasmanian bush?
If you've had experiences like mine, then it's the lawlessness of it all. There's the usual survival fears, hinging on how easy it is to get lost and never be found again. What's scarier is what could be lurking in the bush. As a boy I'd roam the bush behind my house with my friends, and we'd go deeper and deeper into places you'd never expect anyone else had been, and you'd find a fresh beer can, and think, 'Damn, we don't want to get caught out here'. The older I got, the more I learned about people who hide their drugs in the bush, so now when I encounter signs on trails that read something like, 'DON'T COME FURTHER ON THIS TRAIL OR I'LL KILL YOU', at least now I know it's probably a cannabis crop, and not a graveyard for murdered backpackers… That's what I tell myself, anyway.
And then, even scarier than that, is the paranormal stuff, which I don't like to talk about.
Strangest thing you've seen in the bush?
I don't speak about the strangest thing I've seen, but the second strangest thing was when I heard echoes shouting my name. It was hard to tell if it was real or not, it was really distant, but it happened a few times over the course of a hike. I got out of there pretty quick.
Worst mistake you've made in the bush?
Thinking that snow wouldn't cover our tracks and we'd be able to find our way back via the same path. I was leading two younger guys and was way too cocky with my previously-unbeaten track record of finding my way home. A sudden unexpected blizzard out of a clear blue sky in October changes things, especially when the other two are only wearing shorts and a hoody. Ours was a very close call, but some animal instinct kicked in and we made it back by climbing over the canopy of the scrub, which was dense enough to support us once the snow settled. Adrenaline is a helpful compound.
Favourite myth or legend about the bush?
Something that inspired The Bluffs was the history of Alexander Pearce, the 'Cannibal Convict' – a Tasmanian bushranger who escaped from a penal colony and walked a mighty long way through the Tasmanian bush, eating his fellow convicts to survive. There's a legend that he even hid out in the caves of the Great Western Tiers, and that – maybe – his descendants still live there… in the caves, deep in the mountains, occasionally coming to the surface, snatching unsuspecting people from the trails… Down in the caves, he hides and waits…
One thing you always pack for a hike?
The thing I prioritise above all else is water. Always lots of water. You'd be surprised how much less energy you use when you're properly hydrated – your mind is clearer, your body is stronger, you're less likely to make mistakes, and you're less likely to fall. I once went on an overnight hike with some mates on a scorching summer's day, and I was the slowest of them all because my pack was bloody heavy. I struggled all the way to our destination. When I got there, a bunch of the others hadn't brought enough water and were already feeling parched. Then I pulled out three, four, five, six, seven bottles of water. Their dehydrated jealousy was palpable. The next day, I was flying ahead at the front of the pack because I was the only one hydrated (and also my pack was heaps lighter now). I think it's a good fable.
One piece of advice for would-be Tasmanian hikers?
One of my mates has a really good story about two of his friends climbing cliffs in the exact place The Bluffs is set, and how they were nearly stuck there until nightfall because they'd become frozen in fear, unable to go up and unable to go down. As it was approaching nightfall, my mate had to climb up there and help them down step by step, guiding their feet. There was a chance of one of them falling at any moment, should their grip or nerve fail – and falling a long, long way to a hard end.
It echoes a theme I've heard in multiple hikers' stories, and the message is: don't climb that cliff. Tasmanian rocks have a weird presence about them – they try to draw you in. I've heard lots of stories, and witnessed them myself, of a weird siren call that rock formations here in Tasmania have. And you try to climb them, until you realise you can't go up and you can't go down… It feels a bit like a Venus flytrap, if I'm being honest.
One thing you've learned from the bush?
That there are boundless experiences waiting for you. It's a good metaphor for life in general. Choose your own adventure.
One piece of bushcraft that every hiker should learn?
Myrtle beech bed: layers of man ferns, fill it with myrtle beech leaves, another layer of man ferns. Best bed you'll ever sleep on.
What could be hiding in the Tasmanian bush?
I can take you to stretch of bushland that has two legends. One is that there are Tasmanian Tigers there, and I have seen recent footage myself. I'd bet everything I own that what I saw on that footage was a Tasmanian tiger, and now me and that man are planning on going out there again to help him set up a new array of cameras. But, in that same stretch of bush, other eyewitness accounts of giant men with deformed faces, who throw rocks at cars. It could be a mutation, it could be a trick of the light, it could be something other. But the people who've seen these sights are people I'd trust, and I've been to that stretch of bush and I'm not sure I'm willing to go back.
---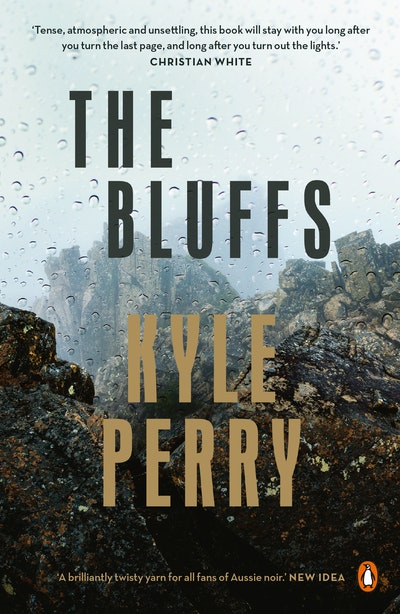 'A brilliantly twisty yarn for all fans of Aussie noir.' New Idea
Buy now
Buy now
---