Clare Fletcher talks about her new book, Five Bush Weddings, and why she chose a country setting for this unmissable debut novel.
Five Bush Weddings is an amazingly fun, new novel that deserves a spot on your TBR list – stat.
Telling the story of Stevie Jean, a wedding photographer, we follow along on her journey towards 'real life'. Stevie is in her early 30s and has reached a point where it seems like everything is changing: her friends are coupling up, getting married, and starting families of their own. Wondering if she's been left behind, she starts to question whether it's time to buckle down and grow up. But will she ever be able to get rid of her signature spunk?
We caught up with author Clare Fletcher to chat about all things Five Bush Weddings – and let's just say, this one is a must-read. Keep scrolling to learn more about this unmissable debut, get to know Clare, and find out why she chose to set the story in rural Queensland.  
About Five Bush Weddings
'Essentially, Five Bush Weddings is a story about Stevie Jean who is a wedding photographer in her early 30s and she loves, loves, loves her work as a wedding photographer,' says Clare. While her job is endlessly satisfying, Stevie can't help but notice that everyone around her seems to be moving into the next phase of life. Getting married, having babies, buying homes – but how will she get to that point herself? 'The story opens with her wondering if she should just give up on finding love and focus on being a bit better on her career, being a bit more grown-up.' While we won't give away whether she actually manages to grow up, we will share that there's plenty of fun to be had along the way.
The author, Clare Fletcher
From day dot, Clare knew she was going to be a writer. 'I remember making books, stapling paper together with blank pages,' she recalls of her childhood. Books and reading were always a huge part of her life, so – fittingly – writing her own book was her biggest ambition.
In high school, her writing skills lead her toward journalism because it was considered a more sensible career choice. While her writing skills meant that she did well in the degree, she always had reservations about following that path.
'I spent my whole journalism degree feeling quite terrified that I'd be no good as a journalist because I'm a bit shy,' she confesses. 'So much of journalism takes a certain amount of confidence, you've got to be good at talking to people, asking questions, and being a bit pushy which is not how I saw myself.'
Despite her hesitation, however, she quickly landed an internship at The Walkley Foundation for Journalism out of university. She still works there today, and her experience awarding prizes to Australian journalists serendipitously influenced parts of Five Bush Weddings.
'We get entries for the best journalism of the year, and photojournalism is a part of that,' she says, explaining her current job. 'Through that work, I've gotten to see some incredible images and hear the photographers talk about what it took to get those shots. Sitting in on the judging, seeing winning work, and writing up captions for our exhibitions, I got a broader picture of everything that goes into taking great photographs.'
With a kernel of an idea for the novel, all it took was another dose of inspiration to set the narrative in motion. 'My sister's wedding was a beautiful, country wedding on her husband's parents' property,' she says, noting that it was quite similar to the book's opening scene. 'It was such a lovely night, and it really made me think what a great job wedding photographers have.' Considering the unique position that wedding photographers are in, Clare knew it would make the perfect focal point for her story. 'They have a front-row seat to the culmination of this one big love story, but there's also a lot of stress around weddings,' the author explains. 'That stress can bring a lot of family tension to a head, and there's also the pressure putting on a big event. So much drama that can come from that' – and indeed it does, at least in Stevie Jean's world.
A rural Queensland rom-com
While there are plenty of romantic comedies out there, Five Bush Weddings is the first of its kind.
Set in rural Queensland, the book reads like a love letter to the country, highlighting all the beauty and magic that can come from living in a small, tight-knit community. Though she lives in Sydney now, Clare thanks her childhood in St George for inspiring the fictional towns in the novel.
'I have such strong memories of childhood that I just sort of went there automatically,' she says. In a community where everyone knows everyone, 'there are a lot of funny things that can happen.'
Plotline aside, Clare is also happy to be showing audiences a part of the world that's rarely explored in literature. 'I don't know if I've seen this part of the world in a book before,' she shares. 'It's such a precarious existence, farming,' Clare explains. 'Because there has been so much drought, it's been so difficult, but it has bred incredible resilience – which in turn has also bred innovation. I think it's really women who are driving that.'
'I hope that the book might pique people's curiosity to travel into parts of the bush that they haven't visited before. Go to small towns, or check out those beautiful products that are coming out of regional Queensland and New South Wales and beyond.'
But above all, Clare says, 'I just hope it's a bit of fun and it makes people laugh.'
You'll love this book if . . .
While we think that all kinds of readers will love Five Bush Weddings, we especially recommend it if you...
Grew up in a country town, or love reading books set in the country
Are a fan of romantic comedies in the vein of Emily Henry or Sophie Kinsella
Enjoy reading books by local Australian authors
Need a pleasant escape
Want to be the first to know about an up-and-coming debut author
Are in a transition phase of life, and looking to have a little fun with it
The highly anticipated debut comes out on 2 August 2022, so mark your calendars, and pre-order it now to secure your copy!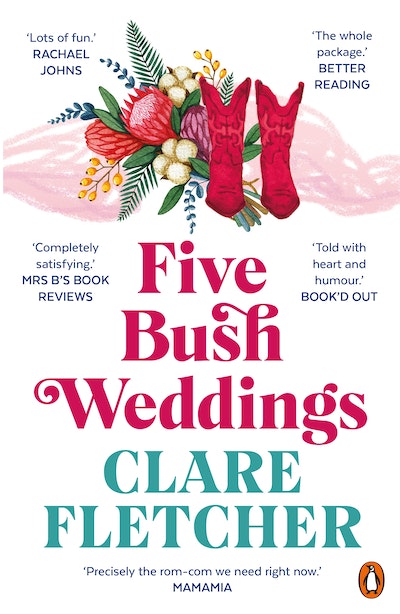 Five Bush Weddings
As a photographer, Stevie's been to enough bush weddings to last a lifetime. When's it going to be all about her?
Read more