These brownies taste like they're from the future. The glutinous sweet rice flour makes them set up firm and springy. The first bite bounces in your mouth, then nearly melts away into a light but fudgy texture. They cut into clean and tidy squares, leave no crumbs behind, and are gluten-free—that sounds like future food to me. Both cocoa powder and rice flour benefit from being hydrated in hot liquid. Blooming cocoa in hot milk makes the flavor extra chocolatey while preventing it from tasting chalky or harsh. The hot milk prevents the glutinous sweet rice flour from being starchy or having too much chew, and is key to this brownie's unique texture. Take your time mixing this batter to make sure that all the rice flour is evenly hydrated. This recipe works with any cocoa powder: If you want deep, dark chocolate flavor, use Dutch process cocoa; for a brighter, milder flavor, use natural cocoa powder; or use black cocoa powder (my favorite) for an inky square that tastes like something from outer space.
Makes: 16 brownies
Cook Time: Total 1 hr 15 min, Active 15 min
Suitable for: Gluten-free, vegetarian
INGREDIENTS
softened butter or cooking spray for the pan
70 grams (¾ cup plus 1 tablespoon;see Notes) Dutch process, black, or natural cocoa powder (or a mix), plus more (optional) for dusting
1 tablespoon instant coffee (or 1½ teaspoons instant espresso powder)
313 grams (1⅓ cups plus 1 tablespoon) whole milk
113 grams (1 stick) unsalted butter or vegan butter, cut into cubes
240 grams (2 cups) powdered sugar
125 grams (1 cup) glutinous sweet rice flour, preferably Koda Farms Blue Star Mochiko
1 ½ teaspoons Diamond Crystal kosher salt
3 large eggs (about 165 grams)
2 teaspoons pure vanilla extract
Special Equipment:
8-inch or 9-inch square metal cake pan
parchment paper
stand mixer (or large bowl and hand mixer)
METHOD
Heat the oven to 350° F (177° C). Grease an 8-inch or 9-inch square metal cake pan with butter or cooking spray. Line the pan with one long sheet of parchment cut to cover the bottom and two sides. Smooth the parchment with your hands, creasing it into the corners for a snug fit.


In a medium saucepan, combine the cocoa powder and instant coffee. Add the milk, a splash at a time, while whisking constantly, until the cocoa is evenly dissolved. Add the butter cubes and cook over medium heat, stirring and scraping frequently with a stiff silicone spatula, until the butter is melted and the mixture comes to a simmer, about 5 minutes. Cover and remove from the heat.


In a stand mixer fitted with the paddle (or in a larger bowl with a hand mixer—see Note), combine the powdered sugar, rice flour, and salt and mix on low until evenly combined, about 1 minute. Add the eggs and vanilla and mix on low speed until moistened, then increase the speed to medium and mix until smooth and creamy, about 1 minute. Stop to scrape the paddle and the bowl.


With the mixer running on low, stream in the hot milk mixture. Stop to scrape the paddle and the bowl, then increase the speed to medium and mix for at least 2 minutes (you can't overmix this batter, but you can undermix, so take your time with this step).


Pour the mixture into the prepared pan and bake until the brownie bounces back when you press the center, 40 to 50 minutes. Cool for at least 10 minutes in the pan, then use the parchment to lift the brownies out of the pan. Use a sharp knife to cut into 16 portions. Dust with cocoa if you like. (Stored in an airtight container, the brownies keep for 3 days at room temperature or 1 month in the freezer.)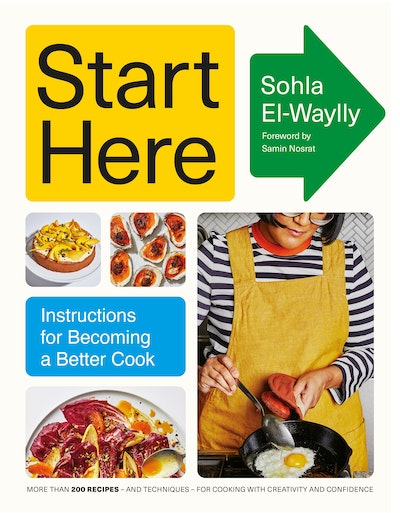 Start Here
Delia Smith for the TikTok Generation | Culinary school in a single book: learn the science of food and become a more confident cook and baker through 150 recipes for everyone and every day.
Read more