A tasty and textural salad.
This salad is everything I want to eat all the time. Oven-toasting quinoa gives it a super-satisfying snack food crunch, while the punchy dressing is fatty, fresh, and savory thanks to lots of lemon juice, tamari, and MSG. It's practically a Dorito in salad form. Okay, not really, but it's got the same I-can't-stop-eating-this vibe.
I prefer to cook the quinoa using the Absorption Method. Since all the water is absorbed, none of the nutrients end up down the drain. If you want to make things extra savory, swap the salt in the quinoa for instant dashi powder instead. This recipe takes a little time up front, but is perfect for meal prepping: The cooked quinoa, toasted quinoa, and dressing all keep for 5 days. Then just before serving, toss everything together with freshly cut veggies. Feel free to multiply the batch as needed.
Serves: 4
Cook Time: 30 minutes
Suitable for: Gluten-free, vegetarian

INGREDIENTS
For the quinoa:
2 cups white quinoa
3¾ cups water
1 teaspoon Diamond Crystal kosher salt
3 tablespoons neutral oil
For the salad:
4 small Persian (mini) cucumbers, cut into ¼-inch dice
3 scallions, thinly sliced
2 small heads Little Gem lettuce, torn into bite-sized pieces
½ medium avocado, cut into ¼-inch dice
cilantro leaves and tender stems, roughly torn
dill leaves and tender stems, roughly torn
Green Goddess Dressing (recipe follows) or dressing of your choice
METHOD
Cook the quinoa: Place the quinoa in a medium bowl. Cover with cool tap water, use your hand to gently agitate the grains, and drain. Repeat two more times. (Quinoa is covered in a bitter and soapy substance called saponins. It should be rinsed off before cooking unlessyou've purchased a pre-rinsed quinoa.) Drain. Transfer to a medium pot with a tight-fitting lid. Add the water and salt, cover, and bring to a boil over high heat. Once you hear the water gurgling and see wisps of steam escaping, reduce the heat to the lowest setting and cook, without peeking, for 15 minutes. Uncover, fluff, and rest for at least 10 minutes. (Store in the fridge for up to 5 days.)


Crisp the quinoa: Heat the oven to 350° F (177° C). In a medium bowl, toss half the cooked quinoa with the 3 tablespoon oil, breaking up any clumps. Spread out in one even layer on a sheet pan and bake, tossing every 10 minutes, until golden brown and crisp, about 30 minutes. Remove from the oven and let cool completely before using. (Store the toasted quinoa in an airtight container at room temperature for up to 5 days.)


Assemble the salad: In a large bowl, toss the remaining cooked quinoa, the crunchy quinoa, the cucumbers, scallions, lettuce, avocado, cilantro, and dill until evenly dispersed. Add the dressing a spoonful at a time to avoid over dressing until evenly coated. Serve with more dressing on the side. (Or toss together individual servings as needed.)


Change it up
Try this out with any grain or pseudograin, like farro, buckwheat, or amaranth (water ratio and cook time will vary, check the package).
Toss the grains and dressing with any combo of crunchy vegetables, like sliced radishes, torn watercress or iceberg, jicama or carrot matchsticks, or thinly sliced celery.
Make it vegan! Swap the buttermilk for ⅔ cup plant-based yogurt and 1⁄3 cup water.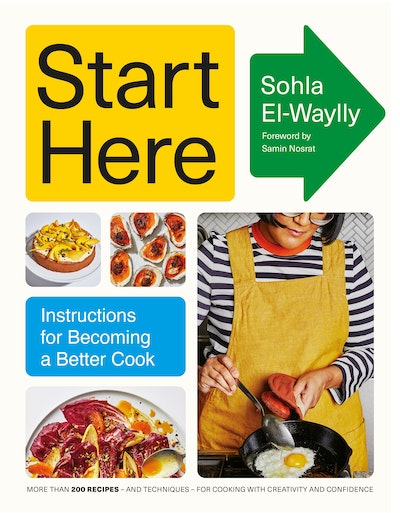 Start Here
Delia Smith for the TikTok Generation | Culinary school in a single book: learn the science of food and become a more confident cook and baker through 150 recipes for everyone and every day.
Read more