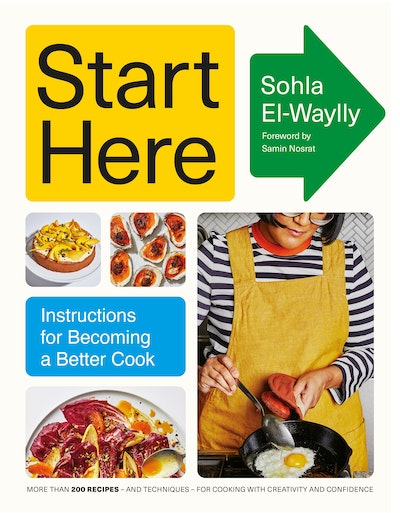 Published:

7 November 2023

ISBN:

9781529914078

Imprint:

Square Peg

Format:

Hardback

Pages:

656

RRP:

$59.99
Start Here
Instructions for Becoming a Better Cook
---
---
---
Delia Smith for the TikTok Generation | Culinary school in a single book: learn the science of food and become a more confident cook and baker through 150 recipes for everyone and every day.
'The perfect companion' Yotam Ottolenghi | Foreword by Samin Nosrat, author of Salt, Fat, Acid, Heat | A practical, information-packed, and transformative guide to becoming a better cook and conquering the kitchen, this is a must-have masterclass in leveling up your cooking.
Across a dozen technique-themed chapters - from "Temperature Management 101" and "Break it Down & Get Saucy" to "Mix it Right," "Go to Brown Town," and "Getting to Know Dough" - Sohla El-Waylly explains the hows and whys of cooking, introducing the fundamental skills that you need to become a more intuitive, inventive cook.
A one-stop resource, regardless of what you're hungry for, Start Here gives equal weight to savory and sweet dishes, with more than 200 mouthwatering recipes, including: Crispy Skinned Salmon with Radishes & Nuoc Cham, Charred Lemon Risotto; Chilled Green Tahini Soba, Lemon, Pecorino & Potato Pizza; Masa & Buttermilk Tres Leches. Packed with practical advice and scientific background, helpful tips, and an almost endless assortment of recipe variations, along with tips, guidance, and how-tos, Start Here is culinary school - without the student loans.
Published:

7 November 2023

ISBN:

9781529914078

Imprint:

Square Peg

Format:

Hardback

Pages:

656

RRP:

$59.99
Our officially unofficial guide into kitchen bootcamp, equipping us with the skills we needed to feel confident in the kitchen ... Start Here is nothing short of a game changer - not to mention, any cookbook that's equal parts sweet to savory wins an extraordinarily large place in my heart.

Christina Tosi, Chef & Founder of Milk Bar
Our officially unofficial guide into kitchen bootcamp, equipping us with the skills we needed to feel confident in the kitchen ... Start Here is nothing short of a game changer - not to mention, any cookbook that's equal parts sweet to savory wins an extraordinarily large place in my heart.

Christina Tosi, Chef & Founder of Milk Bar
Equips us with the skills we needed to feel confident in the kitchen... Nothing short of a game changer

Christina Tosi, Chef & Founder, Milk Bar
Our officially unofficial guide into kitchen bootcamp, equipping us with the skills we needed to feel confident in the kitchen ... Start Here is nothing short of a game changer - not to mention, any cookbook that's equal parts sweet to savory wins an extraordinarily large place in my heart.

Christina Tosi, Chef & Founder of Milk Bar
I am an instant fan of any book that crams in this much knowledge and science right alongside things like Lisa Frank Cookies and not one but FOUR kinds of homemade fun dip! . . . I don't know who's more excited, my brain or my belly!

Molly Yeh, author and Food Network host
I am an instant fan of any book that crams in this much knowledge and science right alongside things like Lisa Frank Cookies and not one but FOUR kinds of homemade fun dip! . . . I don't know who's more excited, my brain or my belly!

Molly Yeh, author and Food Network host
I am an instant fan of any book that crams in this much knowledge and science right alongside things like Lisa Frank Cookies and not one but FOUR kinds of homemade fun dip! . . . I don't know who's more excited, my brain or my belly!

Molly Yeh, author and Food Network host
The perfect companion to anyone starting out in the kitchen. In sharing so much experience and knowledge - not to mention so many recipes that I want to eat - Sohla has crafted a book to return to again and again and again.

Yotam Ottolenghi, author of 'Simple' and 'Flavour'
The perfect companion to anyone starting out in the kitchen. In sharing so much experience and knowledge - not to mention so many recipes that I want to eat - Sohla has crafted a book to return to again and again and again.

Yotam Ottolenghi, author of 'Simple' and 'Flavour'
The perfect companion to anyone starting out in the kitchen. In sharing so much experience and knowledge - not to mention so many recipes that I want to eat - Sohla has crafted a book to return to again and again and again.

Yotam Ottolenghi, author of 'Simple' and 'Flavour'
The book I wish someone had handed me when I began my own journey as a cook . . . Sohla has improved my cooking, and I guarantee she will improve yours, too.

Samin Nosrat, author of 'Salt, Fat, Acid, Heat'
The book I wish someone had handed me when I began my own journey as a cook . . . Sohla has improved my cooking, and I guarantee she will improve yours, too.

Samin Nosrat, author of 'Salt, Fat, Acid, Heat'
The book I wish someone had handed me when I began my own journey as a cook . . . Sohla has improved my cooking, and I guarantee she will improve yours, too.

Samin Nosrat, author of 'Salt, Fat, Acid, Heat'
This book has done the impossible: It's inspired me to cook. Start Here is an instant classic destined to be a kitchen staple. Sohla has revolutionized what a cookbook can be in a way that speaks so uniquely to her razor-sharp wit, generosity of spirit, and undeniable skill.

Dan Levy, Emmy Award–winning writer, actor, director, and producer of 'Schitt's Creek'
This book has done the impossible: It's inspired me to cook. Start Here is an instant classic destined to be a kitchen staple. Sohla has revolutionized what a cookbook can be in a way that speaks so uniquely to her razor-sharp wit, generosity of spirit, and undeniable skill.

Dan Levy, Emmy Award–winning writer, actor, director, and producer of 'Schitt's Creek'
This book has done the impossible: It's inspired me to cook. Start Here is an instant classic destined to be a kitchen staple. Sohla has revolutionized what a cookbook can be in a way that speaks so uniquely to her razor-sharp wit, generosity of spirit, and undeniable skill.

Dan Levy, Emmy Award–winning writer, actor, director, and producer of 'Schitt's Creek'
Cooking through Start Here has brought more joy to my kitchen than any cookbook in memory. Spoiler alert for my friends: This is what you're getting for Christmas.

Stella Parks, author of 'BraveTart'
Cooking through Start Here has brought more joy to my kitchen than any cookbook in memory. Spoiler alert for my friends: This is what you're getting for Christmas.

Stella Parks, author of 'BraveTart'
Cooking through Start Here has brought more joy to my kitchen than any cookbook in memory. Spoiler alert for my friends: This is what you're getting for Christmas.

Stella Parks, author of 'BraveTart'
Brilliantly organized and superbly written, with photographs that teach as well as inspire. Reading Start Here is like getting a fully accredited culinary degree from a professional who sees food and cooking through a grounded but completely modern perspective. Every recipe delivers. You need this book.

Carla Lalli Music, author of 'That Sounds So Good' and 'Where Cooking Begins'
Brilliantly organized and superbly written, with photographs that teach as well as inspire. Reading Start Here is like getting a fully accredited culinary degree from a professional who sees food and cooking through a grounded but completely modern perspective. Every recipe delivers. You need this book.

Carla Lalli Music, author of 'That Sounds So Good' and 'Where Cooking Begins'
Brilliantly organized and superbly written, with photographs that teach as well as inspire. Reading Start Here is like getting a fully accredited culinary degree from a professional who sees food and cooking through a grounded but completely modern perspective. Every recipe delivers. You need this book.

Carla Lalli Music, author of 'That Sounds So Good' and 'Where Cooking Begins'
A one-stop grand diplôme in the culinary arts taught by one of the most talented and knowledgable chefs, Sohla El-Waylly . . . Start Here is an instant, must-have classic.

Rick Andrew Martinez, author of 'Mi Cocina'
A one-stop grand diplôme in the culinary arts taught by one of the most talented and knowledgable chefs, Sohla El-Waylly . . . Start Here is an instant, must-have classic.

Rick Andrew Martinez, author of 'Mi Cocina'
A one-stop grand diplôme in the culinary arts taught by one of the most talented and knowledgable chefs, Sohla El-Waylly . . . Start Here is an instant, must-have classic.

Rick Andrew Martinez, author of 'Mi Cocina'
Sohla breaks down cooking in a way that's elemental yet approachable. She is the patient friend, the seasoned guide, the doting mentor you want in the kitchen. This book will not only teach you the principles of good cooking but also boost your confidence, allowing you to freestyle it in the kitchen like a master. There's something for everyone in this future classic. Buy this book now!

Padma Lakshmi
Sohla breaks down cooking in a way that's elemental yet approachable. She is the patient friend, the seasoned guide, the doting mentor you want in the kitchen. This book will not only teach you the principles of good cooking but also boost your confidence, allowing you to freestyle it in the kitchen like a master. There's something for everyone in this future classic. Buy this book now!

Padma Lakshmi
Sohla breaks down cooking in a way that's elemental yet approachable. She is the patient friend, the seasoned guide, the doting mentor you want in the kitchen. This book will not only teach you the principles of good cooking but also boost your confidence, allowing you to freestyle it in the kitchen like a master. There's something for everyone in this future classic. Buy this book now!

Padma Lakshmi
Quite simply the modern cooking bible. A true tome that will not only teach you the foundations of cooking, but guide you towards becoming a more intuitive cook. Designed with accessibility in mind, the larger-than-average type and step-by-step photos ensure complete confidence in the kitchen. An instant classic.

Alexina Anatole, author of 'Bitter'
Quite simply the modern cooking bible. A true tome that will not only teach you the foundations of cooking, but guide you towards becoming a more intuitive cook. Designed with accessibility in mind, the larger-than-average type and step-by-step photos ensure complete confidence in the kitchen. An instant classic.

Alexina Anatole, author of 'Bitter'
Quite simply the modern cooking bible. A true tome that will not only teach you the foundations of cooking, but guide you towards becoming a more intuitive cook. Designed with accessibility in mind, the larger-than-average type and step-by-step photos ensure complete confidence in the kitchen. An instant classic.

Alexina Anatole, author of 'Bitter'
A special and original book for anyone wanting to make better food

Delicious
A special and original book for anyone wanting to make better food

Delicious
A special and original book for anyone wanting to make better food

Delicious
A foundational behemoth of a book (656 pages!) in the school of J. Kenji López-Alt's The Food Lab and Samin Nosrat's Salt, Fat, Acid, Heat . . . Every home cook will find something to learn in Start Here.

Eater
A foundational behemoth of a book (656 pages!) in the school of J. Kenji López-Alt's The Food Lab and Samin Nosrat's Salt, Fat, Acid, Heat . . . Every home cook will find something to learn in Start Here.

Eater
A foundational behemoth of a book (656 pages!) in the school of J. Kenji López-Alt's The Food Lab and Samin Nosrat's Salt, Fat, Acid, Heat . . . Every home cook will find something to learn in Start Here.

Eater
El-Waylly distills takeaways from her time in cooking school, years-long tenure at restaurants, and her experience as a Bon Appétit staffer to bring home cooks the foundations they need to be more confident in the kitchen . . . This cookbook is the mirror I wish I had as a student in culinary school . . . With each recipe, technique overview, and the stories within, El-Waylly makes the unattainable achievable in more ways than one.

Anikah Shaokat, Epicurious
El-Waylly distills takeaways from her time in cooking school, years-long tenure at restaurants, and her experience as a Bon Appétit staffer to bring home cooks the foundations they need to be more confident in the kitchen . . . This cookbook is the mirror I wish I had as a student in culinary school . . . With each recipe, technique overview, and the stories within, El-Waylly makes the unattainable achievable in more ways than one.

Anikah Shaokat, Epicurious
El-Waylly distills takeaways from her time in cooking school, years-long tenure at restaurants, and her experience as a Bon Appétit staffer to bring home cooks the foundations they need to be more confident in the kitchen . . . This cookbook is the mirror I wish I had as a student in culinary school . . . With each recipe, technique overview, and the stories within, El-Waylly makes the unattainable achievable in more ways than one.

Anikah Shaokat, Epicurious
Where was this book when I first started cooking? . . . Jam-packed with science-backed tips and techniques to help folks develop their cooking intuition, and I have no doubt a copy of the book would have saved me from many sad, under-seasoned meals . . . You'll leave feeling more comfortable in the kitchen.

Genevieve Yam, Bon Appetit
Where was this book when I first started cooking? . . . Jam-packed with science-backed tips and techniques to help folks develop their cooking intuition, and I have no doubt a copy of the book would have saved me from many sad, under-seasoned meals . . . You'll leave feeling more comfortable in the kitchen.

Genevieve Yam, Bon Appetit
Where was this book when I first started cooking? . . . Jam-packed with science-backed tips and techniques to help folks develop their cooking intuition, and I have no doubt a copy of the book would have saved me from many sad, under-seasoned meals . . . You'll leave feeling more comfortable in the kitchen.

Genevieve Yam, Bon Appetit
Clear, funny, smart, and necessary. There are more than 200 recipes ... but even more exciting is the depth of technical knowledge packed into its pages. Each chapter is set up like a culinary lesson, ensuring you don't just memorize the recipes but rather learn the tools that will allow you to create great food in your kitchen for the rest of your life.

Vogue
Clear, funny, smart, and necessary. There are more than 200 recipes ... but even more exciting is the depth of technical knowledge packed into its pages. Each chapter is set up like a culinary lesson, ensuring you don't just memorize the recipes but rather learn the tools that will allow you to create great food in your kitchen for the rest of your life.

Vogue
Clear, funny, smart, and necessary. There are more than 200 recipes ... but even more exciting is the depth of technical knowledge packed into its pages. Each chapter is set up like a culinary lesson, ensuring you don't just memorize the recipes but rather learn the tools that will allow you to create great food in your kitchen for the rest of your life.

Vogue
A cookbook you read and then keep on hand, referencing whenever you have a question, want to master a basic, or take a particular skill to the next level . . . Straightforward, approachable, and generous.

The Strategist
A cookbook you read and then keep on hand, referencing whenever you have a question, want to master a basic, or take a particular skill to the next level . . . Straightforward, approachable, and generous.

The Strategist
A cookbook you read and then keep on hand, referencing whenever you have a question, want to master a basic, or take a particular skill to the next level . . . Straightforward, approachable, and generous.

The Strategist
Anything Sohla tells me to do, I listen to

Aliza Abarbanel, Taste
Anything Sohla tells me to do, I listen to

Aliza Abarbanel, Taste
Anything Sohla tells me to do, I listen to

Aliza Abarbanel, Taste
The book is like an awesome master class. Each chapter teaches you one core cooking or baking technique, like how to stew and braise, and has a list of recipes to help you practice that lesson. It's not JUST recipes, people!

Sam Brodsky, Wondermind
The book is like an awesome master class. Each chapter teaches you one core cooking or baking technique, like how to stew and braise, and has a list of recipes to help you practice that lesson. It's not JUST recipes, people!

Sam Brodsky, Wondermind
The book is like an awesome master class. Each chapter teaches you one core cooking or baking technique, like how to stew and braise, and has a list of recipes to help you practice that lesson. It's not JUST recipes, people!

Sam Brodsky, Wondermind
With the focus just as much on the techniques as the recipes, this cookbook will be invaluable for readers who are getting started cooking. The recipes will motivate them to get in the kitchen, but experienced cooks and bakers will relish the abundance of information and interesting recipes too.

Melissa DeWild, Library Journal
With the focus just as much on the techniques as the recipes, this cookbook will be invaluable for readers who are getting started cooking. The recipes will motivate them to get in the kitchen, but experienced cooks and bakers will relish the abundance of information and interesting recipes too.

Melissa DeWild, Library Journal
With the focus just as much on the techniques as the recipes, this cookbook will be invaluable for readers who are getting started cooking. The recipes will motivate them to get in the kitchen, but experienced cooks and bakers will relish the abundance of information and interesting recipes too.

Melissa DeWild, Library Journal
Whether you're just embarking on your culinary journey or have been navigating the kitchen for years seeking that extra flair, this book promises to be an invaluable companion. Overflowing with insightful tips and techniques to elevate your dishes, Start Here is a treasure trove of culinary wisdom. And as if that weren't enough, it boasts 200 tantalizing recipes to experiment with and savor. In essence, this book is akin to having a fabulous chef and culinary school right at your fingertips, offering both the foundation and finesse every home chef craves.

Dani Zoeller, Tasting Table
Whether you're just embarking on your culinary journey or have been navigating the kitchen for years seeking that extra flair, this book promises to be an invaluable companion. Overflowing with insightful tips and techniques to elevate your dishes, Start Here is a treasure trove of culinary wisdom. And as if that weren't enough, it boasts 200 tantalizing recipes to experiment with and savor. In essence, this book is akin to having a fabulous chef and culinary school right at your fingertips, offering both the foundation and finesse every home chef craves.

Dani Zoeller, Tasting Table
Whether you're just embarking on your culinary journey or have been navigating the kitchen for years seeking that extra flair, this book promises to be an invaluable companion. Overflowing with insightful tips and techniques to elevate your dishes, Start Here is a treasure trove of culinary wisdom. And as if that weren't enough, it boasts 200 tantalizing recipes to experiment with and savor. In essence, this book is akin to having a fabulous chef and culinary school right at your fingertips, offering both the foundation and finesse every home chef craves.

Dani Zoeller, Tasting Table
It really succeeds at making every aspect of the process feel very fun. Even the font and design are maximally appealing. If you want to start baking bread, master your egg game, make braising a second nature, or become a caramelization beast, your road to success lies within. (Or, if you just want a bunch of killer soup, veg, pasta, and protein recipes from an online chef you love, those are here as well.) Come holiday season, definitely keep this one in mind—it's a perfect gift for a partner, friend, parent, or just yourself.

Adam Rothbart, Vice
It really succeeds at making every aspect of the process feel very fun. Even the font and design are maximally appealing. If you want to start baking bread, master your egg game, make braising a second nature, or become a caramelization beast, your road to success lies within. (Or, if you just want a bunch of killer soup, veg, pasta, and protein recipes from an online chef you love, those are here as well.) Come holiday season, definitely keep this one in mind—it's a perfect gift for a partner, friend, parent, or just yourself.

Adam Rothbart, Vice
It really succeeds at making every aspect of the process feel very fun. Even the font and design are maximally appealing. If you want to start baking bread, master your egg game, make braising a second nature, or become a caramelization beast, your road to success lies within. (Or, if you just want a bunch of killer soup, veg, pasta, and protein recipes from an online chef you love, those are here as well.) Come holiday season, definitely keep this one in mind—it's a perfect gift for a partner, friend, parent, or just yourself.

Adam Rothbart, Vice
offers a practical yet approachable guide on how to be a better cook ... From temperature management to everything you could ever want to know about butter, this book is perfect for those looking to better understand cooking or as a gift for the foodie in your life.

TheSkimm
offers a practical yet approachable guide on how to be a better cook ... From temperature management to everything you could ever want to know about butter, this book is perfect for those looking to better understand cooking or as a gift for the foodie in your life.

TheSkimm
offers a practical yet approachable guide on how to be a better cook ... From temperature management to everything you could ever want to know about butter, this book is perfect for those looking to better understand cooking or as a gift for the foodie in your life.

TheSkimm
The moment I cracked open Sohla El-Waylly's new cookbook, Start Here: Instructions for Becoming a Better Cook, I had a gut feeling that it would be my favorite book of the year, and possibly the decade ... this book feels like cooking school in paper form — if your instructor happened to be a kind, funny, charismatic genius.

Kat Kinsman, Food&Wine
The moment I cracked open Sohla El-Waylly's new cookbook, Start Here: Instructions for Becoming a Better Cook, I had a gut feeling that it would be my favorite book of the year, and possibly the decade ... this book feels like cooking school in paper form — if your instructor happened to be a kind, funny, charismatic genius.

Kat Kinsman, Food&Wine
The moment I cracked open Sohla El-Waylly's new cookbook, Start Here: Instructions for Becoming a Better Cook, I had a gut feeling that it would be my favorite book of the year, and possibly the decade ... this book feels like cooking school in paper form — if your instructor happened to be a kind, funny, charismatic genius.

Kat Kinsman, Food&Wine
Sohla's book is sure to inspire and delight. She manages to teach basic techniques while still using elevated flavours so even a novice home cook will attain both confidence and delicious results.

Claire Dinhut
Sohla's book is sure to inspire and delight. She manages to teach basic techniques while still using elevated flavours so even a novice home cook will attain both confidence and delicious results.

Claire Dinhut
Sohla's book is sure to inspire and delight. She manages to teach basic techniques while still using elevated flavours so even a novice home cook will attain both confidence and delicious results.

Claire Dinhut
Start Here has so much to offer home cooks, whether they're just getting to grips with making their first recipes, or are more confident and a few more years down the line with their cooking experience. The combination of creative but not intimidating recipes and engaging sections on various kitchen skills means that there's always something new to learn from Sohla, and the warmth and knowledge in her cooking that everyone knows and loves her for comes through on every page ... I think this is a book that people will come back to for years to come (like Delia's How To Cook for people who grew up with the internet) and I can see it being a fixture on my kitchen bookshelves for the foreseeable future.

Lucy Dearlove
Start Here has so much to offer home cooks, whether they're just getting to grips with making their first recipes, or are more confident and a few more years down the line with their cooking experience. The combination of creative but not intimidating recipes and engaging sections on various kitchen skills means that there's always something new to learn from Sohla, and the warmth and knowledge in her cooking that everyone knows and loves her for comes through on every page ... I think this is a book that people will come back to for years to come (like Delia's How To Cook for people who grew up with the internet) and I can see it being a fixture on my kitchen bookshelves for the foreseeable future.

Lucy Dearlove
Start Here has so much to offer home cooks, whether they're just getting to grips with making their first recipes, or are more confident and a few more years down the line with their cooking experience. The combination of creative but not intimidating recipes and engaging sections on various kitchen skills means that there's always something new to learn from Sohla, and the warmth and knowledge in her cooking that everyone knows and loves her for comes through on every page ... I think this is a book that people will come back to for years to come (like Delia's How To Cook for people who grew up with the internet) and I can see it being a fixture on my kitchen bookshelves for the foreseeable future.

Lucy Dearlove
Equips us with the skills we needed to feel confident in the kitchen... Nothing short of a game changer

Christina Tosi, Chef & Founder, Milk Bar
'Delia Smith for the TikTok generation' is a bold statement, but this fun cookbook from chef Sohla El-Waylly is exactly how it's described: 150 recipes to help younger cooks and bakers become more confident in the kitchen. It's packaged up with engaging and brilliantly named chapters, such as 'Temperature Management 101' and 'Break it Down and Get Saucy', making it the perfect Christmas stocking filler for budding chefs.

Sainsbury's Magazine
'Delia Smith for the TikTok generation' is a bold statement, but this fun cookbook from chef Sohla El-Waylly is exactly how it's described: 150 recipes to help younger cooks and bakers become more confident in the kitchen. It's packaged up with engaging and brilliantly named chapters, such as 'Temperature Management 101' and 'Break it Down and Get Saucy', making it the perfect Christmas stocking filler for budding chefs.

Sainsbury's Magazine
Equips us with the skills we needed to feel confident in the kitchen... Nothing short of a game changer

Christina Tosi, Chef & Founder, Milk Bar
Article
Article
Article