Cheesecake + muffins = deliciously tasty.
Muffins are one of those bakes that I think are slightly overlooked in favour of their cousins, the cupcake. I, however, LOVE them. Especially when they are stuffed with a baked cheesecake like these bad boys. These Chocolate Cheesecake Muffins have a chocolate-based muffin studded with chocolate chips, which is then filled and baked with a very easy vanilla cheesecake. Simple but showstopping.
Serves: 12
Prep Time: 30 minutes
Bake Time: 25-27 minutes
Cool: 1 hour
Lasts: 3+ days, at room temperature

INGREDIENTS
125g unsalted butter, at room temperature
150g soft light brown sugar
1 egg
1 tsp vanilla extract
175ml soured cream or natural yoghurt
½ tsp bicarbonate of soda
¼ tsp sea salt
50g cocoa powder
275g self-raising flour
175ml whole milk
250g milk chocolate chips
Cheesecake:
250g full-fat soft cheese
100g caster sugar
1 egg
1 tsp vanilla extract
Topping:
METHOD
Preheat the oven to 180ºC/160ºC fan and line a 12-hole muffin tray with tulip muffin cases.
In a large bowl, beat the butter and sugar together until light and fluffy. Add the egg, vanilla extract and soured cream and beat again until smooth. Add the bicarbonate of soda, sea salt, cocoa powder and flour to a separate bowl and whisk to combine. Add the dry ingredients to the butter mixture, along with the milk, and mix with a spatula until smooth. Fold through the chocolate chips.
Cheesecake
Add the soft cheese to a bowl and beat with a small spatula until smooth. Add the sugar, egg and vanilla extract and beat again gently until combined.
Assembly
Add a tablespoon of cake mixture to each muffin case, then add a spoonful of cheesecake mixture on top. Add another tablespoon of cake mixture and sprinkle over the extra chocolate chips. Bake in the oven for 25–27 minutes. Leave to cool fully on a wire rack.
Notes:
You can use dark or white chocolate chips instead of milk chocolate chips if you fancy, or even any chopped flavoured chocolate.
If you want a plain muffin, you can leave out the cheesecake mixture.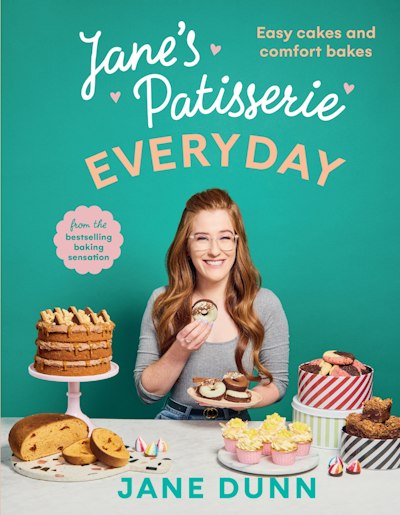 Jane's Patisserie Everyday
Sweet treats and delicious bakes for every day from bestselling sensation, Jane Dunn. For fans of Mary Berry: Everyday, The Hairy Bikers Everyday Winners and Nadiya Hussain
Read more