A classic ice cream, in cookie form!
Neapolitan ice cream is a classic that everyone has probably enjoyed at some point in their lives. Chocolate, vanilla and strawberry ice cream, all in the same tub, creating the best scoop you can ask for. These flavours, transferred into a cookie dough, just win. It's an incredibly easy dough to make, and then you simply add flavour with vanilla extract, freeze-dried strawberries with a little colouring and cocoa powder.
Makes: 12
Prep Time: 45 minutes
Chill: 30 minutes
Bake: 11-12 minutes
Cool: 30+ minutes
Lasts: 5+ days at room temperature
INGREDIENTS
125g unsalted butter, at room temperature
100g soft light brown sugar
75g white granulated sugar
1 egg
1 tsp vanilla extract
300g plain flour
1½ tsp baking powder
½ tsp bicarbonate of soda
½ tsp sea salt
10g freeze-dried strawberries
½ tsp pink food colouring
25g cocoa powder
2 tbsp whole milk
METHOD
In a large bowl, beat the butter, light brown sugar and granulated sugar together until creamy. Add the egg and vanilla extract and beat again. Add the plain flour, baking powder, bicarbonate of soda and sea salt and beat until a cookie dough is formed.


In a small food processor, blitz the freeze-dried strawberries to fine crumbs. Portion the cookie dough into three equal lumps of dough, about 225g each. Add one lump of cookie dough back into the original bowl, then add the blitzed strawberries and pink food colouring and beat well until combined. Remove the pink cookie dough from the bowl, then add another lump of plain cookie dough. Add the cocoa powder and milk and beat until combined.


Separate each flavour of cookie dough into 12 pieces. Carefully press together a piece of each flavour, and lightly roll into a cookie dough ball. Chill the cookies in the fridge for 30 minutes. While the cookies are chilling, preheat the oven to 190ºC/170ºC fan.


Take the cookies out of the fridge and divide between two large, lined baking trays.


Bake in the oven for 11–12 minutes. Leave to cool on the tray for at least 30 minutes, as they will continue to bake while cooling.
Notes:
Freeze-dried strawberries can be found in some supermarkets, or online. You can use strawberry flavouring if you prefer, but this often needs ordering online as well. Fresh or frozen strawberries cannot be used.
Try not to overwork the dough when rolling out the flavours and making the cookies as this may stop them from spreading when baking.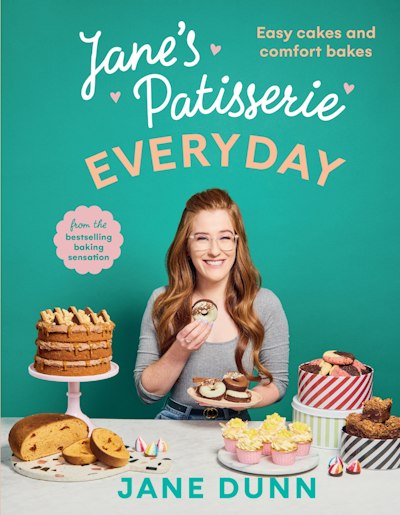 Jane's Patisserie Everyday
Sweet treats and delicious bakes for every day from bestselling sensation, Jane Dunn. For fans of Mary Berry: Everyday, The Hairy Bikers Everyday Winners and Nadiya Hussain
Read more