A sophisticated Italian cocktail from Guy Grossi's Cellar Bar.
The Cellar Bar cocktail menu leans heavily on the golden days of American influence in Italy. The cocktail era was beginning to wrap up in America in the 1950s, making way for an infatuation with Italy, particularly the Italian sense of style and the showmanship of cocktail making. The art of the aperitivi just felt so natural. Fine-etched crystal shakers and elegant glassware glamourised what was already a well-embraced practice. Think Americanos, martinis, old-fashioneds – drinks built in a chilled glass with the precise measurements of a mad scientist. These drinks invoke a sense of time and place, and you might just as easily be sitting in Venice or Rome in the time of the great hotels. They're cool, fun and a little reckless, which is how we want people to feel when they're perched at our bar.
Vermouth is another focus on the bar menu. This sophisticated ingredient is not only the backbone of a lot of the cocktails we make here, it also stands on its own as a great aperitif. Top-quality vermouth is a worthy investment. Simply poured over ice with a slice of orange, white vermouth is a gorgeous way to enjoy the afternoon sun out the front on Bourke Street. I personally love my martini with half gin and half dry vermouth – perhaps not technically correct, but a rounded softer variation on the classic dry style.
 
Three things before you start:
1. Invest in a good-quality bartender's kit.
2. Buy good mixers and keep them chilled.
3. Large ice-cube moulds are readily available and are great to serve in more spirit-driven drinks to avoid faster dilution.
 
NEGRONI SBAGLIATO
Serves 1
INGREDIENTS
Ice
45 ml Campari
45 ml Antico Formula vermouth rosso
45 ml prosecco
1 slice orange
METHOD
Fill an old-fashioned glass with ice. Add the Campari and vermouth and stir. Top with the prosecco and stir again. Garnish with a slice of orange.
---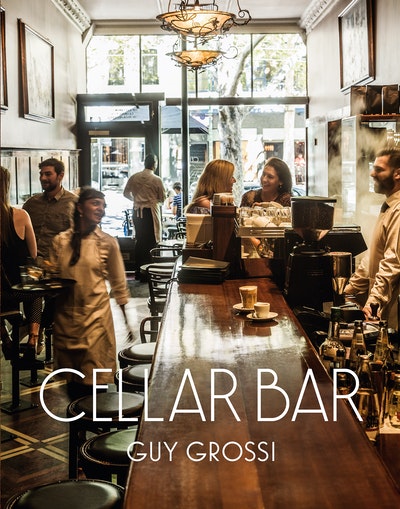 Guy Grossi shares all your favourite classic Italian recipes from Melbourne's beloved institution, the Cellar Bar.
Buy now
Buy now
---