Authentic flavours from Genoa shine in this delicious pasta dish from Cellar Bar.
The word pesto is derived from the Latin root pestle, meaning to pound or crush, and naturally there are many interpretations of pesto all over Italy. Genovese pesto is probably the most famous and to me it's one of the best. Originating in the city of Genoa, the capital of Liguria, it encompasses the spirit of the Mediterranean. Basil leaves are ground with pine nuts, Parmigiano or pecorino and garlic to form the fresh green condiment usually paired with potato, green beans and trofie. Other pasta shapes can be used, but hey!
Trofie al Pesto Genovese
Serves 6-8
INGREDIENTS
6 kipfler potatoes, peeled and cut into 1 cm cubes
200 g green beans, topped and tailed, halved lengthways
sea salt and cracked black pepper
50 g Parmigiano, shaved (optional)
For the trofie dough
600 g fine durum wheat flour, plus extra for dusting
pinch of salt
For the pesto
150 g basil leaves
75 g pine nuts
1 clove garlic, roughly chopped
30 g Parmigiano, grated
30 g pecorino, grated
75 ml olive oil
sea salt and cracked black pepper
METHOD
To make the trofie dough, place the flour, salt and 300 ml water in an electric mixer fitted with the dough hook and mix on low speed for about 15 minutes or until a smooth dough forms. Wrap in plastic film, then rest in the fridge for 2 hours.
Cut off a small piece of dough and roll it into a 1.5 cm thick log, then cut into 1 cm pieces. Roll each piece between the palms of your hands into a little tube with tapered ends – you only need to rub your hands back and forth a few times to make the trofie. Place on a well-floured tray and cover with a tea towel to prevent the pasta drying out while you make the rest.
To make the pesto, wash the basil leaves in cold water, then spin dry. Place the basil, pine nuts, garlic, Parmigiano and pecorino in a food processor and blend to combine. While continuing to blend, gradually add the olive oil to create a fine paste. Season well with salt and pepper.
Bring a large saucepan of salted water to the boil, add the potato and cook for 3 minutes. Add the trofie, giving it a gentle stir so the pasta doesn't stick together and cook for 3 minutes. Add the green beans and cook for another 2 minutes. By now the pasta should be al dente and the vegetables just tender. Drain into a colander, reserving some of the cooking liquid.
Place the trofie and vegetables in a large bowl. Add enough pesto to coat well, then toss through a splash of the reserved cooking liquid to emulsify and bring everything together. Season with salt and pepper, then serve in warm bowls, finished with a sprinkling of shaved pecorino, if you like.
---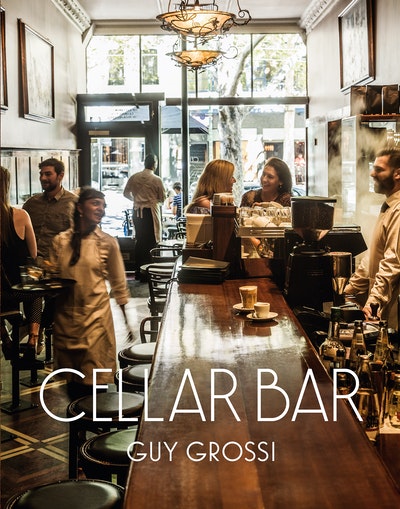 Guy Grossi shares all your favourite classic Italian recipes from Melbourne's beloved institution, the Cellar Bar.
Buy now
Buy now
---