Restaurateur and author Guy Grossi shares insight into his Melbourne institution – the inspiration for his latest cookbook.
The Cellar Bar has been part of the Melbourne landscape for decades. Upon arriving in Melbourne in 1960, my father Pietro had his very first drink at Cellar Bar, and now I own it along with Florentino and Grill which sit upstairs. Pasta is our staple. It's the place that feels like home to many guests, some not even blinking to stop for a bowl of lasagne for dinner after work. It doesn't feel as though they're eating out. A Cellar Bar pasta is a necessity for some not a luxury. For others it's a Friday night out, a special night with a trip to the theatre or a birthday weekend lunch. And that is the beauty that is Cellar Bar. It's there for everyone on every occasion.
We have many regulars that have been frequenting Cellar Bar for years and still do to this day. They come from all walks of life and that's what makes the place the vibrant, eclectic, fun place that it is. It has never been about big names or big events but the everyday bustle of regulars, new faces, old friends and new that walk through the doors between 7.30am and midnight. We have, for example, a gentleman that comes every Friday for a spaghetti Bolognese and a glass of Sangiovese, he sits at the same stool when he comes.
Then we have those who come every day for a lasagne, it's normal for them. One memory that will stick with me forever about the cellar bar is when a lady came in to pick up take away for her dad in hospital. All he wanted was a Cellar Bar lasagne and Tiramisu. It was bittersweet, a customer was unwell but we were able to bring him some joy with his most loved dishes.
What I love most about the Cellar Bar is how versatile it is. We have customers who use it for breakfast daily, some see it as an outdoor lunch spot, others after dinner coffee and cake. The beauty of it, is that it means something different to everyone.
---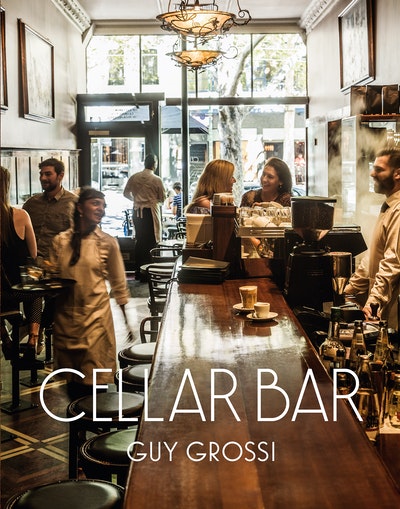 Guy Grossi shares all your favourite classic Italian recipes from Melbourne's beloved institution, the Cellar Bar.
Buy now
Buy now
---