Delicious chocolate and hazelnut biscuits from Guy Grossi's Cellar Bar.
These melt-in-the-mouth hazelnut cookies stuck together with a bittersweet dark chocolate ganache are the perfect treat to have in your pantry when unexpected guests drop by. Or even when they don't!
Baci di Mama
Makes about 30
INGREDIENTS
150 g hazelnuts
185 g plain flour
100 g caster sugar
100 g unsalted butter, at room
temperature, chopped
1½ teaspoons baking powder
1 egg
For the ganache
160 g dark chocolate
2 tablespoons pouring cream
METHOD
Preheat the oven to 150°C (fan-forced).
Place the hazelnuts on a baking tray and toast for about 10 minutes or until browned and fragrant. Rub off the skins with a tea towel, then place the nuts in a food processor and pulse until finely chopped.
Place the chopped nuts, flour, sugar, butter, baking powder and egg in an electric mixer with the paddle attachment and mix for a few minutes on low speed until a dough forms.
Line a tray with baking paper. Form the dough into 2 cm balls and place on the prepared tray, pressing them down to flatten slightly. Bake for 10–15 minutes or until golden, then remove and leave to cool completely.
Meanwhile, to make the ganache, bring a saucepan of water to a gentle simmer over medium heat and sit a heatproof bowl on top, making sure the bottom of the bowl doesn't touch the water. Place the chocolate and cream in the bowl and stir constantly until melted and combined. Place the ganache in the fridge to cool and firm up.
Spread the ganache on the base of half the cooled biscuits and sandwich with the remaining biscuits.
---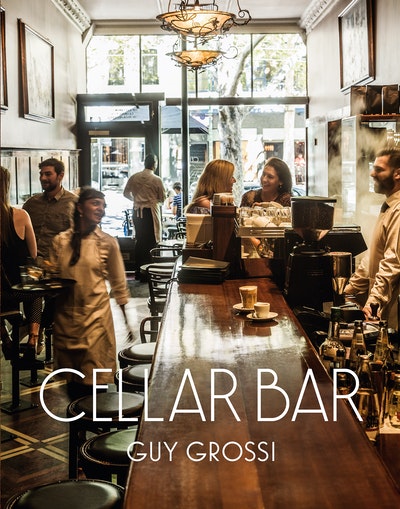 Guy Grossi shares all your favourite classic Italian recipes from Melbourne's beloved institution, the Cellar Bar.
Buy now
Buy now
---