Sticks and Stones author and journalist Katherine Firkin on the true crime that's helped shape her thrilling fiction debut.
What scares you?
Anyone who can hide their evil and create a façade of 'normalcy' scares me – the killers that walk amongst us in plain sight.
Sitting in court, I'm often shocked by how callous these sorts of killers can be and how little remorse they actually feel, even when the damage of their actions is highlighted by grieving family members. It astounds me that some people don't seem to be able to feel any empathy at all. It makes me wonder if there are limits to the behaviour of these sorts of people, or is a person without empathy, without guilt, and without compassion capable of literally anything?
Best and worst things about crime and court reporting?
The best thing about being a news reporter is that you get a front-row seat to life. Every day is different, you travel to places you'd otherwise probably not go, and you meet people who you might not cross paths with in normal circumstances.
You also tend to see people at their defining moments – either at their best or at their worst. (With crime and court reporting, it tends to be more of the latter.) I've sat across from a mother who'd lost her young child only hours earlier, I've watched parents identify their deceased son after he was struck by a train, I've sat in funerals of murder victims, I've had people beg for help in finding lost relatives… These are moments that I don't take lightly, and while they can be confronting, they also give life meaning and perspective.
Strangest real-life crime stories you covered?
The old idiom that real life is often stranger than fiction is true when it comes to crime reporting.
One that sticks in my mind is the murder of Melbourne man David Dick, who was killed in a shopping centre in 2017. His mother launched a public appeal for information, which included some good quality security footage of a person of interest. Bizarrely, she failed to recognise that the man in the footage was the older brother of David, her son, Jonathan Dick.
Another strange case was the disappearance of Herman Rockefeller in 2010. The Melbourne millionaire was ostensibly a dedicated family man, who regularly attended church and ran a successful investment business. Detectives were initially baffled by the case, until details of Herman's sordid sex life became revealed. It turned out he'd been murdered by a couple that he'd visited for sex, after advertising himself and his wife 'Jenny' as being available for swingers meet-ups.
What do you love about reading thrillers?
There's nothing like the feeling of being desperate to get back to a good book, and for me this happens most often with thrillers. There's something about the combination of entertainment, suspense, and pure escapism that makes this genre so captivating. I also love the challenge of trying to 'solve' crime novels, and my favourites are those that give enough clues to pick the killer, without making it too obvious.
What do you love about writing thrillers?
The great thing about writing in this genre is that you can push the boundaries of human behaviour. I've long been fascinated with human behaviour and why we act the way we do, and this is something that writing crime gives you an opportunity to explore. Would any of us be capable of murder under the right circumstances? What would make an otherwise 'ordinary' person snap? Is there ever justification for murder?
What sparked the creation of Sticks and Stones?
Sticks and Stones was largely influenced by the many court cases I've covered, starting with the horrific murder of Renea Lau in 2014. The brutality of the offending, the random nature of the attack, and the complete lack of motive were things that intrigued me about the case. What made her killer – a man who had almost no history of prior offending – suddenly lash out in such a vile, ruthless way?
I'm also constantly amazed by the domino effect that violence and trauma have on people's lives – how the actions of one person can affect dozens into the future, sometimes over the span of decades.
When you sit in courtrooms, you see this time and time again: the abused child who goes on to terrorise his girlfriends, the abandoned teenager who begins experimenting with drugs, the failed youth who drops out of school and lives on the streets… These cycles are repeated often, with little disruption.
When I wrote Sticks and Stones, I wanted to show these links between upbringing and behaviour, between self-esteem and self-harm.
Something you learned while creating Sticks and Stones?
The process of writing Sticks and Stones was far more involved and far more research-heavy than I ever imagined. In particular, accurately portraying the police work was a lot harder to navigate than I'd expected, and although it's fiction, I did want the investigation to be believable. So, this resulted in a fairly exhausting process of working through each scenario with police contacts to understand the procedural and administrative minutiae that detectives face day-to-day.
On the plus side, the process of researching and contacting experts has helped me foster close relationships with people who are now not only good friends, but will likely remain ongoing sources for future projects.
Any advice for debut novel writers?
My biggest piece of advice is simply to treat your writing as work. Make it a priority, not a hobby.
There's a quote by American author Libba Bray, which I have as the screen saver on my laptop: Write like it matters, and it will.
There are times – particularly at the start of a novel – when the process of creating an entire manuscript can feel utterly overwhelming. If you jump in and jump out, writing on some days and then not on others, it can be really hard to create enough momentum to sustain you through the 90,000-odd words you'll need to produce. But if you keep turning up, day-after-day, fully committed to whatever it is you are trying to create, you can have faith that eventually the writing will take shape.
(If it helps, I had to push myself through seven entire rewrites of my novel before showing it to an agent – and even after signing with PRH it went through another complete rewrite before the editing process really began…)
A crime or thriller book you'd always recommend (and why)?
I have a particular fondness for The Ice Princess by Camilla Lackberg. It was my first introduction to Scandinavian crime, and was a huge inspiration for me as a writer.
However, these days there are so many good Australian crime authors, that I tend to recommend them first and foremost. For a suspenseful, but also fun read, I highly suggest any of Candice Fox's books. I also really enjoy Benjamin Stevenson's work, and anything by Chris Hammer.
A crime or thriller writer you admire (and why)?
I admire any writer who can build and sustain a successful series.
Jane Harper has really put Australian crime in the spotlight on a global scale, Candice Fox has managed to create a niche of her own (both solo and with James Patterson), Ian Rankin will forever be a favourite thanks to his moody Edinburgh settings, and Camilla Lackberg introduced me to Scandinavian crime – which I'm sure will remain a passion of mine for life.
---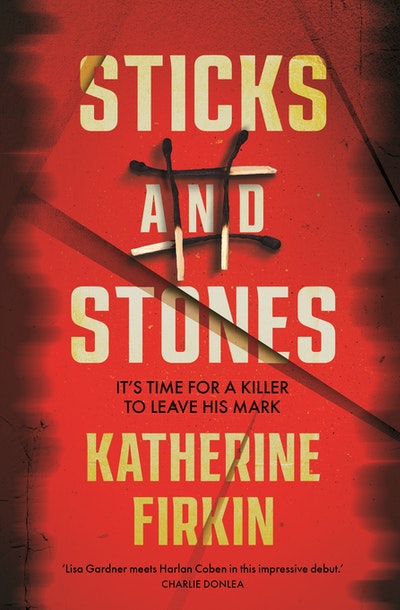 A terrifying, twisting debut from TV news journalist Katherine Firkin. It's time for a killer to leave his mark . . .
Buy now
Buy now
---