Plus, the writing advice (and life-advice) he'd give his past self.
Everyone On This Train Is A Suspect is a follow-up to your previous bestseller, Everyone In My Family Has Killed Someone. Do readers need to have read the previous book to enjoy this one?
Not at all – this is a classic Golden Age mystery type of sequel: same detective, brand new case. New killers, suspects, location and crime! If you did like the first book though, there's plenty more fun with Ernest Cunningham – so it works both ways.  
What gave you the idea to set this story on the Ghan?
I love locked room mysteries, and my last was locked in a snow-storm-struck hotel, so I wanted a locked room that felt as far as possible from there. Of course, there is a great history of trains in mystery in fiction, but the chance to reinvigorate, modernise, and Australianise the concept was irresistible!
You've said that it was always your goal to publish a book before you turned thirty. What inspired that ambition?
Ego. Every young person feels they are running out of time – and I was a victim of that – but I'm glad I was so driven as it was a lot of hard work to achieve. That said, I think my best work is ahead of me.
What would you go back and tell your past self, who was striving for this goal?
As above, that your best work is ahead of you (and don't eat that plate of Mussels in Madrid that one time…).
Which character from Everyone On This Train Is A Suspect did you enjoy writing most?
There's a character named Alan Royce who is absolutely vile – part sleaze, part narcissist, all clueless – and was such a joy to write.
How do you balance humour, crime and puzzles in a complex mystery like this?
With a lot of editing! Getting the balance right is key, you can't tilt the book too far one way otherwise you risk changing the whole genre. Ernest's voice is so key to the tone of the books, so I just try to make sure I'm properly in his head while writing. As for the puzzles, in this book, I wanted to increase the cryptic elements. So there are more puzzles – anagrams, codes, numbers – in this book than the last. That required a lot of careful plotting and research!
You've been to several writing festivals yourself. What from your real-life experiences did you use in the book?
The writers in the book are the complete opposite of the wonderful bunch of crime writers in Australia (not least because our real-life writers don't kill people!) – but I certainly tried to give a glimpse behind the curtain of what it's like in what is, let's face it, a competitive and sometimes cut-throat industry.
Want more fun? Do a crossword puzzle based on the book here.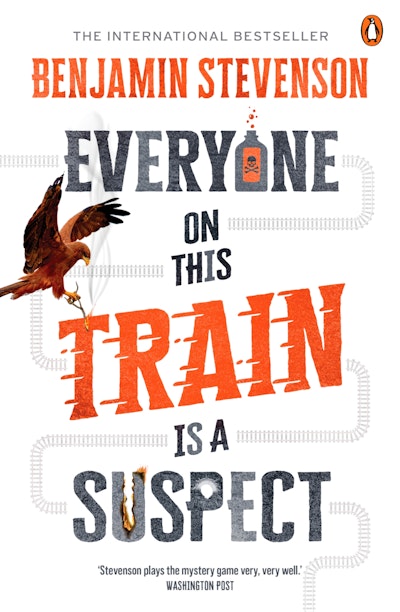 Everyone On This Train Is A Suspect
The eagerly awaited follow-up to the international bestseller EVERYONE IN MY FAMILY HAS KILLED SOMEONE - another deliciously witty locked room mystery, for fans of Richard Osman and Anthony Horowitz.
Read more