We sat down with celebrated comic writer Kathy Lette to talk about throwing her knickers at Tom Jones, the time she met the Queen and more.
Tell us about a social faux pas you've struggled to live down (and don't mind sharing)?
Ah, so many. Always best to remember that drunk is the future of drink. Two glasses of bubbles and you may be feeling pretty damn sophisticated… but you're probably not if you can't pronounce it. At a Savoy party I was feeling so fos-fist-icated that I thought it would be funny to throw my knickers at Tom Jones. Sadly, as they arced over the bar, I realised that they weren't my best, lacy G-string lingerie, but big mummy pants – the kind of knickers that could double as a spinnaker on a yacht. The poor man had to be revived with a defibrillator.
When you slip up, are you a poker face or a blusher?
Oh, I blush so much you could toast marshmallows on my face! Especially after the time a friend of mine threw an intimate party for Al Pacino. 'Just don't mention his alopecia,' she warned. 'Of course not!' I replied, earnestly... A couple of cocktails later, in a classic Basil Fawlty moment, I shook Al Pacino's hand and said, 'G'day, Al Opecia, how are you?'
What's the most spontaneous decision you've made that ended well?
I was running late to meet the Queen. What to wear? Most of the other guests would have been getting ready for months. Spontaneously, I flung on a little corgi suit which was stuffed in the back of my wardrobe. An Aussie girlfriend ran it up for me when I was broadcasting for the royal wedding years earlier. The miniskirt and jacket are covered in little comic corgis, wearing diamante-encrusted tiaras.
The queue to meet Her Maj snaked right down the staircase at Buck House. After meeting and greeting 200 or so over-awed guests, the poor Queen was in a coma of tedium. Her smile was frozen to her face in a polite rictus. Then I rocked up before her wearing my corgi suit. 'I hope you like my suit. I wore it just for you. Although I'm slightly worried that one of your corgis might mate with my leg!'
There was the horrified gasp from on-lookers. One of her courtiers wore a facial expression usually associated with an examination of the prostate. All eyes were on the Queen. How would she react? Well, the Queen threw back her head and let out a loud, delighted laugh. Nor did she have me sent to the tower. Or boomerang me back to Botany Bay.

What's the most spontaneous decision you've made that ended badly?
Wearing teeny weeny gold hot pants with a boob tube to a party backstage at a rock concert in the 70s. It was a look that didn't quite come off, but definitely gave the impression that it would for the entire band. I think I could have given Usain Bolt a run for his money that night, my sprint home was so fast.
Oh, and wearing a string bikini to go body surfing. As I washed up onto the shore, it took me a moment to realise that my bikini pants had caught a different wave all together… It gave 'bad hair day' a whole new meaning.
How do you feel about surprises?
Great – especially if you're about to tell me I've won the Nobel Prize for Literature. (I'm going to rename my cat 'Pulitzer' just so that I can say that I have one.)
What's the biggest surprise that's been sprung on you?
Childbirth. Why didn't anyone warn me? Giving birth is NOT like shitting a watermelon. It's like excreting a block of flats, complete with double garages and gazebos and patio extensions. And yet no other mum had told me that I'd be required to stretch my birth canal the customary five kilometres. The next time I gave birth I got the epidural early. Natural childbirth is a case of stiff upper labia. I mean, I've done drugs all my life. Why stop now?
What's the biggest surprise you've sprung on someone else?
That I have a 29-year-old son and a 27-year-old daughter. How can that be, when, clearly, I am only, you know, 37? It's a medical mystery!
Why is laughter the best medicine?
Laughter straps a big shock absorber to your brain. If you can laugh at something it takes the sting out of it. When I'm on a girls' night out, I have to be hospitalised from hilarity. Laughing at life's adversities is just the way women cope. And yet, I still hear men say so often that 'women aren't funny'. I've heard that in every country of the world I've ever been on book tour. I think they're just terrified what it is we're being funny about. I presume they think we spend the whole time talking about the length of their penises, which is not true... As we also talk about the width – which after childbirth is so much more important! If a man ever says to you that females aren't funny, just explain that the reason women can't tell jokes is because we marry them! Then ask him if he knows why men like intelligent women? Because opposites attract!
But I do think there's a difference between male and female humour. Men tend to tell set jokes, firing off witty one-liners. I call it The Black Belt in Tongue-Fu. Whereas women never tell set jokes. Our humour is much more anecdotal, cathartic and confessional. And it's a psychological striptease, which reveals all, and brings us closer as friends.
---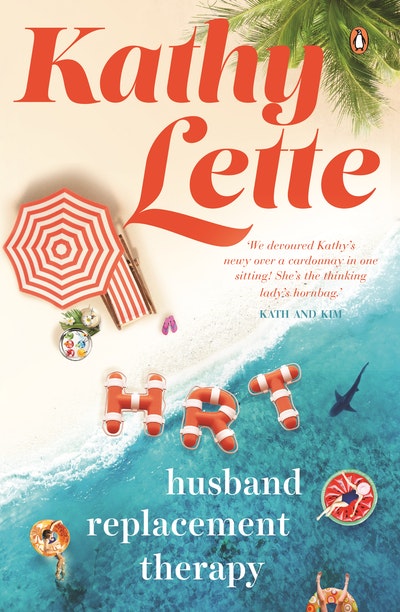 What do you do when you're told you've got terminal cancer at 50? Take up crochet, get religion and bow out gracefully? Or upend your life and spend every remaining minute exploring new pleasures? Rollicking fun for women of a certain age.
Buy now
Buy now
---