Learn about her favourite sandwich, hair advice, and career journey thus far.
Dolly Alderton is the name on everyone's lips. Yet again!
You might remember all the buzz from her debut memoir Everything I Know About Love, and with a new TV adaptation, it's safe to say the buzz is back.
Based roughly on the memoir, the TV series will explore many of the same themes from a new angle. Though the show involves different characters and plot points, it nevertheless feels very 'Dolly' – perfect for her cohort of fans.
Since the TV show is based on her memoir, what better time to learn more about Alderton herself?
In celebration of the series premiere, we've rounded up some fun facts about Dolly to help you know her a little better. Read on to learn about her favourite sandwich, hair advice, and her career journey thus far.
10 fun facts about Dolly Alderton
Her real name isn't Dolly. Alderton's parents named her Hannah, but she changed it to Dolly when she was a teenager.
For four years, Dolly was a creator and co-host of the massively popular podcast The High Low alongside fellow author, Pandora Sykes. Though they were podcast novices when they started, the show hit nearly 30 million downloads.
Alderton has worked in television in the past, and her first full-time job was working as a story producer on the reality show Made in Chelsea.
Her signature fringe is a strategic choice. In an interview with 'The London Mummy' she shared some styling advice: 'If your hair is fine and shapeless, try a fringe.'
Her favourite sandwich is egg mayo, which she has humbly admitted is a controversial stance.
The opening night of the second leg of her Everything I Know About Love tour was sold-out. The Palladium bar, where the event took place, sold out of white wine during the event.
Alderton has said she wouldn't write about her own life again, as she felt 'safer' doing so when she had less of a following. 'It made me realise just how present misogyny is when it comes to women sharing their stories,' she told The Irish Times. 
She loves pasta. She has previously named spaghetti alle vongole as her ideal meal, shared a recipe for spaghetti carbonara in The Times, and included a recipe for 'Hangover Mac and Cheese' in Everything I Know About Love.
Turning the focus away from her own stories, Dolly now writes as an agony aunt for Sunday Times Style providing helpful advice with her signature sharp sense of humour.
Dolly Alderton was extremely involved in the TV adaptation of Everything I Know About Love, which is now streaming on Stan. In addition to filling the role of executive producer, she also wrote each episode.
Haven't read it yet? Grab a copy of Everything I Know About Love to enjoy alongside the series. 
---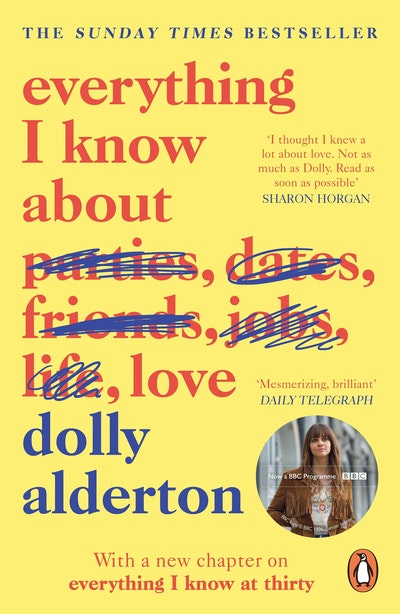 The wildly funny Sunday Times bestseller about growing up and navigating all kinds of love along the way
Buy now
Buy now
---