An uplifting Australian drama from rural midwife and bestselling author Fiona McArthur.
Featherwood is a town of colourful characters and The Farmer's Friend stock and feed store is their meeting place. The store's owners Jed and Gracie are expecting a baby and tensions rise when Jed's impulsiveness strains their precarious financial situation. As a bushfire ravages the region, the whole town comes under threat, putting relationships and lives on the line. Can quiet achievers, unexpected heroes, and a valley of part-time fire-fighters and farmers help Featherwood rise again?
Discussion points and questions:
The Farmer's Friend is a central meeting point for many in the Featherwood community. Discuss its importance to the characters in the story. Is there a place or business that fulfils this role in your hometown?
Gracie is more practical than Jed, and Jed is more optimistic than Gracie. Are you more like Gracie or Jed? In what ways?
The Featherwood community put a lot of work into their fire plans. What experience have you had with preparing for natural disasters in your own community and how does it compare?
Nell wonders: 'Could some of the shame and self-reproach strip from her soul?' At what point in the story do you think Nell starts to forgive herself? How does she begin to trust herself again?
Mavis thinks, 'Young ones these days baffled her,' but she and Archie are very close. How do they help each other throughout this story?
Gracie and Jed have a strong relationship but clash over their different approach to money. Do you think this is common between couples? How do you feel about how they both handled their arguments?
Nell and Liam are both experiencing post-traumatic stress from events in their lives. Does this shared experience help or hinder their growing attraction? Why?
'Family were people who supported you and believed you over others, especially when you were innocent.' What role does the idea of chosen family play in this story, and in your own life?
Gracie describes 'a horrid something's-going-to-happen feeling' to Nell and asks if she's ever had that. How does each character's intuition drive the decisions they make in this story?
The drought takes a huge toll on the farming families of Featherwood. What emotional effects did you pick up throughout the story?
Several characters lose their homes during the story's events. What do you think helps people keep going under those types of circumstances?
If you have read any of Fiona McArthur's other books, what similarities and differences do you notice between them and The Farmer's Friend?
---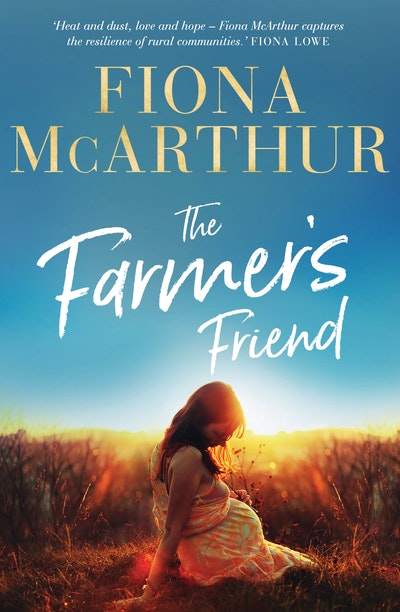 The heartwarming new medical rural romance from the bestselling author of The Bush Telegraph.
Buy now
Buy now
---