Katharine Pollock, author of Her Fidelity, shares the 10 types of customers you meet in a record store.
Every record shop has its bunch of regulars who rock up (and rock out) like clockwork. They're like family: you don't choose them, you don't always like them, but they're a constant presence. Here are my top ten record shop customers, each proving that a brick-and-mortar record shop is an eccentric, unexpected, and often smelly place to be.
The 10 types of customers you meet in a record store
1. The Connoisseur
The Connoisseur buys every Bob Dylan recording, even Dylan's Lovesick: A Victoria's Secret Exclusive CD. They have never listened to a female artist apart from Joan Baez or Joni Mitchell, both of whom performed with Bob Dylan and therefore pass the Dylan litmus test.
2. The Thief
Unlike The Connoisseur, The Thief has eclectic tastes. They will steal anything, even Dylan's Lovesick: A Victoria's Secret Exclusive CD. Once, a thief whom I caught red-handed wrote me an apology note afterwards which was so touching I almost invited them to steal from me anytime.
3. The Crop Duster
Sometimes you won't actually see The Crop Duster, but you will smell them. Roaming the aisles as if they have a perfume atomizer attached to their anus, they usually come in after their lunchtime burrito to make record shopping a 4D sensory experience.
4. The Ghost
This one may be specific to me and my regulars. At a record shop I once worked at, there was one corner where CDs would jump off the shelves without being touched. Even the least superstitious among us were convinced there was a ghost in our midst. Lending credence to a haunting was that somebody was murdered in the building years prior. However, I reckon our ghost was felled by the noxious odours of The Crop Duster.
5. The Sweetheart
The Sweetheart is just an honest-to-goodness sweetie. They're open to recommendations! They don't ask for a discount on an already heavily-reduced item! They understand that if they have a special order coming from overseas it may take more than 48 hours to arrive on Australian shores! Once, at Christmas, one of my regular Sweethearts gave us a box of Cadbury Favourites to thank us for our service. It brought a tear to my eye, although my eyes were already watering thanks to a visitation from The Crop Duster.
6. The Name Three Songs Bro
The Name Three Songs Bro is the worst. He'll smell a Ramones t-shirt on the air and come running to order you to name three songs. Don't worry: if you're male or over forty you won't suffer his inquisition. If not you'll have to undertake a musicology PhD, have it approved by a living Ramones member, and present it to him as unequivocal proof of your fandom.
7. The Whinger
The Whinger shares commonalities with The Connoisseur but unlike him isn't happy about anything. 'It's just noise!' he'll cry out. 'It's too loud!' Other complaints include but are not limited to 'It's too expensive in here!' and 'It stinks in here!' (this last complaint is valid).
8. The Scholar
The Scholar is a close relative of the Name Three Songs Bro and will often take the shape of a teenage boy. He can be heard loudly explaining Bon Jovi's five octave vocal range to his girlfriend. If she posits that Mariah Carey shares this range she'll be informed that it's not the same thing. I like to gaslight The Scholar by insisting what I'm playing on the turntable is not what he thinks it is. 'It's Mariah Carey's Merry Christmas,' I'll say, as I turn up the volume on Slippery When Wet. When he's at his most mentally fragile, I'll ask him to name three songs and watch him crumble.
9. The Seller
This fellow has a mouldy, moth-eaten copy of Kamahl's Sounds of Kamahl and insists it's worth seventy billion USD, because he saw somebody trying to sell it on Discogs. When not trying to retire on the resale price of a warped LP he found in a thrift shop, he's demanding a quote for grandfather's copy of the Beatles White Album, and refuses to take 'I need to know the catalog number/visually cite its condition/have any distinguishing information about it whatsoever' for an answer.
10. The Girl
The Girl isn't actually a regular. She's been made to feel unwelcome in record shops, so she visits infrequently. But I'm including her in the hopes she'll become a regular as more girls and people like her are included in these spaces. She might enjoy pop, rock, punk, or metal. She might like the cool font on the t-shirt but never have heard the band. That's okay. She's welcome anytime.
Check out Katharine's book Her Fidelity, coming 16 August 2022. 
---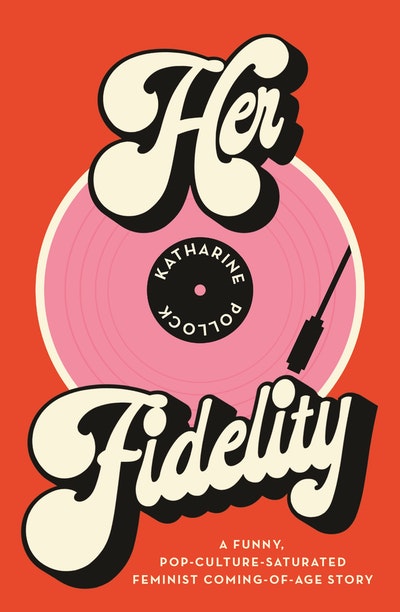 A very funny confessional novel set in one of the only Australian independent record stores still functioning, if barely. This is High Fidelity with a female gaze.
Buy now
Buy now
---