The Testaments is to be published September 2019.
The Testaments is the sequel to The Handmaid's Tale and is narrated by three female characters. It will be published worldwide on 10 September 2019.
It's set 15 years after Offred's final scene, the moment when the van door slams and she is about to be driven off to an uncertain future – one either of freedom, more torture and imprisonment, or even death. We just don't know.
Margaret Atwood says: 'Dear Readers: Everything you've ever asked me about Gilead and its inner workings is the inspiration for this book. Well, almost everything! The other inspiration is the world we've been living in.'
Becky Hardie, Deputy Publisher of Chatto & Windus, says: 'As a society, we've never needed Margaret Atwood more. The moment the van door slams on Offred's future at the end of The Handmaid's Tale is one of the most brilliantly ambiguous endings in literature. I cannot wait to find out what's been going on in Atwood's Gilead ­– and what that might tell us about our own times.'
Richard Cable, Managing Director of Vintage, says: 'Very few novels manage to speak to new generations of readers around the world in the way in which The Handmaid's Tale clearly does. Publication of The Testaments is going to be the kind of global publishing event we don't see very often, and we are all hugely excited at the prospect of bringing Margaret Atwood's new book to her millions of readers.'
First published in 1985 by VINTAGE imprint Jonathan Cape, The Handmaid's Tale was shortlisted for the 1986 Booker Prize. Eight million copies have been sold globally in the English language.
When Donald Trump was elected in November 2016, Handmaids became a symbol of the movement against him, standing for female empowerment and resistance in the face of misogyny and the rolling back of women's rights around the world. In 2017 the TV adaptation of The Handmaid's Tale starring Elisabeth Moss and Joseph Fiennes launched, Atwood's novel spent 16 weeks back on the Sunday Times bestseller list and VINTAGE saw book sales increase by 670% year-on-year. The TV show has been nominated for 18, and won 6, Emmy Awards across two series. A third series is currently in production.  
The Testaments is not connected to the television adaptation of The Handmaid's Tale.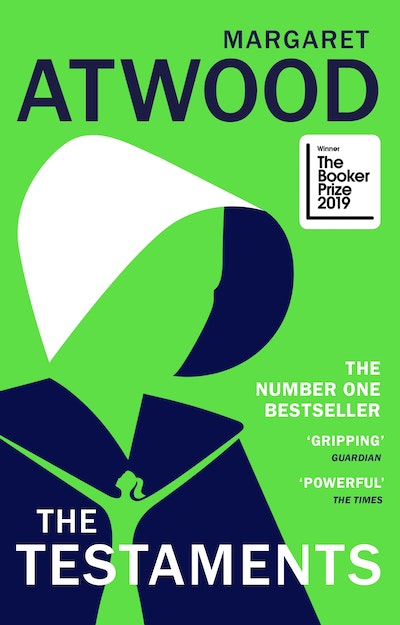 The Testaments
In this electrifying sequel to The Handmaid's Tale, Margaret Atwood answers the question that has tantalised readers for decades: What happened to Offred?
Read more