From the pages of Margaret Atwood's The Testaments, a chilling children's game from beneath the shadow of the Wall.
In her 2019 Booker Prize-winning novel The Testaments, Margaret Atwood takes readers back to the Republic of Gilead, and into the grips of the terrifying theocratic regime she revealed in her 1985 classic The Handmaid's Tale. It's now more than fifteen years after Offred's dramatic final Handmaid's Tale scene, and there are signs that the brutal totalitarian state is beginning to rot from within. At this crucial moment, the lives of three radically different women converge, with potentially explosive results.
Two of these women have grown up as part of the first generation to come of age in the new order. Unable to draw comparisons with the free world before the formation of Gilead, child's-eye accounts of life within the constructs of the regime come across as frighteningly normal.  
'You have asked me to tell you what it was like for me when I was growing up within Gilead,' says one narrator, Agnes. 'I imagine you expect nothing but horrors, but the reality is that many children were loved and cherished, in Gilead as elsewhere, and many adults were kind though fallible, in Gilead as elsewhere.'
Like children everywhere, the daughters of Gilead latch onto the darker elements of the grown-up world that surrounds them to twist into their schoolyard rhymes and games. In the extract below, Agnes recounts a dramatic turning point in her young life, as viewed through the prism of the playground.
At school my position was now worse than it had ever been. I had become a taboo object: our Handmaid had died, which was believed among the girls to be a sign of bad fate. They were a superstitious group. At the Vidala School there were two religions: the official one taught by the Aunts, about God and the special sphere of women, and the unofficial one, which was passed from girl to girl by means of games and songs.
The younger girls had a number of counting rhymes, such as Knit one, purl two, Here's a husband just for you; Knit two, purl one, He got killed, here's another one. For the small girls, husbands were not real people. They were furniture and therefore replaceable, as in my childhood dollhouse.
The most popular singing game among the younger girls was called 'Hanging.' It went like this:
Who's that hanging on the Wall? Fee Fie Fiddle-Oh!
It's a Handmaid, what's she called? Fee Fie Fiddle-Oh!
She was (here we would put in the name of one of us), now she's not. Fee Fie Fiddle-Oh!
She had a baby in the pot (here we would slap our little flat stomachs). Fee Fie Fiddle-Oh!
The girls would file under the uplifted hands of two other girls while everyone chanted: One for murder, Two for kissing, Three for a baby, Four gone missing, Five for alive and Six for dead, And Seven we caught you, Red Red Red!
And the seventh girl would be caught by the two counters, and paraded around in a circle before being given a slap on the head. Now she was 'dead,' and was allowed to choose the next two executioners. I realize this sounds both sinister and frivolous, but children will make games out of whatever is available to them.
The Aunts probably thought this game contained a beneficial amount of warning and threat. Why was it 'One for murder,' though? Why did murder have to come before kissing? Why not after, which would seem more natural? I have often thought about that since, but I have never found any answer.
We were allowed other games inside school hours. We played Snakes and Ladders – if you landed on a Prayer you went up a ladder on the Tree of Life, but if you landed on a Sin you went down a Satanic snake. We were given colouring books, and we coloured in the signs of the shops – ALL FLESH, LOAVES AND FISHES – as a way of learning them. We coloured the clothing of people too – blue for the Wives, stripes for the Econowives, red for the Handmaids. Becka once got in trouble with Aunt Vidala for colouring a Handmaid purple.
Among the older girls the superstitions were whispered rather than sung, and they were not games. They were taken seriously. One of them went like this:
If your Handmaid dies in your bed,
Then her blood is on your head.
If your Handmaid's baby dies,
Then your life is tears and sighs.
If your Handmaid dies in Birth,
The curse will follow you over the earth.
---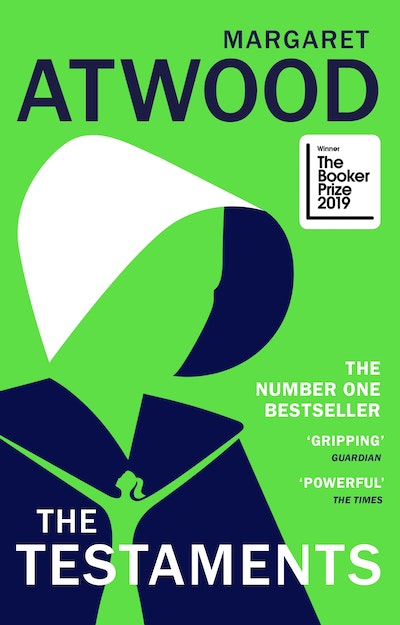 In this electrifying sequel to The Handmaid's Tale, Margaret Atwood answers the question that has tantalised readers for decades: What happened to Offred?
Buy now
Buy now
---