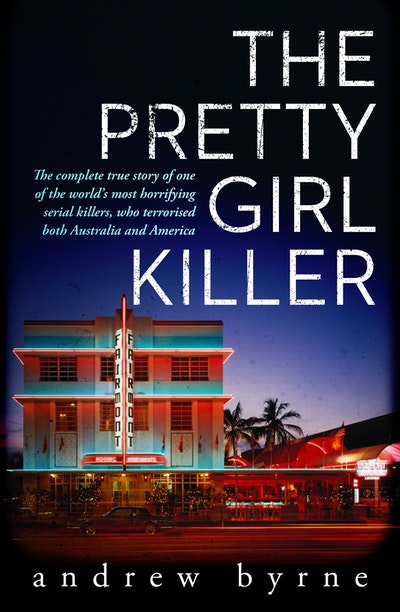 Published:

6 August 2019

ISBN:

9780143796749

Imprint:

Viking

Format:

Trade Paperback

Pages:

368

RRP:

$34.99
The Pretty Girl Killer
Extract
INTRODUCTION
This is the chilling and definitive true story of one of the world's most extraordinary serial killers, infamous in both Australian and American criminal history.
Christopher Bernard Wilder, born in the leafy suburbs of Sydney, was the perfect model of an Australian playboy, who became the most wanted man in America and the perfect model of a psychopathic killer. How this surf-loving son of a decorated naval war hero grew up to become a sadistic monster, slaughtering as many as sixteen women, is as fascinating as it is frightening.
The ruthless and terrifying Wilder had been sexually harassing, molesting, abusing, kidnapping, torturing and murdering young women and girls for over two decades when he went on the run in one of the most notorious killing sprees in US history. On his frenetic final odyssey, Wilder would drive thousands of kilometres, crisscrossing the US, abducting and murdering a string of innocent victims. He had more than 500 FBI special agents and hundreds more local sheriffs and police officers pursuing him in the country's biggest ever manhunt.
Wilder's modus operandi was faultless, honed to perfection over the best part of two decades. He targeted only pretty girls, bewitching them with a few carefully rehearsed flattering words, brazenly walking up to them on crowded beaches, in busy shopping malls and at beauty pageants. Adorned with flash jewellery and expensive suits, he would pretend to be a professional photographer and lure them with promises of modelling careers. They were young, good-looking and vulnerable to a smiling stranger who promised to make them famous. Once captured, he tortured them for hours, sometimes days.
There were occasions when Wilder was accused, investigated, arrested, even charged and put before the courts, but he was never jailed and always walked away with the most lenient of sentences, free to abuse and kill more women. This incredible ability to – quite literally – get away with murder was due to a few crucial factors.
He was wealthy, which meant whenever he did end up before the courts he could call on the best and most expensive defence lawyers.
It is important to remember, too, that Wilder operated in an era in which sexism and misogyny were still deeply ingrained, particularly when he started out in the 1960s. Although a second wave of feminism started in the 1960s thanks to books like Betty Friedan's The Feminine Mystique, life for women in the late sixties and early seventies was still far from ideal. They were badly underpaid compared to men, still doing the lion's share of the housework and child rearing, still considered too sympathetic and fragile to be on court juries in most US states and remaining banned from several prestigious colleges such as Yale, Princeton and Harvard. Although the birth control pill was legalised in 1960, it could still only be prescribed to married women, pregnancy was still a sackable offence, only 6 per cent of doctors were women and one of the most popular TV variety shows was Hugh Hefner's Playboy's Penthouse. Many of the screen icons were a hangover from the fifties – highly sexualised but vulnerable and in need of protection, such as Marilyn Monroe. Stars like Jane Fonda and Brigitte Bardot may have been less vulnerable, but they still got their star rating from being overtly sexual and the plaything of the male hero.
It was a time, in both Australia and the US, when police and the courts turned a blind eye to domestic violence (not even a term until the mid-seventies) and often lacked earnestness when it came to the investigation of sex crimes against women. There was too often a culture of blaming the victim, and too many of these vulnerable women chose not to speak out or seek justice. Looking back with the benefit of hindsight, there is plenty of fault to find in the various law enforcement investigations of Wilder, everything from the wrong identification of victims to missing evidence, to petty internal one-upmanship politics to downright incompetence. It was also an age before real technological advance or proper centralised databases, which meant everything moved at a snail's pace and in frustrating silos.
Mostly, however, it was Wilder's phenomenal charm, and his extraordinary ability to manipulate not only his victims but everyone around him, that allowed him to develop into such a horrendous serial killer. He managed to fool his family, colleagues, girlfriends and his wife; and outsmart cops and deceive psychiatrists, therapists and judges. What most serial killers have in common, when you scratch away long enough at their personalities, is an inability to completely conceal their true nature. The murderous intent is always there, lurking in the background, if you look hard enough. Wilder was different. He was clever at hiding not only his crimes but, more importantly, also his core self. Wilder was – to his girlfriends, mates, colleagues and acquaintances – a handsome businessman and sports car racer. A bit of a womaniser, but harmless enough. A guy who loved dancing and drinking expensive cocktails. His chilling charm, impeccable sophistication and unfaltering manners duped all those around him.
Over the course of twenty years, Christopher Wilder committed hundreds of appalling crimes, from Australia to mainland USA as well as Hawaii. He matured into the most depraved and merciless killer it is possible to imagine, but his bloodlust and carefully concealed malice against women, especially those that were both young and pretty, started on a desolate and windswept beach on Sydney's southern fringes.
1
WANDA BEACH
MONDAY 11 JANUARY 1965
WANDA BEACH
SYDNEY, AUSTRALIA
It was eleven days after New Year and shaping up to be a sticky Australian summer. Teenagers all over the country were still hoarse and in the throes of Beatlemania after the British band's tour just a few months earlier. The Vietnam War was a looming cloud with compulsory military service for twenty-year-olds recently introduced, but most families were optimistic about the future, unemployment was less than 2 per cent, front doors were left unlocked and in many cases wide open, and children played safely in the street unsupervised. It was a time of flower power and the beginnings of feminism.
Fifteen-year-old Marianne Schmidt and her best friend from next door, Christine Sharrock, were busily pulling together a picnic to take to the beach. The two girls were like peas in a pod, the same age and height, both slim and attractive with curly dark hair. Although they went to different high schools, they were inseparable, always in and out of each other's Sydney homes on Brush Road, West Ryde. Typical teenagers, they loved fashion, gossiping about boys, listening to music, and learning the steps to the latest dance craze. If it wasn't the Stomp, it was the Mashed Potato, the Hitchhiker or the Jerk. Marianne's favourite was the Climb; she was a huge Elvis Presley fan and the two girls had recently seen his latest movie Viva Las Vegas. Three days earlier Marianne had written in her diary, 'Happy Birthday, Elvis. I think I love Elvis. Not for his money but himself. Heard Elvis's songs all day.'
The girls' bond was strengthened by their shared grief – both had lost their fathers. Christine had been living with her nan and grandad, Jim and Jeanette Taig, since her father died and her mother, Beryl, remarried. Marianne's father, Helmut, had also died, from Hodgkin's lymphoma, two years earlier. Money was tight in the Schmidt household, and the family only managed to scrape by thanks to the Smith Family charity and the kindness of neighbours. Marianne's mother, Elizabeth, who had arrived in Australia with Helmut and the children in an influx of immigrants from Germany in September 1958, had recently had to go into hospital for hepatitis, and Marianne had been left in charge of cleaning and cooking for herself and her younger siblings, Norbert, five, Wolfgang, seven, Trixie, nine, and Peter, ten. On a recent visit to her mother in Sydney's King George V Hospital, Marianne had asked her if she and Christine could take her brothers and sisters to the beach at Cronulla. Her mum had easily agreed, since the girls were sensible, it was a simple enough journey and she knew how much they all loved the beach.
Marianne had got up early that morning, put on her one-piece black swimming costume with a multi-coloured sleeveless blouse over the top, and started making Marmite, cucumber and tomato sandwiches. She packed them into her blue-and-white striped beach bag along with some oranges and apricots, a thermos of cold water, and a radio so they could listen to music. Her eldest brothers, Bert and Hans, decided to stay home, paint the kitchen and mow the front lawn as a surprise for their mother when she came home from the hospital. Marianne was relieved. She wanted to explore Wanda Beach again, which was 2.5 kilometres further up from the popular beach near Cronulla Station where they always hung out. She knew if Hans tagged along, he might stop her exploring the isolated and beautiful stretch of sand, a known haunt for nude bathers and courting couples, which had been the filming location for the 1940 Australian war movie Forty Thousand Horsemen and held a fascination for Marianne. Next door, Christine Sharrock, wearing white shorts and a green-and-white patterned sleeveless top, was making a flask of green cordial. Her nan, Jeanette, had given her a one-pound note to buy lunch. Jeanette thought her granddaughter was wearing a lot of jewellery – a heart-shaped locket, gold bracelet, gold signet ring with the initials 'BT' and pierced gold earrings – for a trip to the beach but didn't bother commenting. She believed Christine, whose good looks had already attracted several admirers, was a level-headed girl. A couple of weeks earlier, visiting her aunt's house at Christmas, Christine had asked her uncle during a game of backyard shuttlecock, 'If a boy attacks me, how do I defend myself?' Her uncle had replied, 'Kick him between the legs. That'll make him turn away.'
'It would be fun if we could walk across the sandhills again,' Christine now said to her nan, packing her beach towel.
'Don't go today, love,' Jeanette replied, 'you've got four little ones with you, it's too far.'
'But we'd only be away from them for half an hour,' said Christine, eager for approval.
'No, you stay with the children,' her nan told her firmly. Ten minutes later, the teenagers and their four young charges left Brush Road, the colourful lorikeets tumbling and jostling each other high up in the trees, galahs screeching, the magpies swooping. They didn't bother waiting for a bus and even though it was already hot, the humidity making their clothes stick to their bodies, they walked three kilometres to West Ryde station. By the time they arrived at Cronulla it was just before 11 a.m. and the sky was overcast, the briny smell of the sea strong on the gusts of wind. They trooped across the street and down a lane that led through Cronulla Park to the main surfing beach, but the signs were up warning the beach was too dangerous for swimming, because of the strong southerly winds causing high seas. Undaunted, Marianne and Christine led the way like pied pipers to the southern end of the beach, holding the kids' clammy hands in their own, and then sat everyone down on the rock wall and had a picnic with the sandwiches and cordial they'd brought. After a while, seven-year-old Wolfgang, who could never sit still for long, pestered his big sister to go in the water, and Marianne took him for a splash in the shallows. Christine, who had disappeared for a while to buy some lunch with the money her nan had given her, joined them, even though she wasn't in swimmers.
Later, Trixie and Wolfgang saw a 'surfie' teenage boy, with fair hair, hunting for crabs. Wolfgang noticed he had a knife in a holster, similar to one his brother Bert had at home, and a short spear about a metre long, which he was using to prise crabs out of the cracks in the rocks. The younger kids noticed Marianne and Christine chatting to the boy, and soon after Marianne suggested they all go for a walk to the sandhills at Wanda Beach. It was still windy and overcast, and there weren't many people around, so the gang left their bags hidden at the rock wall and set off along the cement promenade to North Cronulla Beach. It was there they cut across down onto the sand past Elouera Beach and carried on past the Wanda Surf Club. Shortly before 1 p.m. they trudged off the beach, which was being pounded by large waves, and sought shelter in the dunes from the gusting wind that had been whipping up the sand and stinging their legs. Marianne, who liked to entertain the young ones by singing her favourite Elvis songs while dancing like her idol, sang '(You're the) Devil in Disguise' as she placed all the beach towels over their heads so they could lie underneath and play. She handed Trixie the radio for them to listen to and said she and Christine were going for a walk and would collect their bags and come back for them. They walked over the sandhill back towards the sea, but then started heading north, away from where they'd left their belongings. Ten-year-old Peter shouted out they were going the wrong way, but they just turned around, laughing, and carried on. After a short while Peter told Wolfgang to go and see where they were, and his younger brother, who didn't need an excuse to go scampering about, ran over the dunes and saw Marianne and Christine in the distance walking along the beach. Later he would be able to tell detectives that the surfie youth he'd seen crab hunting earlier was walking between them with his hands on their shoulders. He remembered the boy's greasy, fairish long hair, which had been combed back and was blowing about in the wind, and that he was barefoot and had a blue towel slung over his shoulder.
Running to catch them up, Wolfgang got within 10 metres when he heard the youth, whose back was turned to him, ask one of the girls what her name was. Neither Marianne nor Christine replied, and Wolfgang could tell they weren't laughing or joking as they walked along. He later said the boy appeared angry by the way he spoke and walked. Wolfgang fell over and by the time he picked himself up, the girls and the youth had disappeared into the dunes at the top of the beach, so he ran back to the others and made sandcastles and listened to the radio. After a while, Wolfgang got restless and went searching for his sister again. He was walking up the beach, near the water's edge, when he saw the same youth walking towards him. Wolfgang noticed he was still wearing the holster, but it was empty and there was no sign of the knife or the spear gun he'd been carrying earlier.
'Where are the girls?' he asked him as he drew close, but the teenager walked straight past him and completely ignored the question. Wolfgang told detectives later that the boy had been shaking.
Back in the dunes, Peter was becoming increasingly worried about little Norbert, who was only five and hungry. As soon as Wolfgang returned he led the four of them back to the rock wall at Cronulla Beach, found their bags and fed them the remains of their packed lunch. The four Schmidt children looked around for Marianne and Christine for as long as possible before running to catch the 6 p.m. train home. They got back to Brush Road at 8 p.m., and when they knocked at Christine's door and explained what had happened, Mrs Taig put on her coat and went straight to Ryde police station to report the girls missing.
---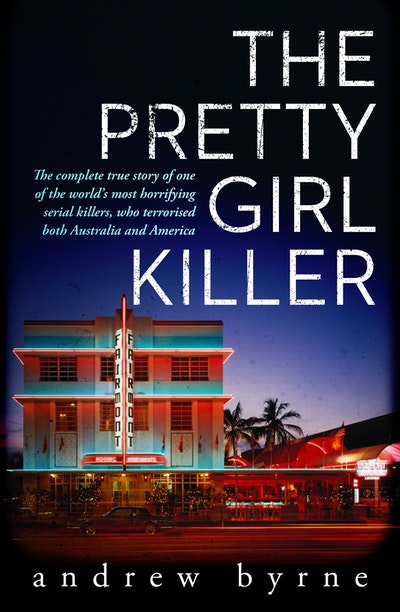 The complete true story of one of the world's most horrifying serial killers, who terrorised both Australia and America
Buy now
Buy now
---