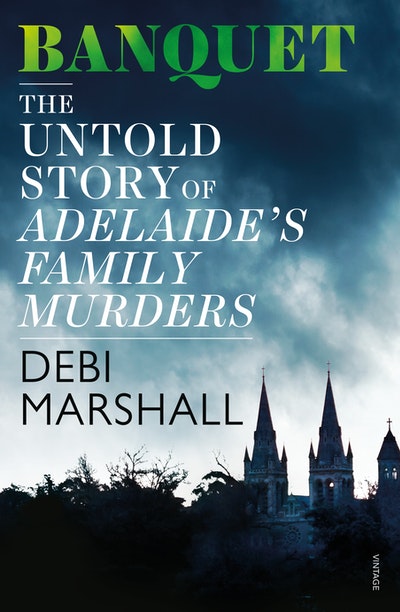 Published:

31 August 2021

ISBN:

9781760893002

Imprint:

Vintage Australia

Format:

Trade Paperback

Pages:

448

RRP:

$34.99
Banquet: The Untold Story of Adelaide's Family Murders
Extract
Preface
Evening shadows shroud his face in silhouette. I turn to greet him as he clumsily manoeuvres his towering frame into the back seat of the hire car.
'Hello, Lewis. Thanks for meeting me. I appreciate it.' He nods, silent, and I continue talking in case he changes his mind and gets out of the car. 'Your name has been suppressed for decades. Why, after all this time, did you agree to have that suppression lifted?'
A sound escapes him, a guttural moan. 'This is just never going to go away, is it? It will always haunt me. So . . . it's time, okay? It's time.'
'Yes, Lewis, I agree. It's well past time.' He doesn't reply. 'Lewis, the poet Robert Louis Stevenson wrote that "sooner or later everyone sits down to a banquet of consequences."'
'Well,' he says, emitting a melodramatic sigh. 'I guess this is my banquet.'
The randomness of murder makes us all vulnerable: instinctively, we know it could happen to us. Throughout decades of crime journalism, one of the most poignant observations I have made about victims' families is their understanding that closure is a nebulous concept. As a friend of mine, the late Professor Donald Brook, whose three-year-old son Simon was abducted, mutilated and murdered in Sydney in 1967, articulated to me: 'Grief never ends; it just comes upon one less suddenly as the years go by.' Once the murders are no longer on the front page, victims' families often feel a sense of abandonment and loss. For many – too many – a murdered loved one's file has lay buried among the coldest cold cases for far too long and they don't know where to turn. In telling their stories, I don't resurrect their pain for pointless entertainment's sake. Instead I acknowledge their loss and share their slender hopes that a fresh investigation may bring forward new information that could prove to be a missing link. I am a caretaker of their stories, and am always mindful that it is a privilege to gain their trust.
My partner, Ron Jarvis, was murdered in 1992. A decade later, his killer, Stephen Standage, murdered another man. During my pursuit of Standage, who was the last person to see Ron alive, he attempted to terrorise me into silence. Phone jangling in the middle of the night and no one on the end of the line. Threats to back off, or wear cement boots. Ron's body was found in isolated Tasmanian bushland seven long months after he went missing. I understand the pain of waiting day in, day out, for someone you love to come home, the pain of not knowing what has happened and the agony of hearing the worst. I understand the relentless need for justice and the bitter-sweet victory of a successful prosecution. But I also understand this: to lose a partner is painful, but to lose a child must be incomprehensibly so.
Over my thirty-five years as a journalist, I have written countless crime feature stories, worked as a true-crime television producer and researcher, and published eight books, five of them about unsolved murders and serial killers. In 2019, a five-episode series, Debi Marshall Investigates Frozen Lies, for which I was investigative producer and host, aired on Foxtel. The series, which starts with the murder of criminal lawyer Derrance Stevenson in 1979 and continues into the cases of the Family murders, is a complex labyrinth of questions and possibilities. What was going on in the years leading up to the series of abductions and murders that became known as the Family? Was there a connection between Stevenson and the Family? Was there, as was so often suggested, a cover-up at the highest levels of government and the judiciary? The more questions we asked, the murkier the story became.
During production, our team, led by director Chris Thorburn, flew in and out of Adelaide for a year for research and filming. Adelaide. This lovely city built on the banks of the Torrens River, and its dark secrets, had fascinated me for decades since the two years I had spent there as a university student in the late 1970s. How dark those secrets were, I would come to understand only too well. I had written the book Killing for Pleasure about the 'bodies in the barrel' case, on which much of the movie Snowtown was based; had spent months submerged in the subterranean fringe that lies beyond the city's bright lights, investigating the dangerous, disturbing and sad world inhabited by an underclass whose lives revolved around dole cheques and sickness benefits, questioning why the Snowtown killers turned on their own, murdering eleven people over a decade in a series of macabre and sadistic rituals that shocked and sickened even the most hardened police officers. I knew that side of Adelaide.
Now, I was turning my attention to her other face, the world of violent spectacles, of power and money and influence, of unsolved murders so bizarre, so ritualistic, so horrific that by the time I had finished writing, I had to step back from the abyss of possible post-traumatic stress. This Adelaide was foreign to me. A city fringed by inky-black parklands, and where a gothic angel guards its main cemetery. A city of rumours and innuendo; a city of shadows. A city of suppression orders; a city of secrets. A city of churches; a city of corpses.
A podcast of the same name followed the television series and, soon after, I started writing this book. I had researched the story for years but with people coming forward on the back of revelations aired in the series and podcast, I now had more contemporaneous material based on their memories. I was under no illusions that this would be a tough story to write, but just how tough, I could never have imagined.
In a telephone conversation with me in 2016, Trevor Kipling, the former head of the Family murder investigation, described by some victim's families as a 'compassionate saint' and their 'lifeline', declined to be interviewed. He had his reasons, he said, known only to himself, and was polite but firm. No. His decision, I sensed, was not just born from him enjoying life in retirement but of not wanting to revisit the rituals of horror in these cases that, for all his efforts and dogged pursuits, remain largely unresolved. He wished me luck and ended the call with this enigmatic comment: 'The story you need to tell is the story you can never tell.' For months, I wrestled with what this meant.
Given the sensitivities around the so-called Family serial killings – sexual depravity, boys lost to murder, reputations sullied by rumours – and the complexities in this story, not least of which are suppression orders and the robust belief from some quarters that the past should be left untouched, the research was often akin to playing hopscotch in an undetonated minefield. Underpinning it all is the sad and frightening reality that there is no legal outcome to satisfy victims and their families. Ultimately, three things kept me determined to pursue this story. First, my belief that an unbiased look at these cases and the secrets that have permeated South Australia for decades is long overdue. Second, that bringing these cases to light might just encourage other, hitherto reluctant people to come forward. And third, that this book simply had to be written. The scores of individ­uals affected by the Family, both victims and their families, deserve better – much better – than to be silenced and forgotten.
The cross-fertilisation of ritualistic sexual deviancy against the backdrop of Adelaide in the 1970s and early 80s is a sweeping, often sordid saga that beggars such belief it reads like fiction. Tragically, it is all too real. So too are the other macabre disappearances and murders for which South Australia became so notorious as a place of dark secrets and menace, stains on the state that can't, for all the tourist confection and spin, be erased.
The network of shadows that allowed a close-knit group of men to prey on young men for sadistic sexual thrills knows no parallel in Australian criminal history. What was done to those boys is beyond moral depravity, beyond wickedness. I came to think of the cases as a debauched banquet: a feasting on youthful flesh. Who were these people? For decades, the whispers about what was going on behind the high bluestone walls of Adelaide's elite and on the banks of the River Torrens, in the shadowy parklands where nameless and faceless men trawled for young flesh, were nothing more than rumour and scuttlebutt. Could an interrogation of the known facts bring fresh evidence, or at least help fill in some missing pieces of the jigsaw puzzle?
People often query why I dredge up the past, why I don't just leave it all alone. But this story, as dark and degenerate as it is, must be written. That these Family murders happened at all is terrible enough; that four of them remain unsolved is beyond shocking. Turning away from this story will not make it disappear.
As I wrote this book, I finally came to understand the meaning of Kipling's cryptic message – The story you need to tell is the story you can never tell – but so many questions remain unanswered. Who killed these young men? Who are the 'Family' and how did they, in the glare of such intense media scrutiny, manage to keep secret one of the most grotesque series of crimes in Australia's criminal history? Like John Berendt's Gothic evocation of Savannah in his book, Midnight in the Garden of Good and Evil, the city of Adelaide, with its dramatic backdrop of verdant hills against the flat city land­scape, its iconic festival scene and reputation as a food and wine paradise, hid an uglier face. Beneath the veneer of genteel respect­ability, parts of its society crawled with human vermin. Were the rumours about people of influence being involved in the Family murders true, or simply a long-held urban myth? While it is a falsehood that South Australia is a murder capital, its history shows that it certainly punches above its weight with serial killings.
It is not possible, in the scope of this book, to canvass everything that was going on in South Australia in the years leading up to and during the time of the Family murders. That story requires – demands – a wider inquiry. The shocking reality is that there were overlapping, sometimes intersecting, groups of people with diverse interests and perverse preoccupations who shared a common bond: the sexual abuse of young men. As Coroner Kevin Ahern dryly noted in 1988: 'I think it is a great tragedy that some people who were obviously aware of the practice did not see fit to approach the police authorities. If this had been done, it may well be that at least one or more of these murders could have been prevented.' It is not possible, either, to entirely dismiss the different strands of corruption and vice in the state in the years leading up to the Family murders and beyond. But I had to narrow my focus, to try to put the macabre jigsaw puzzle together. In parts I have included stories that go beyond the actual murders, to show that what occurred in the Family is indicative of the cloak of silence that permeates other areas in South Australia. These are not conspiracy theories without foundation, but questions about how so many people managed to avoid the checks and balances that bypass necessary scrutiny. I came to think of these stories as akin to selling a house with rising damp: the wallpaper may hide the stain, but eventually the new owner will bear the cost. And the cost to South Australia's reputation has been immense.
The stories herein are a combination of years of my own research, interviews for the Foxtel television series and podcast, either face-to-face or by phone, material from court transcripts, press reports, diaries and personal files gifted to me. Where it was possible without disrupting the narrative flow, I have incorporated these stories in the years that they happened. Some identifying features of people, including those whose names are suppressed, such as their workplaces or activities have been omitted or changed.
There are specific terms for sexual interest in young people of different age groups. Ephebophilia is the sexual preference for mid-to-late adolescents, hebephilia refers to the sexual preference for pubescents and paedophilia refers to sexual interest in prepubescent children. For ease of understanding, I use the more commonly known terms paedophilia and paedophile throughout.
I do not wish to offend the LGBTQI+ community with my choice of language in this book, but I felt it was important to follow faithfully the language used in interviews by people who moved in that community at the time. Similarly, I have referenced people's sexuality where I believe it is relevant to this story.
*
---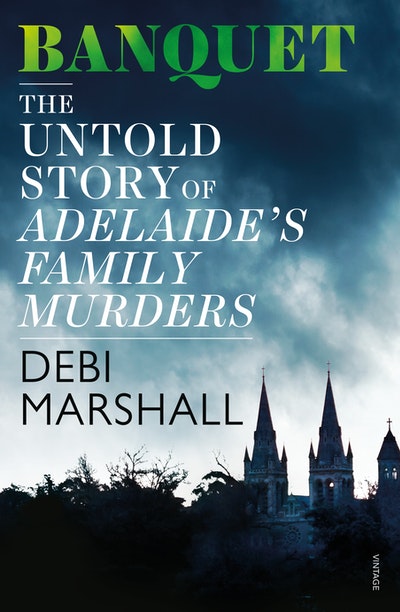 Shortlisted for Best True Crime in the 2022 Ned Kelly Awards
Buy now
Buy now
---