Unearth Ceridwen Dovey's themes of guilt, power, shame and obsession with your book club.
From the award-winning author of Only the Animals comes an unputdownable novel of obsession, guilt, and the power of the past to possess the present. Almost twenty years after forbidding him to contact her, Vita receives an email from her old benefactor, Royce. Once she was one of his brightest protégées; now her career has stalled and Royce is ailing, and each has a need to settle accounts.

Discussion points and questions
 
At its heart this multi-layered novel is about perception, the shifting nature of reality, and not least our perception of what we read. Its very form reinforces this: In the Garden of the Fugitives requires the reader to hold multiple views simultaneously and not to remain fixed on any of them. Discuss.
The novel is also a psychological thriller, one left deliberately wide open. What's your interpretation of its events? How much in the story is 'real', in your opinion, and how much invented?
The characters in Fugitives withhold things from each other, or distort them; they can be less than honest. Yet the truths the novel presents, about guilt, shame, courage, money, sex, power, art, race, obsession, as well as honesty, are not undermined by this, but in fact underlined by it. Do you agree? Did you put the novel down feeling clear about certain fundamental things, however much you might have been superficially uncertain of?
It's not only perception that is to the fore here, but the act of looking itself. Consider the ways in which the novel addresses the latter, including the acts of underhand observance and the art of seeing as manifested in filmmaking.
Even the character of the narrators in this novel keeps shifting as we read. While Vita has much to say about the unequal power relationship between herself and Royce, she plays him in turn, accepting his bonuses without earning them, for example. She also makes use of other men when it suits her – the blond boy from Kansas, the rich South African in Tribeca – conceding that she encourages men to see her in a certain way (page 26). And Royce, for all his creepy watching of women, wants to support them in serious work. He immerses himself in Kitty's studies, foregoing his own, and yet still thinks he isn't slavish enough. He sympathises with her and Rebecca for being female researchers in a male-dominated field. What, ultimately, do you make of both Vita and Royce?
And what of Kitty's character? Do you think she accepts too much help from Royce? Does her naivety regarding him foster his obsession?
Discuss the complex ground the novel covers in respect of how we view the past. As starting points, consider the 'narcissism of the present' to which Royce refers on page 74, the views expressed by Magdalene and Vita, the comments on ancient and modern concrete in Pompeii (page 151), and how the paint colours have changed over time (page 153). It's Kitty's view that relativism, 'for people who do not have to share the earth in the same timeframe . . . disrespects them and us' (page 151). Do you agree with her?
Discuss the various views presented on art, its form and function, such as Royce's comment on page 242 that it's the only break from himself he gets, Abiodun's on page 191 regarding the morality of art, Magdalene's on its psychotherapeutic power, and Vita's thoughts throughout on filmmaking. Also the comment implicit in the form of Fugitives itself.
The novel makes frequent references to class and class distinctions. Discuss these, and in particular John and Bibi's justification of their lifestyle on pages 227–8. Do you think their argument is a valid one?
There are numerous subtle clues to what's really going on with this text, some of which may only be clear on a second reading. Discuss any that you noticed.
One such clue, perhaps clearer than others, is Royce's comment on page 266 when telling the story about Kitty's mother: he finds the incident so appalling that he wonders if he dreamed it. Discuss the almost Oedipal twist this scene represents.
Although Vita notes that she and Royce are on 'parallel tracks' in their letters, both subtly echo each other in countless ways, from interior decoration to the watching of others, from obsession to being underground, from dogs to birthday parties to Freud. From Vita wanting to 'fill the psychic hole' within her to Royce being aware 'of how the psyche can be excavated like an archaeological site'. Discuss all such instances that struck you.
The trajectory of Vita's and Royce's stories is also subtly intertwined; for example, Royce losing Kitty just as Vita is falling for Magdalene. What other examples occur to you?
'On page 119 Vita's father comments that his Australian colleagues had 'just been more successful at hiding their shameful history from the rest of the world'. Do you agree with him?
Consider the other ways in which the novel draws comparison between the colonisation of South Africa and that of Australia and America. Do you think an implicit parallel is being made between the slaves of Pompeii and the state of apartheid?
Magdalene observes on page 263 that 'non-bigots can still be blind to certain forms of bigotry. And in a racist – a bigoted – society, this means everybody is implicated, whether they like it or not.' Discuss this in respect of Australia.
And compare Vita's extreme sense of guilt with attitudes towards reconciliation in Australia.
What, if any, of Magdalene's comments about Vita and her predicament hit home with you?
The novel suggests that the views we hold about ourselves, and about others, are very possibly untrue, and that such views may be culturally determined. Discuss.
Consider what Fugitives has to say about the power exerted on humans by place.
Is there any significance, in your opinion, in the novel taking its title from Pompeii's Garden of the Fugitives rather than an aspect of Vita's own story?
While we don't learn what happened to Magdalene, what do you think her disappearance represents?
---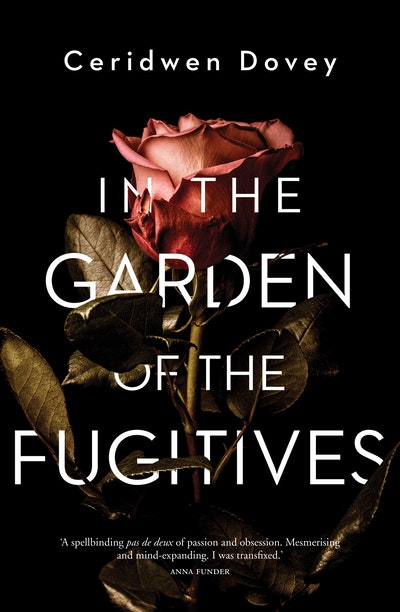 From the award-winning author of Only the Animals comes an unputdownable novel of obsession, guilt, and the power of the past to possess the present.
Buy now
Buy now
---