A stirring coming-of-age novel to read with your book club.
Others Were Emeralds follows, Ai, the daughter of Cambodian refugees. Growing up in the small Australian town of Whitlam, Ai is surrounded by other Asian immigrants who fled war-torn countries to rebuild their lives. It is now the late '90s and Ai and her friends are so far removed from the horrors experienced by their parents. But when a racist incident involving Ai and her friends turns violent, it leaves behind unresolved trauma in its wake.
Discussion points and questions
Ai and her tight-knit group of friends experience racism on a daily basis in Whitlam. What do you think of the way this is depicted? Do you think much has changed in Australia since the 90s?
Brigitte and Sying's approaches to activism are very different – while Brigitte is hopeful, Sying is almost militant. Whose approach resonates with you more? Do you think Brigitte has only her own best interests at heart?
As the novel progresses, Ai's jealousy clouds her perceptions. What role does Sying play in this, and how much is Ai to blame?
Ai and her friends share stories of their parents' experiences in the war-torn countries they emigrated from. What do you make of the chasm between the experiences of the teenagers and that of their parents? What influence do you think these stories had on Australia in the 90s?
Brigitte and Ai's friendship is deep and complicated. Would you have acted differently from Ai when she distances herself from Brigitte? Why/why not?
Bowie and Tin are very different. How did you perceive their friendship, and what did you make of Tin's quietness?
What did you think of Pedro? Did he seem suspicious to you?
Lang Leav's novel is a coming-of-age story. What did you think of her depiction of teenagehood and the intensity of feeling associated with it?
Lang is a very poetic writer. Do you have a favourite image or moment from the book?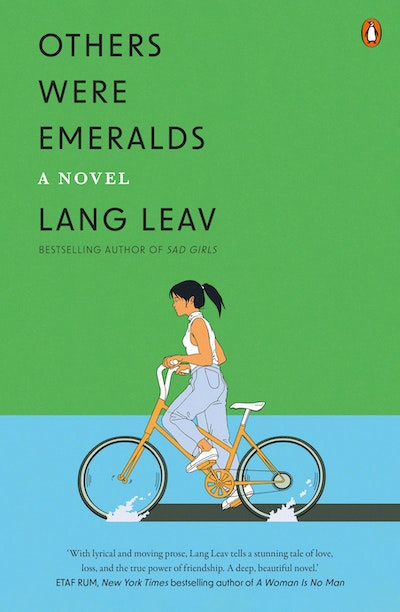 Others Were Emeralds
A stirring coming-of-age novel about guilt, loss, love and memory. Others Were Emeralds explores the inherent danger of allowing our misconceptions to shape our reality.
Read more