'I want reading my novels to feel like walking through a forest or swimming in the ocean, to offer a breath of fresh air and remind readers of the beauty that still remains in the world.'
Tell us about the inspiration behind Once There Were Wolves.
I came across an article about the largest and oldest living organism on the planet, The Trembling Giant, which is a forest of quaking aspen trees in Utah, all connected by one astonishing roots system. Some scientists believe it may be a million years old, but it's dying due to human impact. An elegant solution to saving this forest would be to return wolves, previously hunted to extinction in the area, to the forest because they have such a powerful impact on their environment — but this would never happen because the local farmers and hunters wouldn't allow it. As I read about this strange, otherworldly forest and its surprising potential saviours, I knew instantly that I wanted to write the story of a woman who was using wolves to save a dying forest, despite everyone in the area wanting her gone. I also wanted to write the story of the wolves themselves, so persecuted throughout history despite being essential to their environments. In Once There Were Wolves, it's the humans who are the true monsters. 
How did you approach the writing process?
I needed to do a lot of research before I could start writing. I immersed myself into the world of scientists and conservationists doing the brave work of reintroducing species, specifically the Yellowstone Wolf Reintroduction Project. I learnt a great deal about working with animals, the difficult decisions and the complex emotions that arise when working with mysterious and unpredictable wild animals, and I learnt about the amazingly distinct personalities of the wolves themselves. I knew I needed to create wolves with as much individuality, so that they could be characters in their own right, with stories of adventure and survival we couldn't help but fall in love with.
Likewise I knew it was important to create characters who could embody the difficult thematic I wanted to explore: both the cruelty and compassion humans are capable of. Inti Flynn, my protagonist, became a woman imbued with my own anger about what was happening in the world – she had witnessed too much harm done by people upon each other and the wild, and she no longer had faith in humans. But the process of writing this book was for me a healing one. Inti's connection to her wolves allows her to find her way back to empathy, to compassion, and ultimately to rewilding herself. It restored my own hope in our capacity to save this world.
What is it about the natural environment that draws you in when planning and writing?
I find the natural world such a source of both inspiration and nourishment. It makes me feel alive, it reminds me to live in my body, it offers joy and calm and such pleasure to see all the things we haven't yet lost. I always try to bring these feelings into my writing; I want reading my novels to feel like walking through a forest or swimming in the ocean, to offer a breath of fresh air and remind readers of the beauty that still remains in the world.
How much research did you do for this book? How much did you learn about wolves, rewilding, Scotland, etc.?
As I mentioned, I did a huge amount of research into what it means to be a wolf biologist, and into understanding the behaviour of wolves. I also researched the complex debate going on in Scotland about the need to reintroduce wolves in order to restore the ecosystem there – this is being argued by conservationists who can see the benefit such creatures would have on the environment, but opposed by agricultural figures who fear the damage wolves might do to the densely populated farming areas. As part of my research I went to Scotland and traipsed around the Highlands, exploring moors and mountains and the remaining ancient forests, tiny dwindling patches of forest that have survived since the Ice Age. I tried to imagine wolves running free, hunting the deer, moving them on and allowing the trees a chance to grow once more. 
Excitingly Claire Foy has been cast in the film adaptation of Migrations. If Once There Were Wolves were to be made into a movie, who do you imagine playing Inti and Aggie?
Inti and Aggie both have a lot of spunk. They're ferocious and they don't take any crap from anyone. So after watching Promising Young Woman, I could totally imagine Carey Mulligan playing the twins with a dry, fierce defiance.  
How did writing Once There Were Wolves differ from Migrations?
I think I wrote Migrations from a place of sadness and loneliness. I was craving connection and grieving the damage done to our planet. But Wolves has come from a different place. While still exploring the importance of connection with nature, I think this book came from a place of anger within me. I was so angry with what I could see happening in the world. I was angry with the mass slaughter of a beautiful species. And I was angry with our treatment of each other – specifically with the appalling domestic violence issue we are suffering in this country. So I wanted to write about these two issues that were making my blood boil, maybe to try and make sense of them. In a way Migrations is about forgiveness – Franny must forgive herself before she can find redemption – but Wolves is not about forgiveness at all, because I think there are some things that can't and shouldn't be forgiven. Instead, it's about healing, about finding a way into a gentler, kinder space, and reaffirming our ability to save this planet.
Where is your favourite place to write?
I have to work at my desk in my office, completely alone, or I get way too distracted. I would never be able to work at a café! I do like to have music on, because I find it really helpful in getting into the right mood/emotional space. And I would of course ideally love to have a view of a crashing ocean or a wild forest out my window to inspire me, but that's not likely to happen in the Inner West of Sydney!
What do you hope readers take away from Once There Were Wolves?
This is, ultimately, a book about empathy, about its power and its lack. It explores both the cruelty we are capable of showing not just each other but also the natural world, and it explores the opposite of that, the tenderness and compassion and generosity we are capable of practicing. I hope that readers take away the importance of cultivating empathy in ourselves, for each other and for the invisible wild creatures and spaces we don't see, the ones that are so easy to block from our minds. This is how we will move forward, the only way to tackle the enormity of climate change, the only true way to rewild ourselves.
If you could invite three literary heroes (living or dead) to dinner, who would you invite and why?
Mary Oliver, Mary Shelley, and Charlotte Bronte. Fierce feminists of their time, writers of love and loss, of nature and poetry, of complicated relationships… This would be my heaven.
What's next for you?
I'm currently writing a novel set on a sub-Antarctic island, about a family of caretakers whose lives change forever when a woman washes up onshore. It will be about what it means to raise children in a dying world, and about the things we choose to save.
---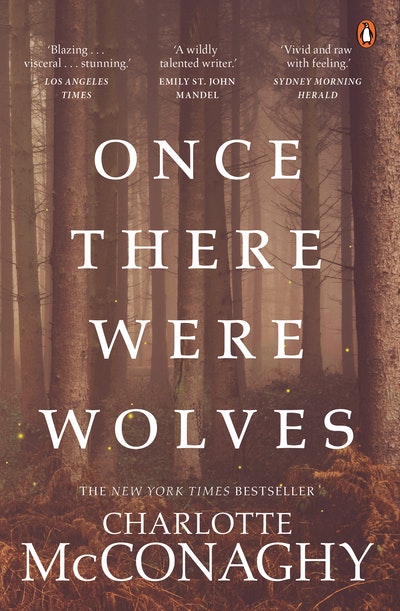 From the author of the international bestseller Migrations comes a pulse-pounding new novel set in the wild Scottish Highlands
Buy now
Buy now
---