9 interesting facts about Ottessa Moshfegh, author of Lapvona.
Ottessa Moshfegh is the it-lit girl of the past few years. Her books, which are sometimes humorous, often dark, have captured the hearts of readers around the world. Taking on wildly imaginative premises, Moshfegh's novels plunge readers into absurd circumstances that are somehow both otherworldly and relatable.
Eileen (2016) centres around a young prison secretary who lives with her alcoholic father and has an outlook on life that's equally as bleak as the dreary town she lives in. My Year of Rest and Relaxation (2019) is about a beautiful university graduate, who despite her success, seeks redemption by attempting to sleep for an entire year. Moshfegh's latest novel, Lapvona (2022) is set in a medieval fiefdom, where a young boy pushes up against the village's lord as new, occult forces disrupt the old order.
Needless to say, Moshfegh has a bountiful imagination – and, naturally, many readers are inclined to learn more about the author in hopes of understanding where her wild creativity stems from.
If you're one of the many fans who want a bit of insight into this electric author, scroll on for nine fun facts about Moshfegh and her thoughts on the art of writing.
9 Fun Facts about Ottessa Moshfegh
She left New York City after getting cat scratch fever but is glad that she moved. 'Living in New York as a writer felt really claustrophobic,' she told The New Yorker. 'It seemed like everybody I knew had a similar ambition, and it was to be the standout literary voice of your generation, which I think is an insane ambition to begin with.'
She believes in the power of art. 'I think art is the thing that fixes culture, moment by moment. I don't really feel a reason to exist unless I feel my life has a purpose, which is creating. So I feel — I'm not going to call it pressure — I feel I have a karmic role to play,' she said in the same interview.
According to a feature of the author in The Guardian, Ottessa was a talented musician as a child and learned to read music before she could read words.
As an author – and a person – she is extremely disciplined. In her interview with The New Yorker, the author explained that while writing Eileen, she'd have a banana and coffee for breakfast, then spend three hours boxing. As a child, she was equally dedicated to playing the piano and would aim to practice four hours per day.
She walked in a fashion show at New York Fashion Week, strutting the runway for Maryam Nassir Zadeh's Fall/Winter '22 collection.
Her breakout novel, Eileen is set to become a movie starring Thomasin McKenzie and Anne Hathaway. Ottessa and her husband, fellow writer Luke Goebel, wrote the script.
My Year of Rest and Relaxation is also set to get a film adaptation, produced by Margot Robbie's production company, LuckyChap.
Despite her public dislike for social media, her books have been making the rounds on BookTok, with My Year of Rest and Relaxation inspiring an entire aesthetic on the platform.
She's supportive of other writers. In an interview with The TLS, she praised her husband's book Fourteen Stories, None of Them Are Yours and shared some words of wisdom about building other writers up. 'I would never pooh-pooh another author. If any one of us gets some glory in this life, bravo.'
Want to read one of her books? We recommend checking out her latest novel, Lapvona.  
---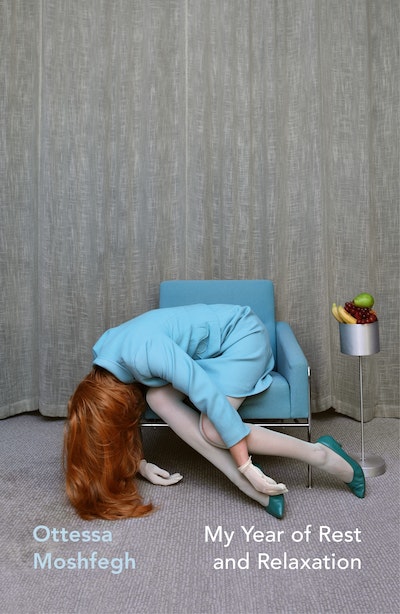 Meet ten of literature's most iconic heroines, jacketed in bold portraits by female photographers from around the world
Buy now
Buy now
---