Explore friendship, faith, family and identity with this compelling debut, perfect for book clubs.
Abomination highlights the clash between religious and secular worlds in contemporary Australia with great tnederness and insight. 
It is a beautifully observed, moving story from an exciting young writer, with plenty to discuss in a book club. 
Discussion points and questions:
Abomination is a novel, and therefore fiction, but it is based on Ashley Goldberg's own upbringing in the Orthodox Jewish community as well as real-life cases of abuse, such as the extradition and trial of school principal Malka Leifer; and also the case of Manny Waks – one of seventeen children from an Orthodox Jewish family based in Melbourne, who was sexually abused as a child, was ostracised for speaking out, and later became an activist. Is the book judgemental about the way in which abuse is covered up by the power structure? In what ways is it critical of Orthodox Judaism in particular?
How does Goldberg portray the good things about the community and the sense of belonging that belief engenders? In what ways is this particular to the Jewish community and their sense of exceptionalism? Does inter-generational trauma have a role to play and, if so, what?
Abomination is very much focused on the two male protagonists and their stories. What about the female characters in the book, particularly Tegan and Rivka? How does Goldberg portray them and how do the development and narrative arcs of these characters differ from the male ones?
The title is taken from Proverbs 28:9, 'He who turns his ear away from hearing the Torah – even his prayer is an abomination.' How does this title reflect the themes and action of the book?
Although it is foremost a Jewish story, the book explores universal themes related to identity, faith, family, friendship, and morality. Discuss how the book is particular in its examination of Judaism but also how it grapples with ideas that are common across all cultures.
There are a lot of Hebrew and Yiddish words in the book but no glossary, footnotes or explanations. Goldberg does insert scenes that explain some of the cultural specificities, such as the scene on the tram on page 52 where Yonatan patiently explains the peyot, tzitzit and kippah to the girl. How does the use of language immerse you in the story? Discuss how Goldberg's writing and use of language includes the reader in the world he is evoking?
Discuss the structure of the book and how the use of opposing forces – religious vs. secular, individual vs. community, right vs. wrong – propel the narrative.
How does Goldberg use place and setting to locate the story in a particular time and location?
---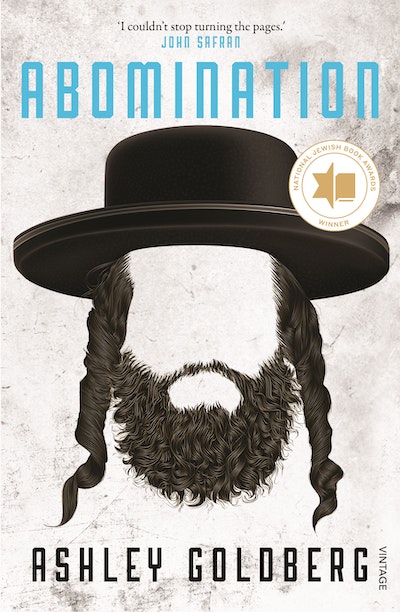 A compelling and compassionate debut about friendship, faith, family and identity.
Buy now
Buy now
---