See Wim Hof's list of famous fans and try a breathing exercise from his book.
In his Sunday Times bestseller, The Wim Hof Method, author Wim Hof (AKA the 'iceman') explores his science-backed method of improving mind, body and performance. By calling on both real-life experiences and clinical studies, Hof lays out a compelling argument for training your body and mind to endure extreme experiences and promote good health.  
An advocate for cold therapy, Hof has created a three-pillar approach to improving health and performance that involves breathwork, embracing the cold, and a mindset shift. The Wim Hof Method is his guide – refined for over forty years and championed by scientists. According to Hof, anyone can follow the steps he lays out to improve their health. And it seems to be catching on.
TV, Instagram, podcasts . . . Wim Hof and his 'iceman' methods are everywhere.
Considered a trailblazer in his field, Hof has garnered huge support among fans across the world. It seems that nearly everyone is adopting a cold-shower regiment, and celebrities are no exception.
Amongst Hof's massive fanbase are plenty of celebs who have been said to train with Hof or follow his three-pillar plan. Scroll on to see some of Hof's famous fans, and discover a simple exercise that you can do at home to try the Wim Hof Method yourself.
Celebrities who are said to practice the Wim Hof Method
Liam Hemsworth
Jack Dorsey
Oprah Winfrey
Orlando Bloom
Gwyneth Paltrow
David Beckham
Justin Bieber
Russel Brand
Tim Ferris
How to try the Wim Hof Method yourself
Want to give it a try? While you might immediately associate Hof with cold showers, breathwork is also an important component of his method. Here is an easy breathing exercise you can try at home to get started.
Sit or lie down in a comfortable position
Close your eyes and take 30-40 deep breaths. Inhale deeply through the nose or mouth and exhale through the mouth. Fill your belly with each inhale, and make sure not to force your exhalations.
After 30-40 cycles, inhale deeply one final time. Let all the air out, and hold your breath until you feel the urge to breathe again.
Inhale a big breath, feeling your belly and chest expanding. When you can't inhale any more, hold your breath for about 15 seconds and let go.
Repeat steps 1-4 three times. Once you finish, take a moment to notice the blissful, calm state you're in.
If your interest is sparked, read The Wim Hof Method to learn more. 
---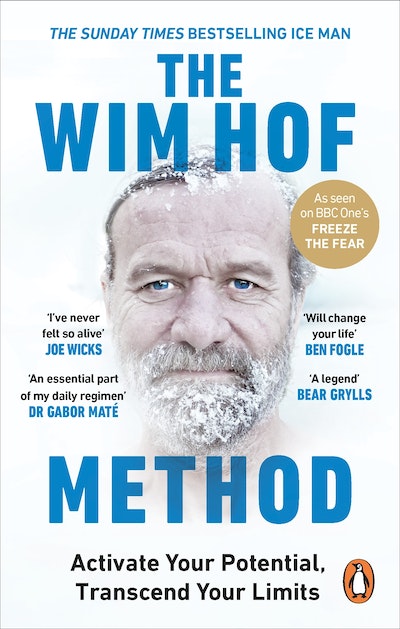 The iconic 'iceman' known for his record-breaking endurance of cold temperatures, shares his world famous method for improving your mind, body and performance.
Buy now
Buy now
---