Ronnie Scott shares a playlist to accompany his stunning debut novel, The Adversary.
The Adversary is a sticky summer novel about young people exploring their sexuality and their sociability, where everything smells like sunscreen and tastes like beer. And like all great parties, it comes with a killer playlist. With liner notes by the author himself, here it is:
Future Bible Heroes – 'Lonely Days'
I love this languid song that does what it says on the box – it's the sound of lonely days, falling down like rain on this place, and that is where our journey begins in my novel The Adversary, in a state of vague disquiet, rolled up with peace and calm.
Pixies – 'Hey'
The plot kicks off when a strange person contacts my narrator with a message that says 'heyyy' with no punctuation and three 'y's. Frank Black never sounds like that in this Pixies song but I feel like he would like it if he tried.
Donovan – 'Season of the Witch'
Sultry, paranoid and seasonally attentive – the combo we are always looking for in a song, but one we are delivered only rarely! Graham Greene called Patricia Highsmith 'the poet of apprehension' and I feel like that applies to this track also.
Romeo Void – 'Myself to Myself'
I like the way this sounds like someone thinking through a problem, how she wants to be by herself but it doesn't work out. It mostly sounds tense, like she's resisting her social outcome, but little bursts of jangly guitar undercut that vibe.
REMI – 'Sangria'
A summer song that namechecks Brunswick, where most of my book takes place, and even mentions showering, which is both an excellent summer activity and one my characters practise often, both in the suburb of Brunswick and nearby.
Naughty by Nature – 'O.P.P.'
Most of my characters encounter the problem of things belonging to other people, since most of them are kind of trying each other on for size. I like that it's a swaggery song but also kind of a lecture, with a throat-clearing beginning: 'How can I explain it?'
Cat Stevens – 'Father & Son'
I have a thing for novels that use music really well. 'Blackbird' will always be my favourite Beatles song because it's on a mixtape in Stephen Chbosky's The Perks of Being a Wallflower, and recently I loved the scene in Nell Zink's Doxology where the narrator elaborates on the beauty of 'Splash 1' by the 13th Floor Elevators. 'Father & Son' is I think the only song mentioned in The Adversary, when it's played at an inappropriate time by the narrator's housemate Dan, who is an object of fascination and the force behind the book.
The Motels – 'Total Control'
A strangled and slightly sociopathic song about desire and fantasy that also feels very summery to me. The line is 'stained sheets' but it always makes me think of sweaty sheets stuck to your legs, probably because the song is so tortured and horny.
The Lucksmiths – 'The Year of Driving Languorously'
There are lots of Lucksmiths songs (a Melbourne band) that could be matched up with my novel, but this one is about feeling distanced from someone, driving by the ocean, and dreading the end of summer, which is very on-brand for The Adversary.
Miguel – 'Do You…'
Like all the best Miguel songs, this is slightly lusty and slightly dorky, a vibe that I too hope to bring to the world through this book.
TLC – 'Diggin' On You'
There's a scene in The Adversary where two of my characters are on a couch and deciding that they like each other while R&B is playing in the background. This is that song.
The Weeknd – 'The Morning'
Also in this novel is a really grubby section that takes place late at night and always reminds me of this whole album, House of Balloons, which is a moody masterpiece of style.
Carly Rae Jepsen – 'Making the Most of the Night'
A song about looking after a friend by taking them for a drive in a car, which is a scene that takes place in the last third of The Adversary. My narrator is often appalled by new things that Dan is doing, and over the course of the novel they both become different people in the same skins. The plot is about how their friendship changes accordingly, and some of those changes are verbalised in this scene.
Yo La Tengo – 'You Can Have It All'
Not only is this the right song to finish any playlist, it's a song of cheery but total self-abnegation, the right mood to finish any novel of friendship and love. It's a gentle reminder that you may indeed connect to other people, but these connections are compromised and carry their own cost! On that note, I will exit this playlist at under an hour and entreat you to listen to it while you read the book. Thank you heaps for reading these liner notes.
---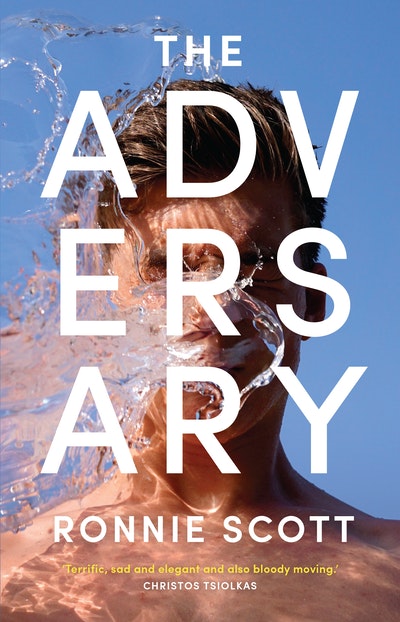 A story about sexuality, the ache of friendship and love, and sticky summers at the pool, this exhilarating debut novel captures the heartbeat of one transformative summer where alliances are made and broken.
Buy now
Buy now
---